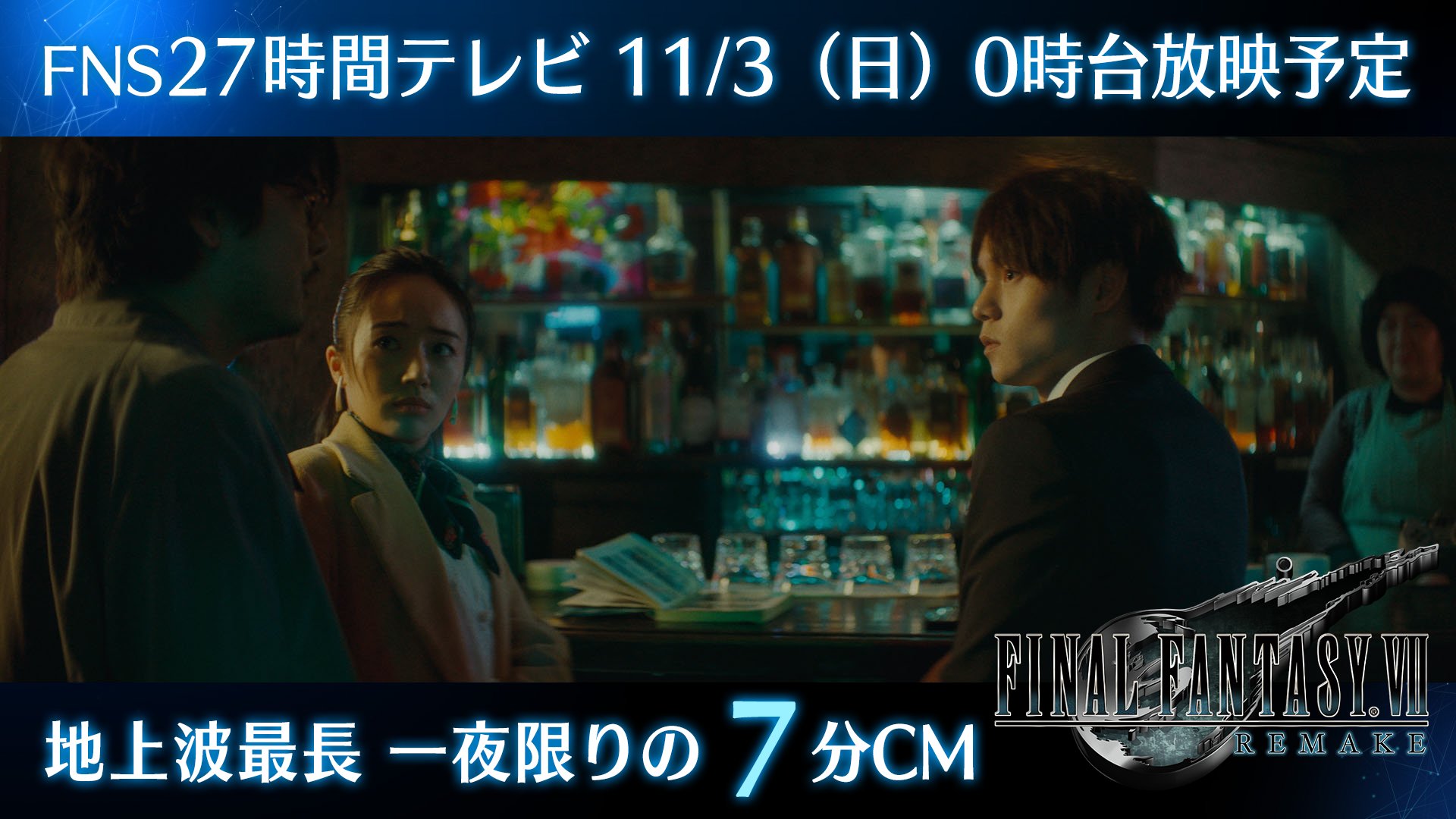 Tomorrow, first FFVII Remake TV Commercial will be releashed in Japan, Probably after they launch it will generate many feelings among us, so I think it deserves its own thread to talk about it and the next ones.
Square Enix will air a seven-minute commercial for
Final Fantasy VII Remake
during Fuji TV's
FNS 27-Hour TV: Japanese Sports are Strong!
from November 2 at 18:30 JST to November 3 at 21:54 JST, the company
announced
. The commercial itself will premiere on
November 3 at 0:00 JST
.
The commercial follows the story of an officer worker, played by Masataka Kubota, who has never played
Final Fantasy VII
. He plays it cool while discussing the release of
Final Fantasy VII Remake
with his boss, played by Testuji Tamayama, and girlfriend, played by Misato Morita. The girlfriend knows
Final Fantasy VII
from watching her brother play it growing up, while the boss is a
Final Fantasy VII
mega-fan. Through this discussion, the office worker gradually becomes interested in the title.
SE updated the press release with FFVII original sales data:
The total number of units sold worldwide is over 12.3 million. (* Total number of packaged software shipments and download sales)
Misato Morita
posted photos of the commercial script on his twitter account:
Sources:
https://www.jp.square-enix.com/company/ja/news/2019/html/f7b96c2f37dbad9a7c2d14be3e008f07.html
https://www.famitsu.com/news/201911/01186152.html
https://game.watch.impress.co.jp/docs/news/1216086.html
https://gematsu.com/2019/10/final-f...e-tv-commercial-to-air-on-november-3-in-japan