This is, as the thread title says, a novelization of Final Fantasy VII. But it takes a different approach from most, as you'll see when you start reading. And as for whether it fits into the Compilation canon or not, well that's really up to you. I'm writing it in such a way that it could be seen as either being part of it or not, whichever the reader prefers. There are some references, but I make them vague enough and indirect enough that they could just as easily work without the Compilation as with it. This way, those who like the Compilation can see this story as part of it if they want, and those who don't can see it as its own thing. Oh, and you'll find nods to the remake scattered here and there throughout the story as well. I'll also do my best to get chapters up on a fairly regular basis.
I hope you enjoy it, and any feedback/CC/etc. is always welcome. Thanks!
BOOK ONE: MIDGAR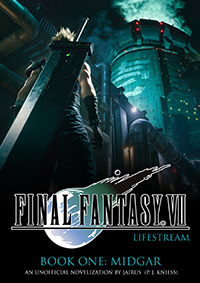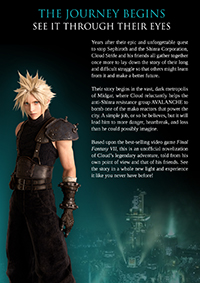 BOOK TWO: PURSUIT
Legal silliness: I don't own FFVII or any of its characters, places, etc. That all belongs to SE. I'm not affiliated with them, and this is an unofficial fan work created
solely on my own. And no chocobos were harmed in the writing of this fic.
Last edited: