a letter to my future self
AKA

Sansa Stark, Sweet Bro, Feferi, tentacleTherapist, Nin, Aki, Catwoman, Shinjiro Aragaki, Terezi, Princess Bubblegum
Okay, in Final Fantasy Tactics Advance, you play as some kid named Marche in a crazy world of new creatures trying to get back home. Pretty typical fantasy stuff: as you're in the game, you meet up with your other friends who seem to be integrating into the fantasy world quite well: your little brother, who is confined to a wheelchair, is finally able to walk around on his own, your friend Ritz, who has pink hair, finds friends who like its true white color and think that she's a great person, and finally Mewt, who no one really liked in the real world and had an alcoholic dad and his mom is dead, gets to be a prince in this one and his father is one of the almighty judges. Everyone besides yourself seems to really like this new world and all of the friends they're making.
The only whiny one here who is determined to go home is you. All of your friends are enjoying themselves, and heck, several of them try to stop you from taking all of them back. Let's be honest: you're just being a whiny little dick who can't handle bunny girls by trying to get everyone to go home. So you kill the queen and send everyone rushing back home from Ivalice because Ritz accepted her white hair, Mewt gets to say he loves his mommy and uh your brother just realizes he's gonna be confined to a wheelchair for his whole life and there's nothing he can do about it.
So let's be honest. Marche is a huge dick who didn't want his brother to walk around and be better than him, and this is why he brought all of them back from Ivalice.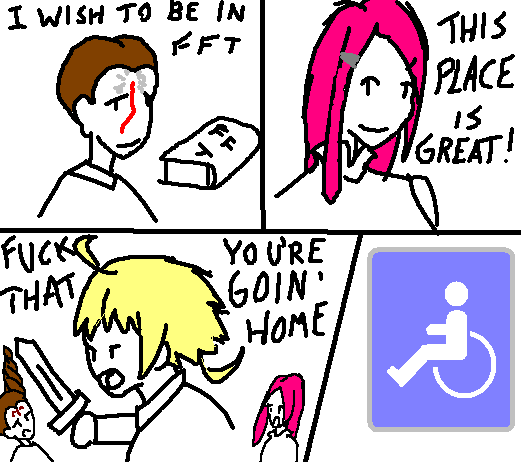 Last edited: