This is a new thing we're doing where we give a specific member a thread for a week in which they can share whatever information they want about themselves, then answer whatever questions the public asks them. It's sort of an expansion on the "Let's get to know each other" thread by, well, giving one member the spotlight. More information on the concept can be found
here
.
This week's participant is [member=184]Carlie (Melon Lord)[/member], who has elected to share the following information:
Let's do this.

On the intarwebs I'm known as Carlie (this nickname was actually given to me by someone from this forum when I was a n00b). My real name is Carla but mostly friends and classmates called me that, most of my family calls me by my second name, Francely (attempts were made on skype to pronounce it, only Lex was close). I'm 23 years old, will turn 24 next month, exactly one day before I leave for London.
I live in a city called Cabo Rojo which is located on the southwest side of Puerto Rico. I've lived here my whole life.
I'm currently a 4th year student at my Uni, studying Entrepreneurship (if it isn't obvious already, I absolutely hate that place, the only reason I'm there is because I can take online courses which very few Universities/Colleges on this fucking island offer). This would've been my final year had I not taken a break in 2012 to try and study Cinematography somewhere else.
I've been working since December as bartender at my family's bar. I actually used to work there a few years back when I was in high school and when I was a freshman at my former Uni but at that time my grandfather was the one in charge and all the workers were basically old men so I didn't really have anyone to talk to and he only let me work the lottery machine.
I obviously love video games, movies, tv shows, cartoons, animes etc. What some of you may not know is that I love sports and have played quite a few of them growing up. I was in my school's football team in middle school, I played defender/midfielder and we were the #3rd ranked team in the country the two years I was in the team. I didn't play in high school because they didn't have a team and didn't try to form one either. Considering that football was far from popular at the time had I played in high school perhaps I could've gotten a scholarship to play University level but oh well.
I have 3 younger siblings, a brother (22) and a sister (20) on my dad's side and my little brother Ian (18) on my mom's side (he's a frequent guest on skype calls because he's usually screaming when he's playing League of Legends with his friends, I have to tell him a lot to lower his voice). My parents never married and actually separated before I was born (sorta). Dad got married 2 months after I was born to the mother of my siblings (I've never asked but I'm assuming I wasn't at the wedding
). The woman always hated me, she and dad unsurprisingly and thankfully got divorced when I was 6. Dad married again when I was 11 to my current step mom (I like her, I don't even see her as my step mom, she's more like my cool aunt), she brought along with her a lovely extended family that took us in immediately. My mom never married but she did start a relationship when I was 4 with my unfortunately still step father who's only contribution in my life has been my little brother. Thankfully while he's still with my mom we haven't lived under the same roof since I was 15.
I have a big, mostly great Hispanic family and we're regularly around each other. My nephews and nieces are not the children of my siblings, they're my cousins. I think of them as my siblings too because we all grew up together.
I am single, never had a boyfriend, get bored far too quickly and never reach the point of something becoming serious. This is why I haven't had sex yet.
I was thinking of what else to say but I noticed I've written quite a big post, yeah I have tendency to ramble on and on.
So anyways I'm expecting retaliation for my previous awkward questions but I have no shame and am willing to answer anything.

BRING IT ON BITCHES.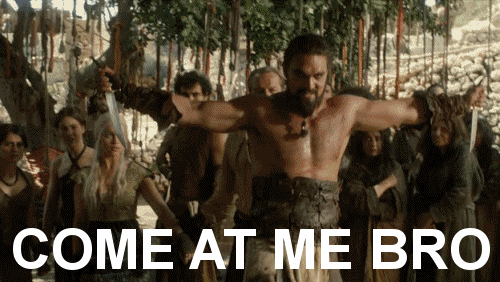 Feel free to ask whatever you'd like. This thread will be up for approximately a week before we move onto our next participant.