UPDATE(11/09/2019): It's officially opening for Pre-order again from now
until October 10th, 2019
at:
https://areiml.ecwid.com/PRE-ORDER-SHINRA-COMPANY-ENAMEL-PIN-FINAL-FANTASY-VII-p149283024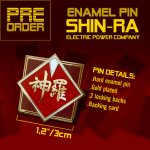 The minimum pin orders we will need is 30. If the order didn't reach the minimum order at the end, I will refund money for those that have placed their order. Hope we can collect enough people wanting this item.
​
Um, hi guys, I always want to have an enamel pin of Shinra Company yet I can't find any relevant maker that actually sells it
so I'm thinking of making one myself

The problem is enamel pin is expensive to make with just one pin so I wonder if anyone here also wants to have it? I'll need about 30 of them to be made to have a fair price for each. So I'm opening this pre-order to collect the people that wanting this item

If you're interested, please visit:
http://777erro.tictail.com/product/pre-order-only-shinra-company-enamel-pin-final-fantasy-vii
Thank you for reading this!
Last edited: