Well, I figured that I should make my own art thread on here. It's about time.
I often go by Rhoey online, but my name is Nikki and aside from being a big FFVII nerd, I'm also a Swedish artist. I was born in 1986, and have been drawing since I could hold a pencil - and have never put the pencil down since. Art has always been my biggest source of inspiration, passion, and meaning. I use mainly watercolors, gouache, ink, colored pencils and graphite in my work. So, I'm all traditional with my art. Nature motives such as animals and plants inspire me the most, as well as portraits, and of course, fan art (mainly FFVII).
I'm currently taking part in an exhibition here in southern Sweden where I live.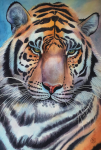 Feel free to follow me on here, and on social media
Where you can find me:
Instagram
Facebook
DeviantArt
Etsy
My website
Last edited: