I have a few thoughts that I managed to cobble together.
In the newest trailer, Elmyra says "The world's ending. At least, that's what everyone is saying." In the sky above, an angelic ring is visible. Compare that to the angelic universe shown at the end of Remake, which the
Japanese Material Ultimania
refers to as the "dying universe".
I'm betting that the Terrier world (the one with Zack) is within that dying universe.
Gazing upon the angelic dying universe, Sephiroth says "Our world will become a part of it...one day. But I...will not end. Nor will I have you end." Perhaps there's something absorbing universes, hence why they "become a part of it". This process seemingly kills the worlds within them.
Additionally, the latest trailer ends with Sephiroth saying "The reunion... when worlds merge." Is Sephiroth's usage of "reunion" here referring to how universes "become a part of it"?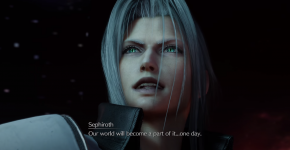 The red universe behind Cloud is named the "universe that will be born". The storyboard for this scene (again, within the Material Ultimania) states that Cloud "bears the burden" of this universe. Is this the universe that the Beagle world (the one we play through in Remake) resides in?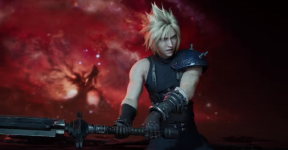 Finally, we have the dead world between the two that Sephiroth refers to as the "Edge of Creation". The in-game story summary for this scene states "In the world beyond, Sephiroth shows Cloud a vision of the planet seven seconds before its demise."
My big brain theory is that this third world did not die of natural causes. Instead, I'm starting to think Sephiroth succeeded in absorbing its lifestream. His ultimate goal then is to overcome whatever it is that's currently afflicting the angelic dying universe. To that end, he's absorbing all the lifestream a world has right before they "become a part of it", preserving them in a way. His sights are now set on the next universe in line: the one that contains the Beagle world that Remake takes place on.
In Sephiroth's mind, he's "saving" the worlds he absorbs, hence Aerith's line in Chapter 18: "He'd tell you that he only cares about the planet. That he'd do anything in his power to protect and preserve it. But this isn't the way it's supposed to be." What Sephiroth is doing is against the natural order.
The Remake Project would then culminate with Cloud and Zack saving their respective worlds, both from Sephiroth and whatever "it" is. Altogether, these are the "three worlds" which
Nomura says
are represented in Rebirth's key art.
Just some food for thought!
Last edited: