You have been waiting quite some time for the next  On the Way to a Smile Audiobook, but Pixel has finally completed his latest work: On the Way to a Smile: Case of Yuffie. The Audiobook is available for you  in MP3 format for easy listening and transportation at the link below.
"On the Way to a Smile: Case of Yuffie" (Right Click to Save As)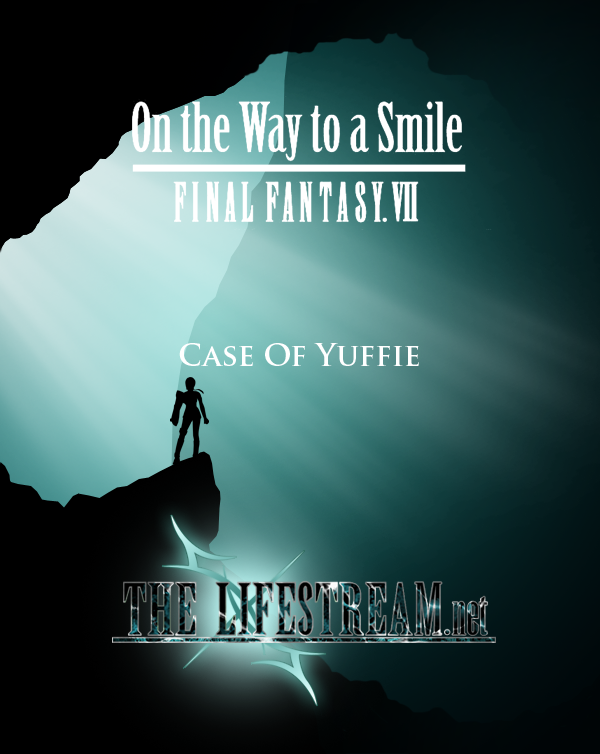 You can also listen to the Audiobook via the embedded YouTube clips below. There are additional segments beyond the fold, so click "Read the rest of this entry" at the bottom of the article to see the rest. Once again, please give a rounde of applause to all the people that helped to make this. We hope that you enjoy this latest presentation and look forward to your comments. Even the ungrateful nitpicky ones.
Length – 50 minutes 46 seconds
Written by Kazushige Nojima
Translated by Xcomp
Produced and Narrated by Joseph Knight
Featuring music by HypochondriacPiano
Starring
Mizura as Yuffie Kissaragi
Daniel Yetman as Vincent Valentine
Jonathan Waters as Cid Highwind
PsylentKnight as Barret Wallace
Christina McBride as Tifa Lockhart (Additional lines by Rinrinorikuriku)
Anthony Muth as Cloud Strife
Christian Sekhanan as Nanaki
Michael Lloyd as Godo
BlooCerix as Yuri
PiFace314 as Wutai Girl
Elephantologist as Yuri's Mother
Music
Kevin Lau – Aeris Lives at OCReMix.org
BogusRed – Beyond Midgar at OCReMix.org
Nobuo Uematsu – Stolen Materia
HypochondriacPiano – FFVII Main Theme
Nobuo Uematsu – Wutai
Masashi Hamauzu – Ninja Girl of Wutai
Goodnight Until Tomorrow Remastered
Nobuo Uematsu – Hurry!
Nobuo Uematsu – Victory Fanfair
Nobuo Uematsu – Hurry Faster!
Michael Giacchino – Run Like… Um Hell
Shiro Hamaguchi and Seiji Honda – Cosmo Canyon (Piano Collections version)
HypochondriacPiano – The Promised Land
Russell Cox – On That Day at OCReMix.org
Nobuo Uematsu – Descendant Of Shinobi
All characters and scenarios copyright © SQUARE ENIX CO., LTD. ALL RIGHTS RESERVED
YouTube Part 1
YouTube Part 2
YouTube Part 3
Podcast: Play in new window | Download
Subscribe: Apple Podcasts | Android | RSS