After 4 months of hard work, we proudly present the first TLS exclusive audiobook: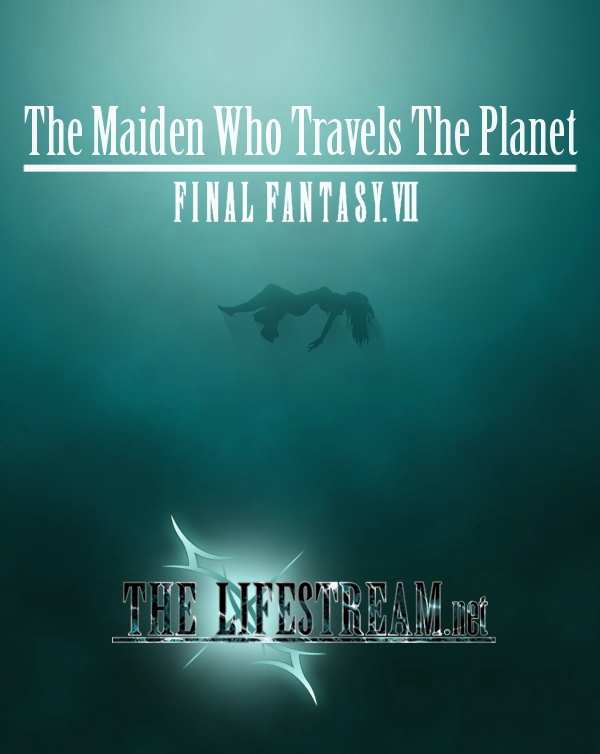 You can listen to it by clicking on the banner at the bottom of the page, or download it for your personal storage / transportation by clicking on the link just above the project information. We sincerely hope that you enjoy this, and keep your eyes open for The Lifestream.net's next audiobook installment: "On the Way to a Smile: Case of Tifa."
Update: The complete Audiobook is also available on our Youtube channel in a 7 part series. Here's Part 1, and the download link is just below the video.
Click for Youtube Links: Part 1, Part 2, Part 3, Part 4, Part 5, Part 6, Part 7.
The Maiden Who Travels The Planet: Complete Audiobook (Right Click to Save As)
Length – 1 hour 15 minutes
Written by Benny Matsuyama
Original translations by LH Yeung (Xcomp)
Further translations by hitoshura
Produced by Joseph Purdy
Narrated by Tim Jewett
Aerith – Rinrinorikuriku
Jessie – Annie_Chan
Biggs – KaffeineKid87
Wedge – Dustin Dorsey
Dyne – Jack Li (satsugaikaze)
President Shinra – Steven Kelly
Zack – Daniel Yetman
Hojo – Joseph Vitaliano
Sephiroth – Michael Lloyd
Featuring music composed and performed by Roy Todd www.roytoddmusic.co.uk
"The Maiden Who Travels The Planet" and "Why" piano compositions written and performed by HypochondriacPiano
"Aerith's theme" – piano composition performed spookyman89
"Shinra Company" written by Nobuo Uematsu, remastered by d33eniz
"Those Chosen By The Planet" written by Nobuo Uematsu
"Aerith's theme – ACC long version" written by Kazuhiko Toyama
All characters and scenarios copyright © SQUARE ENIX CO., LTD. ALL RIGHTS RESERVED
Podcast: Play in new window | Download
Subscribe: Apple Podcasts | RSS