Greetings faithful readers! As a surprise, we're releasing the first On the Way to a Smile novella – Case of Lifestream as the second TLS exclusive audiobook, since it was completed a little ahead of schedule. (Don't worry, Case of Tifa & Denzel are still on their way).
"On the Way to a Smile: Case of Lifestream" (Right Click to Save As)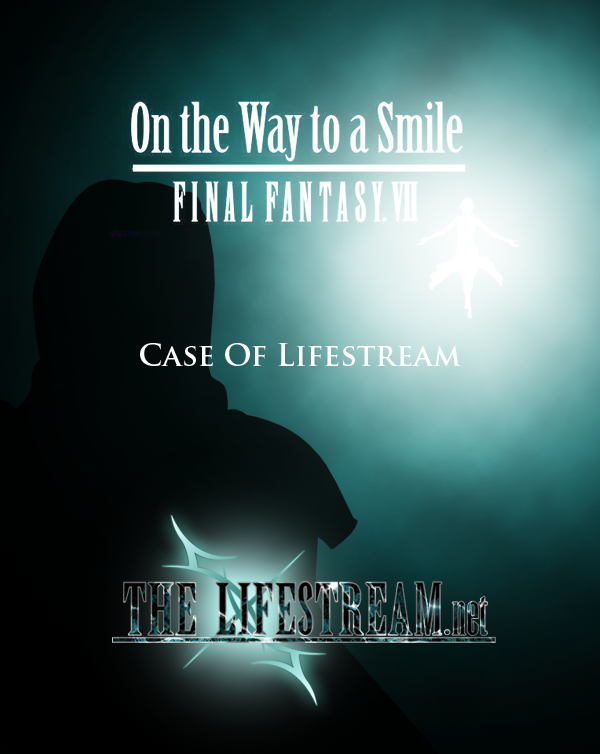 As before, you can listen to it by clicking on the banner at the bottom of the page, or download it for your personal storage / transportation by clicking on the link just above the image. We sincerely hope that you enjoy this, and keep your eyes open for The Lifestream.net's next audiobook installment! Click on "Read the rest of this entry" for embedded YouTube versions for your convenience.
Length – 11 minutes 50 seconds
Written by Kazushige Nojima
Translated by Hitoshura
Produced by Joseph Purdy
Narrated by Joseph Purdy
Sephiroth – Michael Lloyd
Aerith – Rinrinorikuriku
"Beyond The Wasteland" – ACC version by Kenichiro Fukui
"Lifestream" – written by Nobuo Uematsu, performed by dludi8hn
"Sign" – AC version by Nobuo Uematsu
"The Promised Land" by Nobuo Uematsu
"Sign" – ACC version by Kazuhiro Toyama and Kenichiro Fukui
"Lifestream Overture" by Reuben Kee
All characters and scenarios copyright © SQUARE ENIX CO., LTD. ALL RIGHTS RESERVED
YouTube Part 1
YouTube Part 2
Podcast: Play in new window | Download
Subscribe: Apple Podcasts | Android | RSS