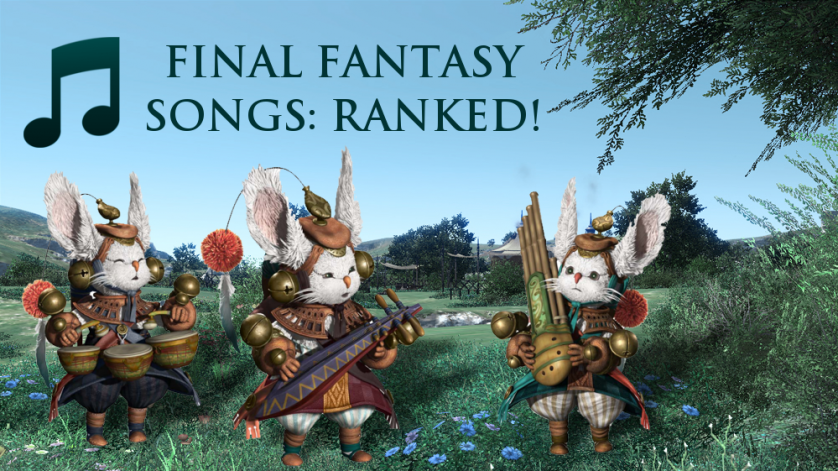 The Lifestream's number one Final Fantasy song is…
by Flintlock
December 25, 2015
3 comments
Merry Christmas from the Lifestream!
Two months and 63 polls after launching our Final Fantasy music ranking event, the Lifestream's community has spoken: their favourite song from the entire series is…
Main Theme of Final Fantasy VII!
It had to contend with some stiff competition from the likes of Not Alone (Final Fantasy IX), Liberi Fatali (VIII) and Zanarkand (X), but in the end, it's perhaps no surprise that the main theme from the game our community is built around took the crown.
The rest of our top 100 is below. Let us know what you think of our list on our forum or in the comments below!
Main Theme of Final Fantasy VII (VII)
Not Alone (IX)
J-E-N-O-V-A (VII)
Liberi Fatali (VIII)
Zanarkand (X)
Dancing Mad (VI)
Fight On! (VII)
One-Winged Angel (VII)
Roses of May (IX)
Cosmo Canyon (VII)
Melodies of Life ~ Final Fantasy (IX)
Aerith's Theme (VII)
Terra (IX)
Battle at the Big Bridge (V)
The Great Warrior (VII)
The Darkness of Eternity (IX)
Birth of a God (VII)
Vamo Alla Flamenco (IX)
Prelude (multiple games)
Words Drowned by Fireworks (VII)
The Man with the Machine Gun (VIII)
A Fleeting Dream (X)
Don't Be Afraid (VIII)
Blinded by Light (XIII)
Main Theme of FINAL FANTASY IV (IV)
Jenova Complete (VII)
Terra's Theme (VI)
Battle with an Esper (XII)
Anxiety (VII)
The Decisive Battle (VI)
Final Battle (X)
Opening – Bombing Mission (VII)
Cid's Theme (VII)
A Place to Call Home (IX)
Kiss Me Goodbye (XII)
Listen to the Cries of the Planet (VII)
The Price of Freedom (Crisis Core)
Let the Battles Begin! (VII)
Lifestream (VII)
Maybe I'm a Lion (VIII)
Servants of the Mountain (X)
Fight With Seymour (X)
Phantom Forest (VI)
Ending Theme (X)
Kefka (VI)
Compression of Time (VIII)
The Landing (VIII)
Eternity ~Memories of Light and Waves~ (X-2)
Aria di Mezzo Carattere (VI)
Premonition (VIII)
Calm Before the Storm (X)
Something to Protect (IX)
Find Your Way (VIII)
Bran Bal, the Soulless Village (IX)
Answers (XIV)
Succession of Witches (VIII)
The Extreme (VIII)
Omen (VI)
Vivi's Theme (IX)
The Forested Temple (VII)
Streets of Rabanastre (XII)
Matoya's Cave (I)
Battle 2 (IV)
Under the Apple Tree (Crisis Core)
The Castle (VIII)
Only a Plank Between One and Perdition (VIII)
Judgment Day (VII)
Noel's Theme – Final Journey (XIII-2)
The Chase (VII)
Dust to Dust (XIII)
Besaid (X)
Black Mage Village (IX)
Via Purifico (X)
Yuna's Ballad (X-2)
Battle 2 (IX)
Kuja's Theme (Millennium Version) (IX)
Silver Dragon (IX)
Mount Gulg (II)
The Rebel Army (II)
Golbez, Clad in Darkness (IV)
Court Jesters (IX)
Shinra, Inc (VII)
Festival of the Hunt (IX)
Celes's Theme (VI)
The Final Battle (V)
Fithos Lusec Wecos Vinosec (VIII)
Movement in Green (X)
Auron's Theme (X)
Steiner's Theme (IX)
Fang's Theme (XIII)
Electric de Chocobo (VII)
Besaid (X-2)
The Legendary Beast (VIII)
The Veldt (VI)
Symphonic Poem "Hope" (XII)
Battle to the Death (VI)
Magitek Research Facility (VI)
Freya's Theme (IX)
Secret of the Deep Sea (VII)
Setzer's Theme (VI)