Sephiroth's translated character profile from the FFVII 10th Anniversary Ultimania is now up. Enjoy!
---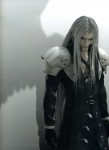 Sephiroth
Compilation of FFVII: FFVII – AC – BC – CC – LO
Character Profile
Sex: Male
Height: Unknown
Blood Type: Unknown
Date of Birth: Unknown
Birthplace: Unknown
Weapon: Masamune
First Person Pronoun: オレ [ORE]*, 俺 [Ore]°, 私 [Watashi]†
Voice Actor: AC, CC, LO – Toshiyuki Morikawa
---
* ORE – Original game, sane pronoun. Male-only, coarse-sounded pronoun.
° Ore – CC and LO, sane pronoun. Male-only, not as coarse as オレ.
† Watashi – All titles, post-insanity pronoun. Genderless, normal politeness.
---
A SOLDIER: First Class who possessed outstanding merits, was admired as a hero, and after he learned of his birth, began a series of murders in his quest to be become ruler of the Planet. Though he was killed twice, his spirit will not return to the Lifestream, and remnants of his aggression continue to exist on the Planet. For Cloud, he is the foe that destroyed his hometown, a symbol of the past he must break away from.

---
In Final Fantasy VII

Born into the ShinRa Company as "Jenova's son",
A fallen hero who inherited Jenova's will to destroy the Planet.
Believed to have died five years ago in the Nibel Mako Reactor, he suddenly appeared in the ShinRa Building and murdered President ShinRa. He claimed to be heading towards "The Promised Land", and guided Cloud to the Northern Crater. He synthesized with Jenova's cells to complete his revival, his goal was to control the Planet by means of directing the ultimate destructive magic Meteor towards it, but Cloud and company put an end to his plans.
「 So how does it feel?
  I wouldn't know because I don't have a hometown . . . 」
| | |
| --- | --- |
| | |
| In Cloud's memory of Sephiroth from five years ago, Cloud was a subordinate soldier who was worried about Sephiroth's distress over his birth and his own humanity. | He was created as the child of Jenova and when he learned of this he considers humanity to be his enemy, and thus his crimes began with the burning of Nibelheim. |
「 Because you are . . . . . a puppet. 」
---
Trivia 1
Sephiroth all over the place.
In "FFVII" wherever Cloud and company go there is Sephiroth, but as a matter of fact it's not Sephiroth's real body. The headless Jenova stored in the ShinRa Building, is the one who manifests in Sephiroth's form.
As for Sephiroth's true self, when he fell inside the Nibel Mako Reactor he dissolved in the Lifestream, but over the course of five years his body reconstructed itself in the Northern Crater where the Lifestream concentrates as he bided his time for his revival. Before long, he was able to call Cloud, the Copies, and Jenova's body together to unify in the Reunion, and use them to obtain the black materia to summon Meteor. After that, it was the complete body that Cloud and company would fight against.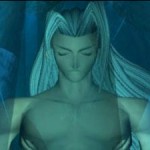 [FFVII] Sephiroth's true body made the call for Reunion for his rebirth in the Northern Crater.
---
Special Arts
Supernova
| | |
| --- | --- |
| | |
| Something is summoned forth by Sephiroth when both of his hands are raised. | A meteor appears, destroying the planets of the solar system one by one. |
| | |
| --- | --- |
| | |
| The meteor crashes in the sun, and because of this impact the sun starts to swell. | It erupts in a Supernova, everything around is engulfed in the tremendous shock wave. |
---
In Advent Children
A fallen angel who brings despair to Cloud and the world
with his Second Advent.
Although he was defeated in the war surrounding Meteor, and had once fallen into a Mako Reactor, he did not return to the Planet but instead was diffused into the Lifestream. Elements from his body flowed into the atmosphere, and the rejection of these heterogeneous elements was called "Geostigma". Soon after, a remnant of his called Kadaj acquired substance. He was to fulfill the volition inherited from "Mother" to "To rule the Planet", and fought against his fated rival Cloud.
「 Good to see you, Cloud. 」
Once Kadaj obtained "Mother" he was able to carry out the Reunion, after which Sephiroth's figure appeared before Cloud.
「 Shall I give you despair? 」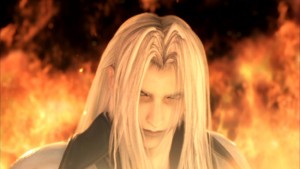 Seven years before AC, Sephiroth turned Nibelheim to the very picture of Hell as he reduced it to ashes. At the height of his cruelty he murdered many, the memory of which lingers in Cloud and Tifa's hearts as a terrible nightmare.

「 What I want, Cloud . . . is to sail the darkness of the cosmos with this planet as my vessel,
  just as my mother did long ago. 」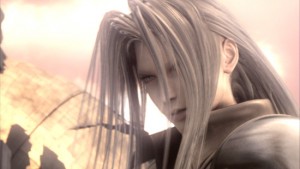 Appearing more than 2000 years ago riding on a meteorite "The Calamity from the Skies" – Jenova. Her very existence is to takeover planets and "Mother's" dreadful ambition, her "son" Sephiroth has set out to achieve.
「 Oh, where did you find this strength? 」
Cloud crossed swords with him two years ago after he defeated Sephiroth for the second time. Cloud is surprised to hear this voice again, echoing with both composure and sarcasm.
「 Tell me what you cherish most. Give me the pleasure of taking it away. 」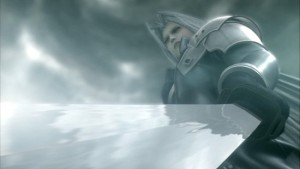 Cloud answers Sephiroth's proposal with his own perseverance. Cloud regards what is right, as Sephiroth holds Cloud in place, both standing in each other's way as fated rivals.
---
Compilation Check
The One-Winged Angel who possesses jet black feathers.
When speaking of Sephiroth, he is well-known for his one wing. The title of his theme is even "One-Winged Angel", in FFVII his final form is "Safer Sephiroth" and in his exit in AC he bares a black wing on his right shoulder. With only one night black wing, "fallen hero" and "The one who failed to become a God" are terms used to refer to it as a symbol of Sephiroth's situation.
[FFVII] The enemy who stands before you in the last sequence of FFVII, Safer Sephiroth. His right arm has become a black wing.
「 I will . . . never be a memory. 」
---
In Before Crisis
Soon inside the ShinRa's hero,
Arises doubt towards his self.
Age: Unknown
He boasts an outstanding ability even among the 1st Class SOLDIERS, and he is known as the "Silver SOLDIER". President ShinRa puts a lot of trust in him, and in a state of emergency he received his orders from the president personally, and cuts down anyone who opposes ShinRa. But on a mission to Nibelheim, he discovers he is literally a tool of ShinRa, and resolves to follow the path of an enemy to ShinRa and to all mankind.
| | |
| --- | --- |
| | |
| What are you fighting for…?When the enemy leader Elfe posed this question to Sephiroth, who had up until now used his skills as a pawn of ShinRa, he is shaken by it. | With a single swing of the Masamune he cuts down the helicopter AVALANCHE stole, and prevents Hojo's kidnapping. A glimpse at his formidable power. |
| | |
| --- | --- |
| | |
| He learns of the circumstances of his birth, and heads to the Mako Reactor where his "mother" awaits. He intimidates the member of the Turks who is on his trail. | Sephiroth trembles in humiliation at being wounded by Cloud, a mere grunt. |
---
In Last Order
The truth of his existence,
Turns a hero into a danger to the planet.
Age: Unknown
Appears in Tseng's recollection of events, as the origin of Zack and Cloud's tragic fate. Setting Nibelheim ablaze and massacring the villagers along the way, Sephiroth heads to the Nibel Mako Reactor in an attempt to join with his mother Jenova. The insane look in his eyes is a striking feature throughout the film.
| | |
| --- | --- |
| | |
| Sephiroth calls Jenova, who was contained within the depths of the Nibelheim Mako Reactor, "mother" as he reaches his hands towards her face. | Battling Zack, a colleague with whom he was close. He brushes off Zack's attacks with such power that one wouldn't think they were the same rank in SOLDIER. |
---
Compilation Check
His Fall into the Mako Reactor: Intentional, or Beyond his Control?
Sephiroth ends his life as a human being in the Nibel Mako Reactor, but the interpretation of how it happens is divided between the titles. In FFVII, despite having being stabbed, Cloud unexpectedly fights back and throws him into the Mako Reactor. On the other hand, in BC and LO Sephiroth jumps into the Mako Reactor on his own volition. But whichever it is, Sephiroth gaining a vast amount of knowledge in the Lifestream and being revived five years later stays the same.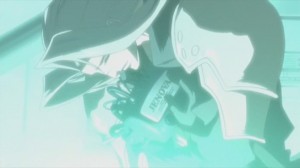 [LO] Sephiroth holds the head of his "mother" Jenova in his arms and jumps into the Mako Reactor. His countenance is calm, as if he perhaps foresaw his later resurrection.
---
In Crisis Core
Glimpsed through the conversations with his comrades-in-arms,
The face of the real "Sephiroth, the hero."
Age: Unknown
From the very start of the story he has already captivated many as a highly skilled SOLDIER, but it was with the Wutai War that his reputation as a hero was sealed. But behind the scenes, he is conflicted as he is assigned to track down Genesis and Angeal, his colleagues and his friends. In the FFVII series the strongest impression of Sephiroth is that of the 'menace to the planet' and as an 'aloof hero,' but one of the highlights of CC is its portrayal of Sephiroth as a genial human being.
「 Are you trying to confuse me with everything you've just said?
  Or is it the truth I have been looking for? 」
Fellow 1st Class SOLDIERS Genesis and Angeal are the few friends who Sephiroth can speak honestly to. Is it having to track down these friends what sets the foundation for the events that will occur later…?
「 While the Second Classes were away we snuck in and fooled around in there.
  Genesis, Angeal, and me. 」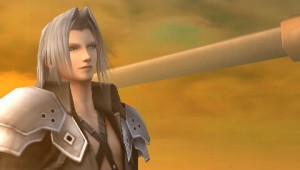 In CC Sephiroth's behavior and words often show a human side to him; he jokes, and even smiles softly at times such as in this scene.
---
Sephiroth Map
— Northern Crater
A crater created by Jenova's impact a millennia ago. Sephiroth uses the planet's energy gathered here to regenerate his body, and summon Meteor.
— Midgar
During his time in SOLDIER Sephiroth received his mission at the main ShinRa Building, and developed friendships with his fellow SOLDIERS.
— Nibelheim
The place here Sephiroth ceased to be human, and took upon himself the role of an agent of Jenova. This is also his birthplace.
---
Sephiroth – Timeline
[Compilation of FFVII]
[ Approx. 25~30 years before FFVII ]
· Is born.
· Midgar
Active as a SOLDIER 1st Class. He became a hero.
---
[ ν ] – εуλ 0000
· CC – Wutai
While taking part in operations in Wutai to bring an end to the war, he joined up with Zack who was part of an additional unit dispatched to the field.
· CC – Midgar
Engaged in protecting the city from the attacking monsters.
---
[ ν ] – εуλ 0001/2/30
· BC – Junon
Received a request to mobilize from President ShinRa, and eliminates the members of AVALANCHE who had seized the Mako Cannon. Crossed swords with Elfe, the enemy leader.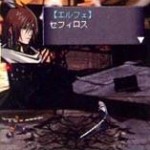 ---
[ ν ] – εуλ 0002/6/18
· BC – Midgar
In a single stroke he cut down the helicopter stolen by the old AVALANCHE from the ShinRa Building, and brought back Hojo who was almost kidnapped by them.
---
9/22
· FFVII/BC/CC – Nibelheim
As part of a full-scale investigation of the Mako Reactors after a monster outbreak, he visits Nibelheim with Zack and Cloud. Seeing the monsters that were created inside the Mako Reactor caused him to doubt his own birth.
· FFVII/BC/CC – Nibelheim
Locked himself up in the ShinRa Manor and read over the documents left by Professor Gast, where he discovered that he was created by the Jenova Project.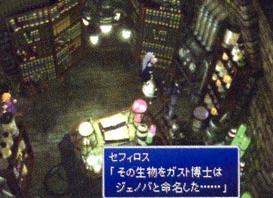 10/1
· FFVII/BC/CC/LO – Nibelheim
Burnt down the village and made his way to the Nibel Mako Reactor. Took the head of his "mother" Jenova but was fatally wounded by Cloud and falls into the Mako Reactor, and for a time was dead.
· Northern Crater
He absorbed knowledge from the Lifestream, and with the power of the head of Jenova and his own will, begins to create a new body.
---
[ ν ] – εуλ 0007
· Called for the "Reunion" to Jenova in the ShinRa Building and the Sephiroth Copies around the
world.
[Jenova]
· FFVII – Midgar
Upon heeding the call of the Reunion, the headless form of Jenova contained in the ShinRa Building awakened. It took the form of Sephiroth, murdered President ShinRa, and left the city.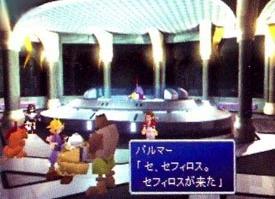 [Jenova]
· FFVII – Grassland Area
It killed the Midgar Zolom while crossing the marshland, and headed for the Mythril Mines.
[Jenova]
· FFVII – Transport Ship
Killed ShinRa troops in Junon, and infiltrated from the harbor. It confronted Cloud's team in the ship's hold, and after transforming its arm into Jenova BIRTH, made it battle them.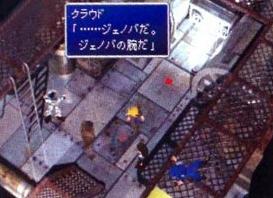 [Jenova]
· FFVII – Nibelheim
In the basement of the ShinRa manor urges Cloud to the Reunion, and said that it will cross Mt. Nibel and head north before disappearing.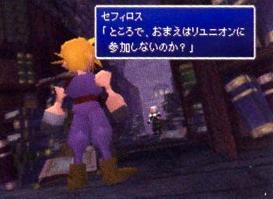 [Jenova]
· FFVII – Temple of the Ancients
Infiltrated the temple after Tseng opened the door. Attacked Tseng and manipulated Cloud to obtain the Black Materia.
[Jenova]
· FFVII – The Forgotten Capital
Took the life of Aerith who was casting Holy, and after transforming part of its body into Jenova LIFE, made it battle Cloud's party.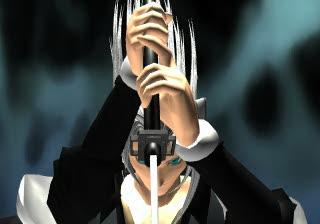 [Jenova]
· FFVII – Whirlwind Maze
Confronted Cloud's team, transformed into Jenova DEATH and fought.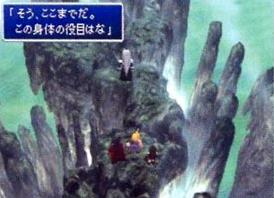 · FFVII – Northern Crater
He received the Black Materia from Cloud by manipulating him, and summoned Meteor.
---
[ ν ] – εуλ 0008/1
· FFVII – Northern Crater
With his body now completely restored, he tries to finalize Meteor's summoning. Defeated, he was absorbed into the Lifestream but his consciousness did not diffuse, and he continued to harbor hostility towards the planet.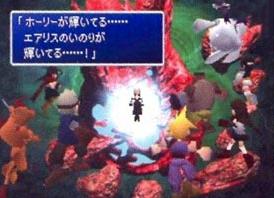 ---
· AC – Midgar
Called for the Reunion through his remnants, and caused the remnants to obtain their 'mother', and used her power to come back. However, he battled Cloud and lost.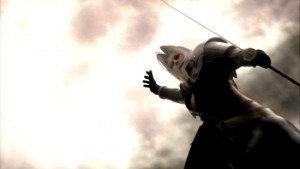 ---