Aerith's Final Fantasy VII 10th Anniversary Ultimania character profile translation is now redone and posted here. Enjoy reading up on the flower girl!
---

Aerith Gainsborough
Compilation of FFVII: FFVII – AC – BC – CC
Character Profile
Sex: Female
Height: 163cm
Blood Type: O
Date of Birth: 2/7
Birthplace: Icicle Lodge
Weapon: Rod
First Person Pronoun: 私 [Watashi]
Voice Actor: AC, CC – Maaya Sakamoto
---
The legendary race, the Cetra, are known to have the ability of speaking with the Planet and leading people to the "Promised Land" where supreme happiness awaits. Aerith is the last survivor of this race. ShinRa took away her parents' lives and then chased after her for scientific experiments. Although Aerith had miserable circumstances, her mind still overflows with brightness and sometimes mischief; no matter what happens, she never gives up hope. After the battle fighting to protect the Planet, Aerith returned to the Lifestream. But after that, she still exists in many people's mind as someone very important.

---
In Final Fantasy VII

Living her life to the best she could:
An innocent and mysterious "Cetra."
Age: 22
Aerith sold flowers in Sector 5. It was there she met Cloud by accident and asked him to be her bodyguard. Aerith took this opportunity to leave Midgar. While traveling, she came to realize Sephiroth was intending to use Meteor to destroy the Planet, and the only way to stop him was to invoke the White Magic handed down though the Ancients—Holy. However, she lost her life to the hands of Sephiroth, and became a part of the Lifestream and now still keeps guard of the Planet.
「 Let's see . . . . . . How about if I go out with you once? 」
| | |
| --- | --- |
| | |
| After the Reactor exploded, Cloud and Aerith merely exchanged words briefly. Meeting him again in her favorite Church, the wheel of Aerith's destiny started spinning. | Although Aerith indeed looks like a weak young girl, in fact, she has a strong will. Once she decides something, she'll absolutely remain constant and quickly pull others to join the decision. |
「 Let me handle Sephiroth. And Cloud, you take care of yourself.
  So you don't have a breakdown, okay? 」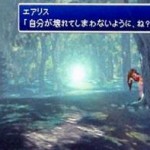 Even though Aerith perceived that Cloud had lost sight of his true self, she still has great affection for him. As an Ancient, Aerith had planned to accomplish the mission. On the one hand, her last concern is Cloud.
---
Compilation Check
Hidden inside of the ribbon,
The important materia from Mother's remembrance.
Aerith inherited something from her real mother, Ifalna, who was the last pure blooded Ancient. This object is what the Ancients passed down from one generation to another, and the last hope for the Planet—the materia of the White Magic, Holy. However, it seems that Aerith hadn't realized that her mother's memento was the key to saving the world, so she didn't take it too seriously.
| | |
| --- | --- |
| | |
| [FFVII] Aerith explains to Cloud her materia is nothing special. | [BC] Escaping from AVALANCHE, she accidentally dropped the materia, and she's terrified. |
---
Limit Break
Great Gospel
| | |
| --- | --- |
| Aerith infuses prayer into the staff, and makes the blessed rain pour. | Aerith keeps praying, ceasing the rain while Angels appear in the rift of clouds. |
From the sky which clears of Angels, the invincible power that heals everything is given to the party.
---
In Advent Children
Showing up in front of people feeling pained and confused,
Her figure seems like a loving mother.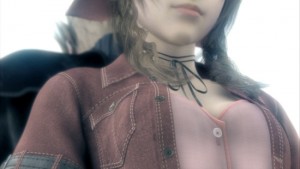 Age: N/A
Two years after returning to the planet, Aerith still lives on in the hearts of her friends who saved the planet. And in particular to Cloud, as a symbol of his failure to having being unable protect those dear to him, she was a major factor in causing him to close himself off. For Cloud, and the world once again faced with danger, she reaches out and offers her aid. In that sense she is like a mother watching over the entire planet, and it gives the feeling that she lives in every part of the world.
| | |
| --- | --- |
| | |
| Suffering from an attack of Geostigma, Cloud strayed into the labyrinth of his heart. Aerith wants to take away the burden on his mind, and she greets him with a tender, teasing voice. | Cloud's friends sent him toward Bahamut like a relay race, and as for the last push—Aerith! |
---
Trivia 1
In AC, we can see all members that saved the Planet wear a pink ribbon on their arms. Mentioning the pink ribbon, it will necessarily bring to mind the one that sacrificed herself in the previous battle in FF7—Aerith. This ribbon is the symbol of all members' feeling that "she will always be remembered". Although Marlene does mot tie the ribbon around her arm, she keeps a hairstyle which reminds us of Aerith.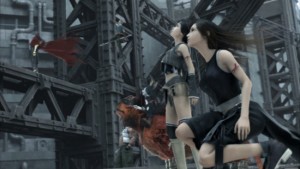 ---
In Before Crisis

Longing for the world outside of the Slum,
Aerith made up her mind to start on her journey but…?
Age: 17
Aerith wanted to know the outside world, so she decided to leave home although she knows it's thoughtless. On her way starting the journey, even though Aerith got help from a Turks member who was unwitting to the whole thing, she was besieged between "the group of ShinRa who needs her to get to the Promised Land", and "another group of AVALANCHE who wants to stop ShinRa's plan."
| | |
| --- | --- |
| | |
| Although Aerith dislikes ShinRa and searches for freedom, when she met the member of the Turks who could understand her feeling, the change in her state of mind is….? | By the power of the Ancients, Aerith immediately noticed AVALANCHE's leader, Elfe and her secret. |
---
In Crisis Core
The dull life in the Slum,
The love with a SOLDIER who fell from the sky.
Age: 15
In CC, Aerith is just a 15-year-old girl under the surveillance from ShinRa, who wanted to worm out the location of the Promised Land from the Ancients. Growing flowers seems trivial but it brought her joy while she lived at the Sector 5 Slums. At that chosen day, she accidentally met Zack, SOLDIER 1st Class, and they were attracted to each other…
「 Stop! Don't step on the flowers! 」
Inspired by the flowers that she forbids trampling, they planed to sell flowers at the market. In CC, Aerith used to say that flowers are indispensable.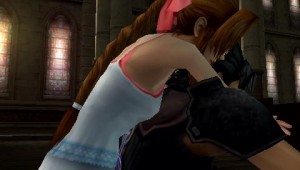 Aerith gently embraced Zack, who came back sad. The atmosphere makes them feel like a couple….
---
Compilation Check
When Aerith gets angry.
According to the scene of flower selling and her movement of checking over flowers when she meets Cloud, we get to know that Aerith likes flowers very much. That's why besides the flowerbed in the Church of Sector 5's Slum, we can also see flowers in the house where she and her foster mother, Elymra live, and many in the garden outside.
Of course, her anger toward people who trample on the flowerbed is not to be taken lightly. In FF7, when Reno and his gang appear to capture her, the first thing she does is to tell them to go outside, away from her flowerbed. Then in "BC", the battle between AVALANCHE and the Turks is stopped by a shout of "Don't step on the flowers!" Next, in "CC", there's also a scene about Zack's paying attention to not to step on the flowers….. Is there anyone able to be a better flower guardian than Aerith?
| | |
| --- | --- |
| | |
| [FFVII] Being affected by Aerith's desperate attitude, Reno's subordinates have accusing looks for their boss, who stepped on the flowers. | [BC] The fierce fight between the cadre of AVLANCHE and the Turks is stopped by Aerith's "Don't step on the flowers" ….. she's brave. |
---
Aerith Map
— Forgotten City
The place where the Ancients built up their capital. Aerith's life ends here, but her emotion goes on living after that.
— Icicle Lodge
The place where the rest of the Ancients finally gather. It's also the place where Aerith was born, but since she was soon captured by ShinRa, she actually only stayed there for 20 days.
— Midgar
It's the place where Aerith spent her childhood under surveillance by ShinRa, and the place where she leads her poor but free, happy life in the Slums– the place where lies her various memories.
---
Aerith Gainsborough – Timeline
[Compilation of FFVII]
[ μ ] – εуλ 2/7/1985
· Is born.
2/27
(20 days after birth)
· Icicle Lodge
Her father Professor Gast was shot to death by troops led by Hojo, and she was taken into custody in the ShinRa Building with her mother, Ifalna.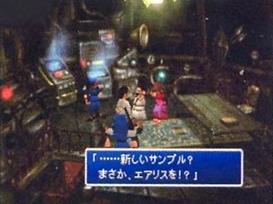 ---
[ μ ] – εуλ 1992
(Age 7)
· FFVII – Midgar
She escaped from the ShinRa building with her mother, but Ifalna died at the Sector Seven train station. Elmyra took her in and raised Aerith as her adopted daughter.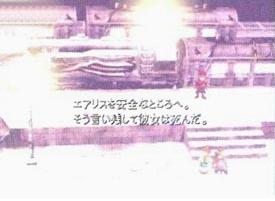 ---
[ ν ] – εуλ 0000
(Age 15)
· CC – Midgar
She met Zack in the Sector 5 church, and became very intimate with him.
---
[ ν ] – εуλ 0002/8/9
(Age 17)
· BC – Midgar
She was saved by a member of the Turks after she rejected a heavy-handed demand that she assist AVALANCHE.
---
[ ν ] – εуλ 0007/12/9
(Age 22)
· FFVII – Midgar
While selling flowers in Sector 8, she met Cloud by chance just after the bombing of the Sector 1 Mako Reactor.
· FFVII – Midgar
She met Cloud again when he fell through the roof of the Sector 5 slum church. She offered him one date on the condition that he act as her bodyguard, and then had him escort her home.
· FFVII – Midgar
As Cloud and company went to stop the dropping of the Sector 7 plate she was entrusted with Marlene, but when they are captured by ShinRa she agreed to be taken to the ShinRa Building in exchange for Marlene's safety.
· FFVII – Midgar
Cloud and company are thrown in jail while trying to rescue her, but then take the opportunity made by Sephiroth's murder of President ShinRa to escape out of the city. Cloud and company then decide to chase after Sephiroth.
· FFVII – Temple of the Ancients
She learned that Sephiroth planned to summon Meteor, and knowing that she had to stop this, she separated from the party to act on her own.
· FFVII – The Forgotten Capital
She sent her prayer for Holy to the Planet, and immediately afterwards lost her life at the hands of Sephiroth.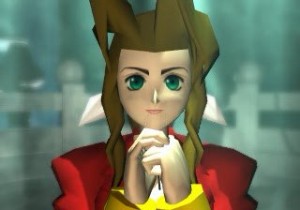 ---
[ ν ] – εуλ 0008/1
· FFVII
She used a portion of the Lifestream to stop Meteor's descent.
· AC – The Forgotten Capital
She appeared to Cloud from the spiritual world, trying to ease his painful sense of sin and guilt.
· AC – Midgar
She joined everyone in the fight against Bahamut-SHIN, lent her power to the people suffering from Geostigma, and personally provided for Cloud's recovery.
---