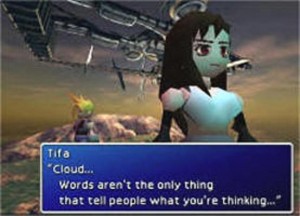 Again, working from specifically the Final Fantasy 20th Anniversary Ultimania File 2: Scenario guide. This post is a follow-up to the "Sources of Power in FF" article I just posted, which also included translations from the FF 20th Anniversary Ultimania File 2: Scenario book.
Actually, this post might better be characterized as a follow-up to the "Love Triangle Debate- over" article that Ryushikaze posted a couple of days ago. That article included selected translations from the section which I am now posting a translation of in its entirety.
I think you'll find that the ramifications for the Love Triangle Debate are even more obvious when you can read the entire page. Do enjoy.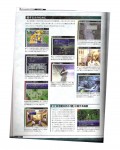 FOR THE ONE I LOVE
Through the long journeys, the love of the protagonists develop. Occasionally they become separated, but the two's value to one another gives them the great strength to overcome whatever crisis may come.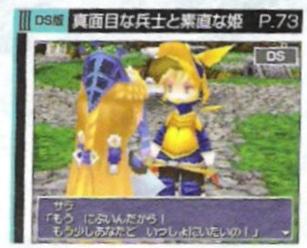 III – The diligent soldier and the meek princess
The love between the soldier and princess of Sasune Castle was divided by social status; Ingus tried to supress his feelings, but Sara would not hide hers.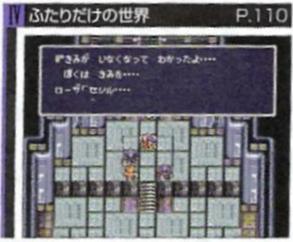 IV – World just for the two of us
When rescuing Rosa, Cecil frankly declares his true feelings. The two reunited, they tightly embrace for all eyes to see.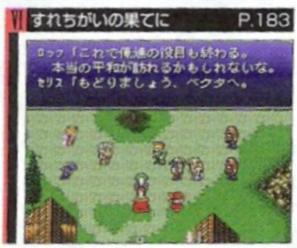 VI – Result of the chance encounter
The imperial general and the anti-empire organization member — Celes and Locke's relation to one another is like ships passing in the night; it's a long period before they get to communicate their feelings completely.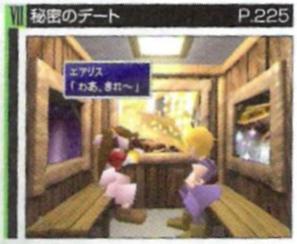 VII – Secret date
At the Gold Saucer, Cloud receives an invitation from one of his companions. Who comes around with the invitation is dependent on Cloud's behavior.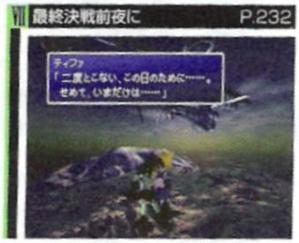 VII – The night before the final battle
Thanks to Tifa, Cloud regains himself, and before the final battle with Sephiroth, without using words, he confirms with her that their feelings match.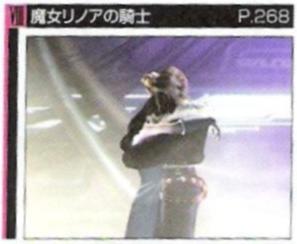 VIII – Witch Rinoa's knight
Just before she can be sealed due to being a witch, Squall retakes Rinoa. "I don't care that you're a witch" are his words to her, putting her mind at ease.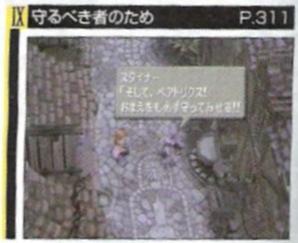 IX – For the one I must protect
Beatrix becomes the woman to whom Steiner will let no harm befall. For his homeland's protection and for hers, Steiner brandishes his sword.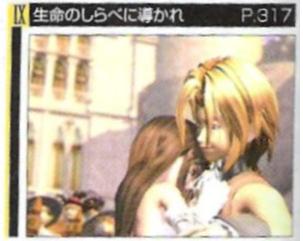 IX – Guidance on an investigation of life
Zidane left the company of his companions in front of the Iifa Tree. He survived for the sake of going back to "the place I'll return to someday," where the one he loves was waiting for him.
X – Macalania Spring
Yuna is betrayed by the temples she had completely believed in and had made the foundation of her life. Tidus decides to comfort her in this way.
Extra Thread
Scenes involving "love" other than romantic love
In the "FF" series, there's not just the romantic love between men and women; there are various forms of love depicted. In "FFV," there's familial love between Galuf and Krile, as well as the brotherly love between Edgar and Sabin depicted in "FFVI"; and in "FFIX," there's an instance of love between Eiko and Mog that goes beyond race. Also, in "FFVI," there's the scene where Terra recovers her ability to fight and comes to understand the emotion called "love"; when talking about "love," this is a scene that shouldn't be left out.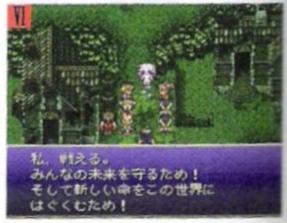 During the event where Terra recovers her ability to fight, she regains her power and says "I'll fight to protect the people I love"; she then throws herself back into battle.