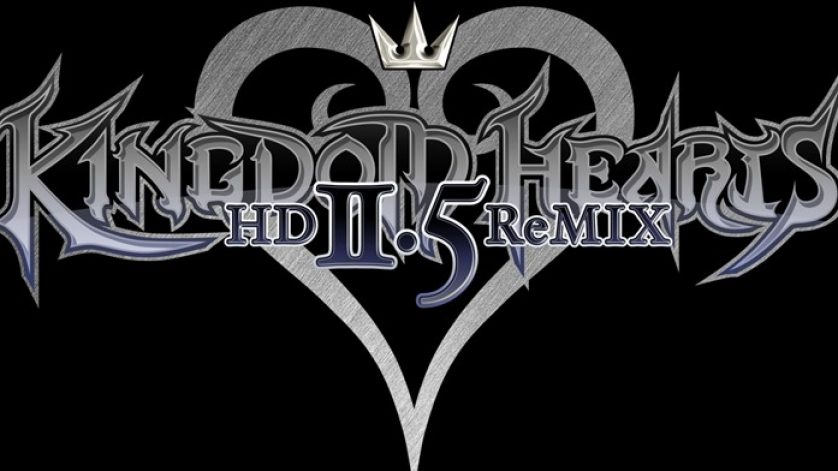 Kingdom Hearts 2.5 HD Announced
by Dark and Divine
October 18, 2013
0 comments
In this week's roundup: Kingdom Hearts 2.5 HD Announced; Kingdom Hearts III's new video ; Fang confirmed in Lightning Returns: FFXIII; Square-Enix creates a FF Committee; plus the latest from our forum.
Kingdom Hearts 2.5 HD Announced (VIA KHInsider)
A little over a year ago, Kingdom Hearts -HD 1.5 ReMIX-was announced for the Playstation 3. The high definition remaster contained Kingdom Hearts Final Mix, the enhanced version of the original that had been released on the Playstation 2 back in 2002; Re:Chain of Memories, first released on the Gameboy Advanced in 2004 and fully remade with 3D graphics in 2007 for the Playstation 2; and Kingdom Hearts 358/2 Days, first released back in 2009 for the Nintendo DS, which has now been remade into nearly 3 hours of cinematic cutscenes.

Upon its initial release on March 14th 2013 in Japan, and then later on September 10th 2013 in North America, the collection has recieved critical acclaim among fans and critics alike. The game was a massive success in Japan, having sold roughly 130,000 units within the first week alone, and it was the number 2 best seller in Europe at its launch on September 13th 2013. While had remained unclear about a remaster for the rest of the games in the Kingdom Hearts series, Tetsuya Nomura said in an interview not long after –HD 1.5 ReMIX- was announced in Japan that "it would be pretty unnatural" for there not to be a Kingdom Hearts -HD 2.5 ReMIX-.

This claim went further with the release of Kingdom Hearts -HD 1.5 ReMIX- in Japan, the credits featuring a big hint into the future of the ReMIX's. Selecting the credits option on the main menu for -HD 1.5 ReMIX-would show the credits for the remaster collection…as well as scenes from Kingdom Hearts II Final Mix,Kingdom Hearts Birth by Sleep, and Kingdom Hearts Re:coded.

After hearing Shinji Hashimoto tease the idea of a second HD remaster, it has been officially announced today at D23 Expo Japan that Kingdom Hearts -HD 2.5 ReMIX- will be releasing worldwide in 2014 on the Playstation 3!
You can watch the trailer on Youtube through here.
Is your heart full of light with these news? Share your excitment with us in our forum.
New Kingdom Hearts III's Gameplay Video
Early this week, a new video showing some of KHIII's gameplay has surfaced. Through lavish graphics, the firt part show us Sora, Donald and Goofy fighting hordes of Heartless, with Sora displaying some new moves, including the use of his Keyblades as some sort of machine guns. Next we see the young Keyblader fighting more Heartless with the use of an huge Pirate Ship. And finally, The trio faces the Rock Titan in a flying train. Also, there has been a rumour that Hikaru Utada, who wrote and sang "Simple and Clean" and "Sanctuary", was set to make her return to KHIII, but what it seemed to be a solid confirmation was apparently just a misunderstanding. More details about that in this KHInsider article.
Special Thanks go to our member Tetsujin for bringing this double blast of KH news to our attention, and to our member Cloud_s, who provided the link to the Gameplay Video.
Excited with this new step in the Kingdom Hearts Universe? Tell us what you think about KHIII in our forum.
Fang confirmed to appear in Lightning Returns: FFXIII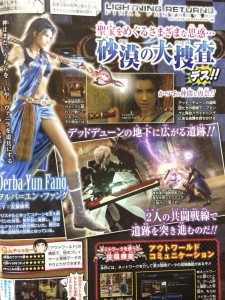 And another character from FFXIII returns in Lightning Returns: FFXIII. This time, is Oerba Yun Fang, the longtime companion (if nothing else) of Vanille. Her role in the story is yet unknown, but she seems to be helping Lightning, aiding her in battle. Credits go to our member Kuja9001 for bringing this to our attention.
Excited for this game as if you were struck by a Lightning? Then join the discussion about this much antecipated game
SQUARE-ENIX formed a FF Committee to ensure quality (via NovaCrystallis)
In an effort to bolster the quality of the Final Fantasy series going forward, Square Enix has deemed it necessary to bring together some of the franchise's top creators in what they're calling the "Final Fantasy Committee."

According to a report by FF-Reunion, the committee will be headed by Yoshinori Kitase, Hajime Tabata, Naoki Yoshida and Motomu Toriyama. Details remain sparse, but their meetings will take place to ensure the quality of the FF series going forward. Long time series character designer and now director of Final Fantasy XV Tetsuya Nomura, however, appears to be separate from this initiative as his priorities lie within his ongoing schedule elsewhere.

Previously, Kitase worked on titles such as Final Fantasy VI, VII, VIII, X, the XIII series as well Crisis Core and FF Type-0. Hajime Tabata directed FF Type-0, Crisis Core, Before Crisis and is now co-director alongside Nomura for the upcoming FFXV. Naoki Yoshida's talents are still quite new to the series, but he dragged FFXIV from the path of irrelevancy and turned it around in a near impossible feat. Motomu Toriyama has also been working on the series since Final Fantasy VII, although he is more well-known for his involvement in titles such as FFX, X-2 and the FFXIII trilogy.

Other Final Fantasy directors such as Akitoshi Kawazu (Final Fantasy II and XII), Takashi Tokita (FFIV), Hiroyuki Ito (Final Fantasy VI and XII) remain largely absent for reasons currently unknown.
Do you think that this Committee is a good ideia? Tell us your opinion in our forum.
MORE FROM THE FORUM