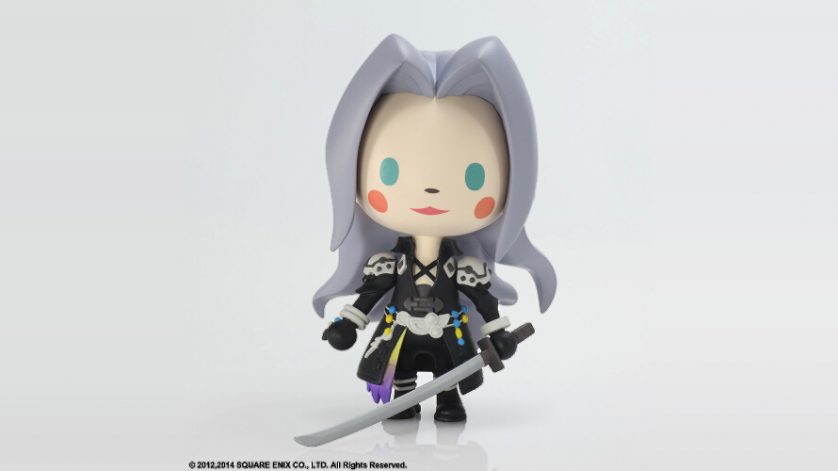 New Static Arts figures for Final Fantasy VII birthday
by Flintlock
February 5, 2014
0 comments
Square Enix marks 17th anniversary of Final Fantasy VII with new figures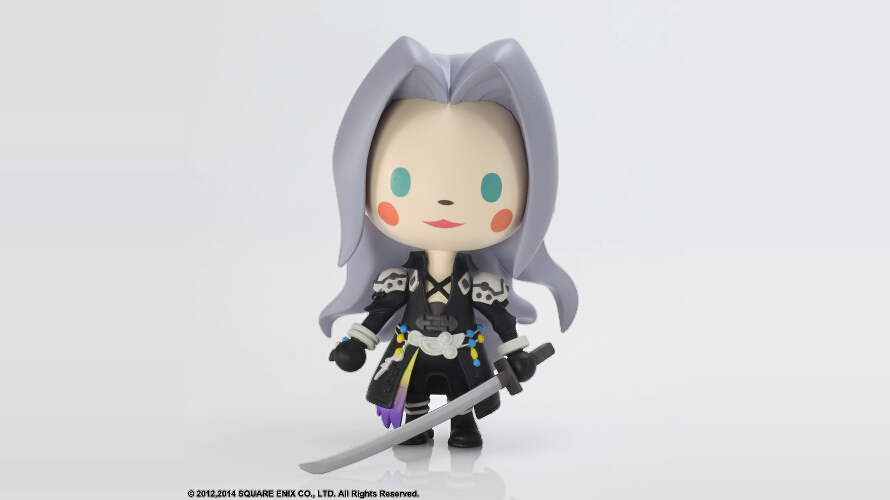 This week's top Final Fantasy VII story.
Final Fantasy VII turned 17 last Friday – it was first released in Japan on the 31st of January, 1997 – and Square Enix have chosen to mark the occasion by releasing three new "Static Arts Minis" figures… in August.
Cloud, Tifa and Sephiroth (pictured) are the three characters chosen for the new range. The 5-inch statues, described as "not too big, and not too small", look like a cross between Airborne Brigade artwork and LittleBigPlanet models.
Despite having to wait until the summer to get their hands on the statues, fans can now pre-order them from Square Enix North America for one cent under $30 each.
Source: Square Portal
More Final Fantasy news
Final Fantasy VI Takes The Serpent Trench To iOS On February 6 (RPGFan)
Square Enix will release Final Fantasy VI for iOS on February 6. This is the smartphone version currently available on Android, which has modified graphics. Awkward character sprites aside, the story is still a classic and the bonus content like Gilgamesh and the Kaiser Dragon from Final Fantasy VI Advance are also included.
Theatrhythm: Final Fantasy Curtain Call dated, branded 3DS console revealed (VG 24/7)
Theatrhythm: Final Fantasy Curtain Call has been dated for release in Japan, April 24. Square has also unveiled a new branded 3DS console launching on the same day. The console will cost ¥23,000 and comes with Theathrythm: Final Fantasy Curtain Call installed on the unit.
Final Fantasy 14 helps Square Enix swing back to profit (Siliconera)
The re-release of once embattled massively multiplayer online role-playing game Final Fantasy 14 has done the business for publisher Square Enix. Its last financial year saw a catastrophic loss of 13.7bn yen (around £83m). At the end of the current financial year ending March 2014, it expects to see a profit of up to 6bn yen (around £36m).
Square Enix Responds To Final Fantasy XV And Kingdom Hearts III Rumor (VG 24/7)
You may have heard about a document from Square Enix Europe that pegs Final Fantasy XV and Kingdom Hearts III for release in 2014. Square Enix says the release schedule is inaccurate: "The information contained in this document is inaccurate and features placeholder timing. Specifically, no announcement has been made to date for Kingdom Hearts III and Final Fantasy XV."
Thanks to Squall Leonhart for finding the stories for this week's roundup.
Video of the week
Continuing their promotion of Lightning Returns: Final Fantasy XIII, Square Enix have released a half-hour "behind the scenes" look at the development of the game and the company in general. It is in Japanese, but has English subtitles, and features Ali Hillis' voice acting in some scenes from the upcoming game. Let us know what you think of it on our forum.

Post of the week
LicoriceAllsorts comments on the lack of recognisable political entities in Final Fantasy VII, and the sparse nature of the world map, in this long post:
I think it's simply a case the choices made while world-building. Square built the world they needed in order to tell the story they wanted to tell. With the exception of Jenova and the Ancients, there was no need to provide this world with a history that went any further back than the Wutai War, and no point in trying to fill in the 2,000 year gap between the two; it would simply have cluttered up the story with irrelevant detail. In the same way, there was no point in putting towns, cities and other locations on the map if they weren't used in the story. If you can see a location on a map you expect to be able to visit it. I think it's a shame they didn't give more interesting names to the places you pass through, or to rivers and mountain ranges at least. But to assume that the places named on the map are the only places that exist, or even the most important places, is like reading Harry Potter and assuming that England consists entirely of London, Little Whittering, and that village where the Weasleys live.
More from the forum