According to the official Square Enix site, the On the Way to a Smile book which will be released April 16th will have a total of 264 pages all together.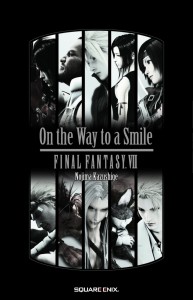 Also, some more info from the Dengeki PS3 interview has surfaced, and with it, some details pertaining to the particular story, "Case of Shinra" and Rufus and the Turks in ACC. Major thanks to hitoshura for providing this info.
– Nozue talks about how since it's CG, they might as well do over-the-top things you can't do in live action. There's a lot of this in the new scenes, like the bike scene with Reno and Rude.
– (Nojima) Rufus is cool, and being a kind of 'insider' gets lots of dialogue.
– (Nojima) Case of Shinra involves the Turks, but Rufus gets a lot of attention as well. It covers what happened after Tseng was attacked by Sephiroth and nearly died, and what Rufus did after being saved from the WEAPON attack. Case of Shinra is the only chapter which begins during FFVII. This chapter is tied to BC and DC, so it was hard for Nojima to fully grasp the character's actions and time lines. But it was interesting because it shows what's going on inside Rufus's mind.
Source: Square-Enix Japan, Cetra Connection, and Shienabent blog