The official lyrics for the Advent Children Complete theme "Safe & Sound" have been released on Kyosuke Himuro's Official Website. We've taken the lyrics, and posted them for you to check out. Thanks to member Quexinos for the heads up. Click here to view them.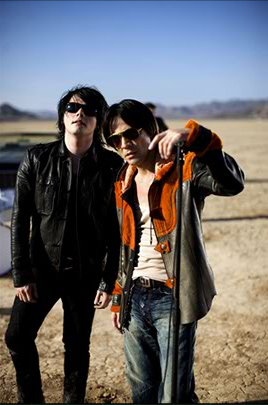 Produced by Greg Wells
Co-Produced by Gerard Way & Kyosuke Himuro
Lyrics/Music: Gerard Way
Vocals: Kyosuke Himuro & Gerard Way
Drum: Josh Freese
Bass: Dan Rothchild
Guitar: Tim Pierce
---
Lyrics
And all my hopes and dreams
Aren't for anyone
I keep them safe and sound
And all these victories
Not yours anymore
But can you hear me now?
The dead stop dreaming
Ill set ablaze this life
Your shadow keeps me bright
So try and stop me
Or suffocate this light
Because I can burn all night
Until my heart stops beating
Youll never hear me say
I'm backing down
If I say,
Its lost its meaning
If I cant find my way
Its over now
But I won't
Walk away
Chorus:
'til the day
(Whoa-oh, whoa-ooh)
Im never backing down
(Whoa-oh, whoa-ooh)
And hear me say
(Whoa-oh, whoa-ooh)
Ill keep it safe and sound
(Whoa-oh, whoa-ooh)
Ill keep it safe and
This hopeless feeling
This fear of falling down
But Im not crashing now
For all this bleeding
It wasnt worth the sound
A million screaming out
And still
The end comes reeling
The curtain calls my name
Im not afraid
And I know
You may not miss me
But I am not ashamed
The choice I made
But I cant
Let this go
(Repeat Chorus)
Like a crashing car
Or dying star
That's racing to the ground
Like the final words
Of the passengers
When the engines giving out
Will the world
Watch us burn
End Chorus:
'til the day
(Whoa-oh, whoa-ooh)
Im never backing down
(Whoa-oh, whoa-ooh)
Just hear me say
(Whoa-oh, whoa-ooh)
Ill keep it safe and sound
(Whoa-oh, whoa-ooh)
Keep it safe and sound
(Whoa-oh, whoa-ooh)
Keep it safe and sound
(Whoa-oh, whoa-ooh)
Keep it safe and sound
(Whoa-oh, whoa-ooh)
Keep it safe and sound
(Whoa-oh, whoa-ooh)
Keep it safe and sound