Final Symphony album includes new encore; Digital release date
by Tetsujin
February 17, 2015
0 comments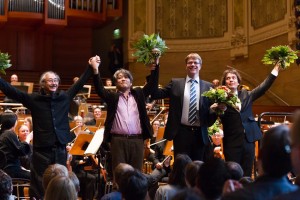 Spielemusikkonzerte revealed today that the album of Final Symphony will include new encores: A piano performance of FFX's Suteki Da Ne by Katharina Treutler as well as a new suite titled "Fight, Fight, Fight!".
The full tracklist was revealed exclusively at Gamereactor.
The album will be available digitally on February 23, on iTunes as well as Amazon MP3 and Google Play.
There has been no word yet on a physical release.
The Final Symphony concert series featured three elaborate, orchestral medleys focusing on Final Fantasy VI, VII and X – each between 20 – 40 minutes long – as well as encores. It debuted on May 11, 2013 in Wuppertal, Germany; and has since been performed in other cities such as London, Stockholm and Tokyo.
The album recordings were performed by the esteemed London Symphony Orchestra at Abbey Road Studios.
A review of the Wuppertal performance can be found on our site here.
Source: Spielemusikkonzerte