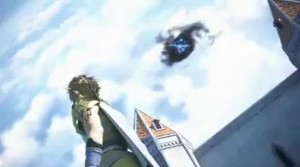 • Was Gilgamesh summoned by Chaos or Cosmos?
Neither. As seen in the second story segment from Report 8, he just wandered in from the Interdimensional Rift, and, sensing Bartz, went looking for him. His Museum profile also alludes to this:
"Even Gilgamesh himself does not know whether he was summoned to this realm as a warrior of Chaos or just ended up in this realm after getting lost within the Rift. Regardless, he explores this world as he pleases, unconcerned with the battle of the gods."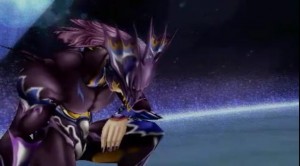 • What was Kain's plan?
The claim has been made several times that Kain — and, thus, the plot of Dissidia 012 as a whole — is illogical because his plan was to kill his allies to save them from being wiped out by manikins. Depleting Cosmos's forces, it's said, thenjust created a situation in which he and several of his comrades were consequently wiped out by manikins — exactly what he was trying to prevent.
It is, furthermore, said that his plan was idiotic because the manikins could then just wipe them all out in the next cycle.
Neither of these points are a legitimate failure in the logic of Kain or the plot, though.
To begin with, Kain was desperate. As he said in Chapter 8, "There was hope in my actions. Not hope–but a gamble, perhaps. I took a risk to believe in a chance, rather than live as a pawn to disappear."
In any case, Kain's plan to kill his comrades ended up being part of Golbez's plot to end the cycles of Dissidia during cycle 013 — a plot which would keep the heroes from being wiped out by manikins, as the plan the warriors of Chaos had to kill Cosmos (a plan Cosmos herself was in on, conspiring with Golbez) would require the heroes stay alive long enough to receive their crystals, rendering Cosmos vulnerable to death without resurrection.
In other words, even if Kain didn't know Golbez had a plot, his plan was pivotal to that plot. And it was a plot which worked — so it was a damn good plan.
• Was Kain putting his allies to sleep or killing them?
While the dialogue in Lightning and WoL's conversation from Chapter 5 refers to the warriors of Cosmos as being put to sleep, and though Cosmos says she can still sense them, they were certainly dead in any sense of speaking that matters. Running someone through with a spear, as Kain attempted to do to Lightning during Chapter 1, is going to do more than just put them to sleep.
Garland is a lot more straightforward about the matter when he confronts Lightning at the end of Chapter 1, telling her outright that "Most of your friends have already departed."
While the beginning of Chapter 6 says that Kain was harboring his allies in the desert, this most likely means that he was hiding their bodies there so that they wouldn't be destroyed by manikins or taken and altered like Jecht's.
• Why didn't Chaos's warriors just blitz Cosmos's with manikins during cycle 013?
Many have pointed out that swarming the heroes with manikins worked out really well during cycle 012, and so claim that the villains should have just done it again during cycle 013, thus, permanently annihilating them. The villains were not foolish, however, for not simply blitzing the warriors of Cosmos with manikins in the thirteenth cycle.
The villains deliberately let them live until the Shade Impulse portion of cycle 013 because they needed the heroes to acquire their crystals in order for it to be possible to deliver Cosmos an absolute death. In other words, they weren't legitimately trying to kill them for most of cycle 013.
While it would have been a good plan to send all the manikins at their disposal at the heroes once they returned following Cosmos's death in Shade Impulse, by then, they probably didn't have many manikins left. At the end of cycle 012, Lightning and her team had succeeded in closing the rift the manikins were emerging from.
This is evident during the ending FMV for cycle 012 when the pink lights emerging from that rift dissipated after Lightning's Zantetsuken swords flew into the crevice. Lightning had hurled her weapons over the heads of the advancing manikin horde as her last effort, keeping herself going just long enough to see that her team had succeeded before allowing her wounds to overtake her.
If anything, the only foolish thing Team Chaos did was not summarily execute Golbez at the beginning of cycle 013. In the first cutscene from Report 4, it was clear that the Emperor knew he had fed Kain intel regarding the cycle. Given the Emperor's prominent place among the warriors of Chaos, he could have gotten the others to back him in taking Golbez down.
Not that it would be difficult for anyone to figure out what Golbez was up to. Sephiroth clearly figured it out during cycle 013 (as seen in Destiny Odyssey scene 32 from the first game), and he didn't even have any memories of prior cycles.
• Why didn't Lightning's team commit suicide or kill one another before the manikins could kill them?
It's been said quite a bit that the the six fallen warriors of Cosmos were foolish for not committing suicide or killing each other before the manikins could. However, their objective was to close that rift the manikins were coming through, and they were determined to fight until they had achieved this.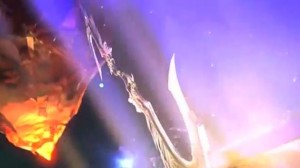 • Did Lightning's team succeed in closing the manikins' rift?
It's rather easy to miss, but — as mentioned under the response to "Why didn't Chaos's warriors just blitz Cosmos's with manikins during cycle 013?" above — Lightning's team did, indeed, succeed in closing the rift the manikins were emerging from. Lightning's Zantetsuken swords descend into the crevice from which the pink lights were emanating, and Lightning stays on her feet until she sees the pink energy dissipate behind the advancing manikin horde.
At that point, knowing she and her friends had succeeded, Lightning succumbed to her wounds and collapsed alongside them.
That Lightning succeeded is also confirmed by the text-only portion of Report 18:
"In the midst of battle, pawns
of discord discovered a door
where the experimental 'failures'
had been discarded in the past.
They used the door to their advantage.

Pawns of harmony were pushed to
the brink of extinction in the
struggle against the 'failures.'

But they did not give up. The
few pawns that had remaining
strength destroyed the door to
the Rift and sent the 'failures'
to oblivion.

That was the path that led to
the Rift."
Notice also that in the cutscene from Report 17 — which takes place at the Empyreal Paradox, where the manikins' rift was located — that the portal is long gone.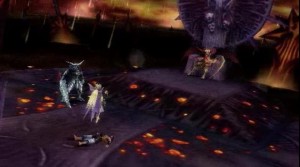 • What was Emperor Mateus's plan in cycle 013?
The Emperor's plan was to use Jecht, who had been a warrior of Cosmos, as the means to ensure his own survival once Chaos eradicated everything.
Though he was brought over to Chaos's side, Jecht still had a bond with Cosmos and the light, and, thus, when he fought Tidus, both of them received a crystal. However, the Emperor captured the light of Jecht's crystal — one filled with Chaos's power — for himself.
Due to Jecht's allegiance with Chaos and his unwilling connection to darkness, the Emperor was able to use the crystal he created from that light for the same purpose as the crystals Cosmos had left with the heroes — to preserve himself after the death of the god whose side he fought upon: Chaos. Basically, by using the dark crystal Jecht's bond with Tidus created, he was able to ensure that should Chaos disappear, he would still exist and be able to reshape the universe as he saw fit, becoming a new god himself.
This is explained by the Emperor during his conversation with Jecht in Shade Impulse scene 5:
Emperor: "You are wrong on one point, Jecht. You are not Chaos's pawn."
Jecht: "…What?"
Emperor: "You most likely don't remember…but you were once a pawn of Cosmos.
Harmony and disorder are always arbitrary. You just happen to be on our side
now. You are a traitor, a body of the dark with a heart of light. So I set out
to use you."
Jecht: "Use me?"
Emperor: "To make crystals–special ones suited for bodies of the dark. Light
was born when you faced your son. Then I took the light when you fought him.
Tremble in fear… Now I have powers the likes of which even gods can only
dream!"
It's also explained by Mateus and Jecht's in-game profiles under the Museum in Dissidia 012:
(From Mateus's profile)
"Abandoning his mission as a warrior, he plots to rule the world. Realizing that he is powerless against a god through his observations of many battles, he places his machinations on hold.

Conditions turn to his favor during the twelfth cycle when he is successful in having Chaos's powers endowed on the former warrior of Cosmos, Jecht. After the ritual purification, the Emperor guides the amnesic Jecht to form a crystal possessing the god of discord's power and steals it for his use."

(From Jecht's profile)
Transferring the powers of Cosmos within him to Tidus, Jecht collapses, having lost all his might. His body should have faded away, but through the intervention of the Emperor, his body is infused with Chaos's power. This act led to Jecht being reborn as a warrior of Chaos in the thirteenth cycle.

As with the other warriors of Cosmos, Jecht received Cosmos's power during the twelfth cycle, and he was ready to manifest his crystal. But the flow of energy within him transforms due to his revival as a pawn of Chaos, giving birth to a crystal of darkness."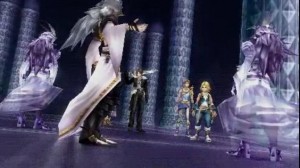 • What were Kuja's intentions in cycle 012?
Many players of Dissidia 012 have been confused by Kuja's behavior and wonder whose side he was really on. We'll clear that up now.
To begin, I'll just present the answer to the question of which team he was trying to help: Cosmos's.
How do we know this? First, Kuja informs Zidane that beating Chaos would cause all of his servants to fall too. He also tells Zidane that this works both ways for Cosmos's team.
So, right here, Kuja has just given "the enemy" valuable information that he didn't have to share in order to get Zidane to trust him. Zidane already trusted him.
Despite Kuja attacking the warriors of Cosmos when the Emperor, Kefka and Ultimecia show up, he wasn't doing anything more than trying to protect them from being killed by the manikins.
Notice that with the villains on the scene, Kuja even tells Zidane to run: "Zidane, take your companions and go–." He does so again when he fights Zidane: "You should probably run–before you no longer can."
Now ignore the tone with which Kuja says that last one to Zidane and just look at what he's actually doing. He told his supposed enemy to run away twice after — if this whole thing really were a trap to kill that enemy — the "plan" had worked? It doesn't make sense.
Notice as well that Kuja tells Kefka to put the manikins away and says he'll do the fighting himself. Fighting which he wins — and yet he still "fails" to kill not even one of the three warriors he'd just defeated before they escape.
It becomes clear from that alone that Kuja didn't want Zidane and his companions to be defeated by manikins in this scene, so he decided to play the role of the treacherous schemer who lured them into a trap. This response to Kefka after the fighting ends cements that: "You think I let them slip through my fingers?"
Notice, as well, how depressed Kuja looks and sounds after the battle. In order to save Zidane and the others in that scene, he had to lose their trust.
Despite wishing for the victory of Cosmos's team during cycle 012, his memories are manipulated by Kefka in cycle 013 and he becomes a vicious person bent on causing Zidane to suffer for most of the game.
It's hinted in Report 1 and Chapter 1 that Kefka planned to alter Kuja's memories in that way. Kefka says this at the very end of Report 1: "But don't you dare think this is over. The real show? That will come after you lose to a Cosmos crony." This, of course, happens when Kefka goads Kuja into fighting Lightning, who kills him.
After he falls in battle, Kefka makes the following comment: "The next time you fight, it'll be study time! All over again! Oh, what kind of deliciously depraved memories should I fill you up with this time around?"
All of this information concerning Kuja is confirmed by his in-game profile from the Museum:
"Kuja had become uninterested in this world of endless battles where Chaos and his chosen continued to reign. Upon learning that Cosmos had instilled her warriors with the power to defeat Chaos in the twelfth cycle, Kuja decides to renege his mission and aid the warriors of Cosmos.

Unbeknownst to Kuja, Kefka had set a trap after learning of Kuja's plans. Kuja and the warriors he aimed to assist were on the brink of being slaughtered when Kuja quickly takes on the role of a traitor. Having betrayed and assaulted those he aimed to help, Kuja is successful in allowing Cosmos's warriors to escape. But this act forces Kuja to remain with the forces of Chaos.

Kuja receives purification after falling to Lightning, and is implanted with false memories by Kefka in the thirteenth cycle. These events lead to Kuja enjoying Zidane's suffering, displaying his warped inferiority complex for all to see.

Despite these transgressions, Kuja freed Terra from Kefka's control and comforted Cloud who was tormented over the thought of fighting a friend."
Kefka's Museum profile also confirms this:
"He holds no sense of camaraderie towards the other warriors of Chaos. He not only captured Kuja, who had refused to battle and planted false memories in him…"
It seems that Kuja does recover his memories during the Shade Impulse portion of cycle 013, however, as his true personality seems to emerge after being defeated by Zidane for the final time. His body even discorporates into white smoke there instead of dark smoke — the only time this happened for any warrior of Chaos, whereas white smoke pooled off of Lightning and co. as they were dying at the end of the Treachery of the Gods story mode.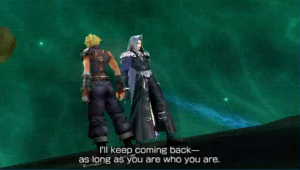 • What were Sephiroth's intentions in cycle 013?
The villains of Dissidia each held a personal goal that allowed them to overcome their differences in order to enact their plan to ensure Cosmos's demise. One schemed the world's return to the Void, while another wished its ultimate destruction, while others intended to survive the conflict's end and fashion a new world with themselves as its sole ruler. But one particular villain's goal was opaque compared to the rest…what were Sephiroth's intentions within Dissidia? Did they go beyond merely settling his grudge against Cloud?
In Destiny Odyssey scene 50, Emperor Mateus and Ultimecia approach Sephiroth, hopeful in persuading him to join their plan in fashioning the demise of the gods. Sephiroth rebuffs their invitation and walks off. However, as seen in Cloud's Destiny Odyssey, he clearly participates in Cloud obtaining his crystal, and goes so far to state that he led him to it … as if he intended and desired for Cloud to achieve his goal in the first place. Why would Sephiroth purposefully go forward with the Emperor's plan of guiding the heroes to their individual crystals, after clearly stating he was not interested?
Sephiroth's true intentions lie within his desire to be free of the conflict of the gods and allowed back to his originating world, so that he can continue to be the master of his own destiny. As stated in Destiny Odyssey II-7, Sephiroth sees the members of the conflict as "Mere puppets who cannot see their own strings." In the previous cycle of conflict between the gods, Sephiroth was not content merely playing his role as an emissary of discord. At the end of the previous cycle, Sephiroth ended his own life to see what truth lied in a world he felt was full of illusions.
At some point, he became aware of the cyclical nature of the conflict, and believed that — were he real, and not a manikin — then despite his death, he would return again. As shown in Shade Impulse Chapter 3-2, Sephiroth did not fear his demise, believing that the spirit would live on as spirit energy instead of merely vanishing — a metaphysical perspective consistent with the world he originated from.
In the end, he realized that for him to truly be free to control his own destiny — and the destiny of others in his originating world — the heroes had to succeed in eliminating Chaos. During Shade Impulse, Sephiroth coyly discusses with Garland what fate would befall each of the worlds should Chaos truly be defeated, hinting at his desire for reality to return to what it once was. For that reason, Sephiroth played his part in Emperor Mateus's plan while simultaneously allowing Chaos's own forces to sabotage themselves.
In Destiny Odyssey scene 32, Sephiroth is shown to be aware of Golbez's betrayal to Mateus's plan. However, he remained quiet on the subject so that Golbez could continue allying himself with the heroes and working against his fellow warriors of Chaos. All this was done, so that he could be allowed to return home. After all, Sephiroth had his own personal plan to ensure his immortality and godhood: Geostigma.
In his final confrontation with Cloud in Shade Impulse, upon his defeat, Sephiroth ominously references his intent to face Cloud once more. Explicit references are made to his plan to use Cloud as a way of ensuring his return once again, as expressed in the Lifestream Black novella, where he states:
As long as Cloud remembers me, I can continue to exist. Within the Lifestream, and on the surface. Even if my spirit disseminates, even if just one fragment of a memory courses around the planet, in the end I can count on Cloud's consciousness to bring me back…
In the end, Sephiroth's true intent and desire in Dissidia was the fulfillment of his own ambitions. This included Chaos's defeat and the success of the heroes so that he could return to the Gaia of FFVII, and enact his own plan to ensure his resurrection and the completion of his original goal of godhood.
• Does Cloud of Darkness die in cycle 012?
We know from the first game that she was among several warriors of Chaos who were supposed to have been killed during the twelfth cycle because, like Sephiroth, she lacks any memories of the previous cycles during cycle 013. She doesn't even know who Shinryu is.
Yet CoD is alive and well when last seen alongside other warriors of Chaos in Chapter 8 of Treachery of the Gods, just before Lightning and co. are wiped out by manikins. As such, we know she survived right up to the final moments of cycle 012.
The developers got this particular matter right with Kuja, who is killed by Lightning in Chapter 1, and Jecht, who dies in Report 3 — so what about Cloud of Darkness?
According to her and Kefka's in-game profiles under the Museum, she did survive up to the final moments of cycle 012, but was then killed by Kefka for having told Laguna how to find the rift the manikins were emerging from:
"It is later ambushed by Kefka who deems it a traitor upon learning that it leaked information to Cosmos's chosen and receives purification at the hands of Shinryu … ."

"He holds no sense of camaraderie towards the other warriors of Chaos. He not only captured Kuja, who had refused to battle and planted false memories in him, but ambushed the Cloud of Darkness and had her purified for having leaked information to their foes. Any who get in the way of destruction are eliminated without mercy."
Though she came close to surviving cycle 012, she didn't quite make it.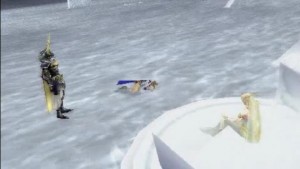 • Why is Terra still around in cycle 013? And what of her memories of cycle 012?
Terra dies from wounds she received fighting manikins in Report 2. Why does she not permanently fade from the wars of Dissidia, like Lightning, Kain, Tifa, Yuna, Laguna and Vaan?
Given that the developers had the benefit of including her death in the same game in which they introduced the concept that death-by-manikins results in an absolute death, there's little excuse for an inconsistent portrayal of the rules. It's not as though they were artistically constrained by Terra dying due to manikins in the first Dissidia, before they ever came up with introducing this rule in Dissidia 012. Both her death and the rule appear in this new game.
While one might at first try to explain this away with the suggestion that Terra didn't die at all and Cosmos healed her, that still leaves us with the conundrum of Terra having no memory of the twelfth cycle during the thirteenth — meaning she must have died during the twelfth. A loss of memories of previous cycle was established in the first Dissidia as a consequence of being dead at the end of a cycle, and is also made clear during Dissidia 012 by lines from the Emperor in Report 4: "The warriors of Cosmos have suffered loss after loss. Not one of them holds memories of previous struggles."
For the same reasons, Tidus must have died from the wounds he received during Chapter 4 when he took a blast from the Emperor that was meant for Yuna. Indeed, as shown in Report 3, his body begins discorporating into dark smoke before Jecht takes measures to save him, and he loses consciousness after asking Jecht to take care of Yuna.
Though Laguna does say afterward that Tidus was only sleeping, there's the matter of Tidus not having his memories of cycle 012 during cycle 013. He doesn't even remember Yuna during cycle 013, though he had seemed to remember who she was by the time he died in cycle 012.
Why is this?
It's unlikely that Tidus and Terra's alignment shifting from Chaos to Cosmos played any role in their memory loss. Cloud makes the same shift during this game, but doesn't seem to have any fewer memories of his homeworld. He certainly also remembers Tifa. In a conversation with Firion in the Gateway of Good and Evil during Chapter 1 of Light to All, Cloud comments that there was a manikin type that shouldn't be there:
Firion: "There are manikins of unfamiliar faces, aren't there?"
Cloud: "I don't know why, but they may be probing our memories. What a sick joke."
Firion: "Our memories? Did you see someone you remember, Cloud?"
Cloud: "Yeah… Someone from my past… Someone that shouldn't be here."
Tifa's manikin type, Illusionary Brawler, was among the manikins on that gateway board.
Moving on, even being alive at the end of a cycle doesn't seem to have helped the Warrior of Light, who is alive at the end of cycle 012 but has no memory of it during cycle 013 — unless, of course, he died from utter exhaustion in the last two seconds of that cycle right as Shinryu was beginning the next.
Is it that only the warriors of Cosmos were subject to removal from the war if they died from wounds received while battling manikins, exempting Terra since she was a warrior of Chaos at the time? Unlikely given that it's apparently the fact of the manikins not being part of Cid and Shinryu's agreement that places this vulnerability on the warriors of Dissidia.
Is it possible that Cosmos healed Terra, such that she didn't die at all, and that just being on the losing side of a cycle — regardless of whether dead or alive — leads to the loss of memories of previous cycles? This may explain Warrior of Light's amnesia regarding cycle 012 as well.
But then we run into the dilemma where dead members of Chaos's team (e.g. Sephiroth and Cloud of Darkness) have no memories of cycle 012 during cycle 013. If the memories of the losing team are forfeit, would the memories of all members of the winning team not be safeguarded?
Could it be that all members of the losing team lose their memories of previous cycles while the dead members of the winning team also lose theirs?
Could it be that Cosmos choosing Terra as one of her warriors saved her? Cloud's Museum profile says that Cosmos selecting him as one of her chosen as he was fading qualified as rescuing him:
"When his friend Tifa is faced with peril, Cloud casts aside his duty as a warrior of Chaos and fights to protect those he holds dear.

His adamant will reaches the throne of Cosmos. Cosmos rescues Cloud after he is defeated by Chaos and on the verge of disappearing."
Though Cloud wasn't killed by a manikin, he was killed by his own side's god, which probably would be enough to get him booted off the team. Cosmos's intervention may well have saved him from permanently fading from the war.
Among the best possible explanations for Tidus and Terra's memory loss is that their minds had technically died before their bodies, and this was enough for their memories to be lost. Tidus's body didn't finish discorporating before Jecht saved him, but he was already dead, and perhaps Cosmos healed Terra's body before it could begin to, despite her already being dead as well.
This, however, does leave the question of Terra's exemption to dying at the hands of manikins. Perhaps her body would have needed to fully die without healing in order for being removed from the war to apply to her? Or maybe Cosmos interfering and selecting her as one of her own warriors before Shinryu's purification process made the difference?
Another of the more simple explanations for all of this is that simply being on the losing side forfeits one's memories. Thus, whether Tidus and Terra had fully died becomes irrelevant since they had received Cosmos's light by the end of cycle 012, whether the Warrior of Light died or just passed out is also irrelevant, and Terra's survival into the next, final cycle of the war was simply a result of Cosmos intervening and making her one of her chosen, resetting Terra's place on the board so to speak.
This is MakoEyes's preferred interpretation of events, and I'm rather inclined to agree that it makes sense.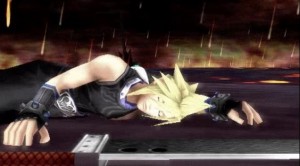 • Why was Cloud ever on Chaos' side to begin with?
Tidus and Terra would be rather simple enough to explain to begin with given that they were brainwashed, but what about Cloud?
Golbez explains to Kain during Chapter 6 (the conversation is also repeated in Report 4) that warriors who have only recently been summoned to the cycles of Dissidia have fewer memories of their homeworlds than those who have been around for a while. Cloud seems to have all of his memories, while Sephiroth seems to have no more than Tifa, who is identified as a newcomer.
This means that Cloud was not forced over to the side of Team Chaos via Sephiroth manipulating the JENOVA cells in him to control him. So why is Cloud there?
In the same vein, this question could, of course, also be posed regarding Golbez, Gabranth and Kuja. In at least Golbez's case, however, this is explained by the fact that, like Jecht, he was stolen from Team Cosmos and filled with Chaos's power. Though implied by an exchange between the Emperor and Exdeath at the end of Destiny Odyssey IV in the first Dissidia, a revised form of that dialogue between them in Dissidia 012′s Light to All retelling of cycle 013's events makes it more explicit.
Here follows the original conversation and the revised version:
(Original)
Emperor: "It was right to give him space. We now see his true colors."
Exdeath: "Indeed. He is a betrayer to the last."
Emperor: "I suppose it was only a matter of time until he became aware of the light within him… Nevertheless, we must resolve this issue before Shrinyu makes its move."

(Revised)
Emperor: "It was right to give him space. We now see his true colors."
Exdeath: "Indeed, he is finally caught in the act. His inner light of harmony never faded."
Emperor: "A heart of light in a dark body… How intriguing. We must resolve this issue before Shinryu stirs."
Note that the Emperor refers to Golbez as one possessing "a heart of light in a dark body" here — the same description he would later use to describe Jecht in the Shade Impulse portion of cycle 012: "You are a traitor, a body of the dark with a heart of light."
It's also likely that this happened to Kuja as well, given that he also strived to assist Cosmos' side in winning the war, and given that — upon recovering his true personality as he was dying near the end of cycle 013 — his body discorporated into white smoke like that which pooled off of Lightning and co. in the final battle of cycle 012.
Though Jecht's Museum profile states that "He is the only warrior of Cosmos to be reborn as a warrior of Chaos," the conversation between the Emperor and Exdeath regarding Golbez is explicit in that he changed teams somewhere along the way. The line about Jecht must have been referring only to warriors of Cosmos involved in cycle 012.
So, given that other warriors from Cosmos's team could have been taken, could Cloud have been similarly hijacked? No, actually. Cosmos is genuinely surprised by Cloud's emotions as he dies in the first story segment of Report 7, and says that if his desire to fight Chaos remained unchanged, she would bring him to her side in the next cycle. Cloud's profile in the Museum — as well as Terra and Tidus's for that matter — specifies that he was summoned to the war by Chaos from the start:
(From Cloud's profile)
"Originally summoned as a champion of Chaos …"

(From Terra's profile)
"Originally summoned as a warrior of Chaos …"

(From Tidus's profile)
"Summoned as a warrior of Chaos in the twelfth cycle …"
Why, then, was Cloud or the other two ever on the side of villains?
It's possible this matter is explained by the narration at the end of Chapter 1, which states:
"The world calls on strong wills.
Those wills then search for still more…

A warrior is chosen only on strength.
One considers not the warrior's own will…"
It may well be that Chaos selected his warriors based on their strength alone, with no consideration given to whether they would even want to use that strength to help his side win. A couple of lines in Chaos's profile certainly support that conclusion: "He originally summoned warriors of his own to combat Cosmos's warriors who incessantly craved battle. But understanding the anguish of being forced to battle against one's will, he allowed his chosen to do as they pleased, never punishing even those who would forfeit their mission."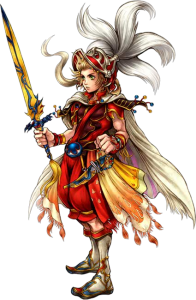 • Which Onion Knight is featured in the Dissidia Final Fantasy series?
Which Warrior of Light from the DS version of Final Fantasy III is he supposed to be?
For what I hope should be obvious reaons, he couldn't be Refia. Whether he's Luneth, Arc or Ingus is a little harder to determine, though.
Obviously the developers chose to not explicitly identify him as anyone so that he could represent both the original Final Fantasy III on the NES, as well as the DS remake. That doesn't preclude him still actually being one of the three male Warriors of Light from the DS FFIII, though.
Even the "Link to the Original" entry for FFIII on pg. 236 of the Dissidia Final Fantasy Ultimania doesn't shy away from connecting the NES version of FFIII with the DS version. A screenshot there from a battle in the NES version displays the four Warriors of Light as named Arc, Ingus, Refia and Luneth.
So, which one is he?
While Dissidia's Onion Knight does have a Luneth alternate look, it's questionable whether that's really enough to go on. Several characters have alts of characters other than themselves: Ultimecia (Edea alt), Gabranth (Basch alt), Lightning (Aya Brea alt), Cloud (Kingdom Hearts Cloud alt), Squall (Leon from KH alt), and Sephiroth (KH Sephiroth alt).
That being said, all these alts of other characters didn't show up until Dissidia 012, while OK's Luneth alt is in the first game. Given that, as well as the fact that the other nine warriors of Cosmos whom the first game focuses on, are the main characters of their respective games (Luneth is as well for the DS version of FFIII), if he has to be anyone, Luneth seems like the obvious choice.
Of course, it does bear acknowledgement that OK's hair and reserved, more thoughtful approach to battle are more like Ingus. Luneth is impulsive — pretty much the opposite of OK's way of thinking. Those things in mind, I would personally say that Ingus is a better fit for OK's identity.
In any event, Dissidia's Onion Knight is most likely based on the NES characters, as his profile mentions all four Warriors of Light from FFIII being raised by Ur's village elder and getting lost in the Altar Cave — something that only happened in the NES version of the game:
"Four orphaned youths raised by the village elder of Ur become lost in a cave while exploring. There, they are informed of pending doom by the Wind Crystal."
<-Previous page | Next page->