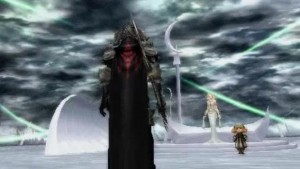 • What happened to Shantotto, Gabranth and Prishe?
In the cutscenes of Dissidia 012's Report 8, Gabranth and Shantotto show up in a new, expanded version of the scene from Destiny Odyssey scene 110 in the original game, Shantotto battles and kills Gabranth — and then either are hardly ever seen again.
Gabranth, in fact, isn't seen again outside his Distant Glory storyline from the first game (which reappears as the Land of the Stolen Crown gateway in the Confessions of the Creator campaign from Dissidia 012), while Shantotto only gets two more scenes in which she's seen talking with Prishe and Cosmos, in addition to her own Distant Glory storyline (the Curses and Hopes of Yore gateway in Confessions of the Creator).
Where did they go? Gabranth should have revived, and Shantotto wasn't killed by manikins as far as we know, so what happened to them? Did Chaos decide he didn't want Gabranth back after Shantotto killed him, as with Cloud after he rebelled in Report 7? Was Shantotto offed by manikins offscreen and without mention?
What about Prishe? She gets cutscenes in Report 8 and Report 17, but, like Shantotto, mysteriously disappears from Cosmos's ranks. Did manikins get her somewhere along the way too?
Were they the three warriors who were said in Report 14 to have been lost during Shinryu's purification process at some point? These three were unable to handle Shinryu's purification at the end of an unidentified cycle — and, thus, they were removed from the war permanently:
"The summoned, debilitated through battle,
are purified by Shinryu.

Their memories are returned to the state
of when they were first summoned.

Three damaged bodies, unable to withstand
purification, have perished."
In actuality, Gabranth and Shantotto both left the war of Dissidia of their own accord, and were not among those unidentified warriors who were lost to Shinryu's purification process.
Shantotto's profile reveals that she hid herself away somewhere beyond the war's reach, with no interest in seeing its conclusion:
"Paying no heed to the fact that she was summoned as a pawn of a goddess, Shantotto uses battles as an excuse to experiment with magic. Shantotto disappears as she nears completing the ultimate spell, as the pending end to the cycle of conflict would hinder her research. Or so the rumors go.

It seems that after disappearing, Shantotto has come even closer to completing her research on the ultimate spell."
According to his profile, Gabranth, meanwhile, at some point after being defeated by Shantotto found his way into the Interdimensional Rift and remained there for the rest of the war:
"Gabranth goes into hiding after his battle against the mage, making some believe that he was transported to the Rift by Shantotto's ultimate spell.

In reality, Gabranth had arrived at the Rift after having forsaken the fight and wandering the land. He may have concluded that the path he had taken was mistaken, as Gabranth later repels warriors who happen upon him, and sends them back to the battlefield."
In Gabranth's case, this presumably took place in a cycle following his fight with Shantotto, as he would have needed to revive first.
Whether Shantotto departed in the same cycle as the one in which she killed Gabranth is also not specified, nor is her hiding place.
For her part, Prishe's in-game Museum profile says she disappears following one of Cosmos's defeats in an unidentified cycle:
"Prishe later disappears after Cosmos falls in battle, and the Warrior of Light no longer retains any memories of her through the multiple purifications he has experienced, but he took her words to not rely on memories and to live strong to heart, growing into the stern and blunt man he is today."
Whether she perished under the circumstances described in Report 14, those described in the Confessions of the Creator storyline, or for another reason is unknown.
• Do Gabranth and Shantotto return to their respective worlds after the end of the Dissidia conflict?
Difficult to say for sure since one of them was in the Rift and the other's whereabouts were entirely unknown — but my guess would be yes. Given that so much had been affected by the power of the two gods, and all of it seemed to be undone with their deaths, I'd expect Shantotto and Gabranth's displacement from their proper homes to be among the matters mended with the end of the war.
Still, if you prefer to imagine Gabranth remaining resurrected and wandering about the Rift to wherever it may lead him, I can't fault you for it.
• Isn't the first cutscene from Report 8 a contradiction with Destiny Odyssey scene 110 in the original Dissidia?
For clarification's sake, DO scene 110 was Cosmos's flashback to Gabranth and Shantotto confronting one another during the first game. The first cutscene of Report 8 in Dissidia 012 is a recreation of that scene with additional dialogue and different blocking.
Does this, then, amount to a contradiction?
Not really. It's an inconsistent portrayal, sure, but not an outright contradiction. If it weren't Cosmos's memory of the event (complete with a sepia color filter), I'd call it a contradiction. Since it's just her recalling the moment, though, we can chalk it up to her memory abridging the event and not doing so entirely accurately.
A goddess she may be, but she's far from infallible. Clearly, she was too busy working on mastering her sad expressions to make notes of exactly how it went down.
Given that Cosmos having the flashback was removed from Dissidia 012's retelling of cycle 013, it probably doesn't matter anyway.

• Does Dissidia take place before or after FFV for Shinryu?
Since he's a dragon that travels both space and time via the Rift, it's a tricky matter. His profile in Dissidia 012's Museum says that following the end of cycle 013 he "departed to the Interdimensional Rift," and that is all we know. His departure is also mentioned by Chaos in the ending to the Confessions of the Creator story mode.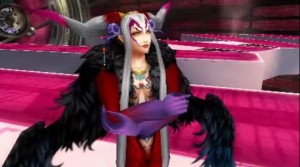 • Ultimecia's Museum profile in Dissidia 012 says that she has no memories of her past due to multiple resurrections by Shinryu. How is this possible?
First, let's review the relevant portion of Ultimecia's profile:
"After learning of the never-ending cycle of battle in this realm, she has slowly garnered strength while protecting herself.

All of her actions are in preparation for when the gods fall. She plans to compress time itself at that very moment to escape the fate of a warrior and create a world of her own.

Having received purification multiple times, Ultimecia possesses none of her prior memories. Whether out of contempt for the warriors of Cosmos who fight diligently, or out of confidence, she places herself in harm's way and provokes the warriors of Cosmos on occasion."
Given her knowledge of Time Compression in both games, as well as her line to Squall in the Shade Impulse portion of the first game where she mentions that he's from the same world as she ("It is such a misfortune that you had to be born in my world"), this seems like a direct contradiction.
Even if it only meant that she'd undergone multiple purifications in the eleven prior cycles of the war and only meant memories related to the war when it refers to her not possessing any of her prior memories, her comments to the Cloud of Darkness during Shade Impulse that the cycle's end feels different this time around and that she's had an eternity to exploit the situation she's been trapped in suggests otherwise:
Ultimecia: "It seems the conflict is nearing its end. Shinryu is stirring."
CoD: "…Shinryu?"
Ultimecia: "Yes. That which purifies the world. The wyrm will cull the wheat
from the chaff and wipe the world clean. A checkmate. And then the board is
cleared for another match."
CoD: "So that is how these battles have repeated time and again…"
Ultimecia: "Yes. I have had an eternity to master my gambit. But I feel
something…unusual this time. The world trembles like never before…"
How does one go about explaining these conflicting statements?
In the event that it refers only to her not having any memories of her homeworld during cycle 012, perhaps she only remembered that which was most important to her — Time Compression. And, in any case, if she didn't already have them, she could have recovered more memories of her past between the beginning of cycle 012 and the final battle between she and Squall, the same as Firion remembered his history with Emperor Mateus and the context of the wild rose between his death in cycle 012 and where the first game's story picks up with him.
The fact that Ultimecia actually survived cycle 012 — something she apparently hadn't done often during the war — especially means that there's cause to suspect her of recovering memories.
For that matter, given that it's during Shade Impulse that both the conversations with Squall and with Cloud of Darkness take place, that makes room for special circumstances to begin with. Everyone's memories seemed to be coming back in earnest around that time anyway (e.g. Squall had just remembered Rinoa, Chaos had a dream about reigning in balance with Cosmos, and Sephiroth remembered his suicide from cycle 012).
• Ultimecia's Museum profile in Dissidia 012 says that Ellone of Final Fantasy VIII is a sorceress. True?
No, not true. The official English translation of Dissidia 012 does, indeed, say that, though:
"A sorceress hailing from a distant future of Squall's world, she sends her consciousness to the present to possess the sorceress Edea, and came to hold ultimate authority in a dictatorship.

Ultimecia schemes to possess Ellone, a sorceress capable of sending a person's consciousness back in time, to use her Time Compression spell."
However, this was a translation error. In Japanese, the sorceresses of FFVIII were referred to as 魔女 ("majo"; meaning "witch"). The Japanese text in Ultimecia's Dissidia 012 profile doesn't refer to Ellone with this term. It refers to her as 思念を過去へと飛ばせる能力者 — "a person with the ability to send thoughts [or consciousnesses] back in time."
• Sephiroth's Museum profile in Dissidia 012 says that he is an agent of JENOVA's will. Isn't he supposed to be in control?
It's been well established by now in such sources as the FFVII Ultimania Omega (pp. 53 and 213) that Sephiroth was under his own command rather than being controlled by JENOVA, so why this line in his Dissidia 012 profile?: "Once learning of his origin, he refers to the Calamity that fell from the skies, Jenova, as his mother, and acts as an agent to carry out her will." This isn't a mistranslation, as with the passage about Ellone in Ultimecia's Museum profile; the Japanese form of the line says the same thing:
しかし自分の出自を知ってからは空からきた厄災ジェノバを母と呼び、その意思を代行する存在となりはててしまった。
So, why the contradiction?
I'd argue that there is no contradiction here, as I've always pictured post-Nibelheim Sephiroth as something of a combination of JENOVA and Seph — an evolved form of the JENOVA virus, if you will, with her powers, instincts and physical material guided by his intellect. I don't think there's really a valuable distinction between the two, and I think that lines like this convey that. The 10th Anniversary Ultimania for FFVII also seems to use their names rather interchangably (e.g. in Cloud's profile), as though it doesn't matter which you're talking about in post-Nibelheim contexts.
While his personality was unquestionably the dominant one, I still believe that the virus-like behavior of JENOVA is reflected in Sephiroth's desire to assimilate the entirety of Gaia's spirit energy and become one with the planet.
Even in Advent Children, he speaks of assimilating Gaia, then traveling the cosmos like JENOVA and finding a new world to assimilate. I believe that whether he knew it or not, Sepihroth had the instincts of JENOVA and that
the two were, in all relevant ways, the same being by the time of the events of Final Fantasy VII.
Certainly the possibility was present for such a merge to occur given that Sephiroth fell into the Lifestream with JENOVA's head, only for his own body to be dissolved and then reconstructed, according to the Advent Children Reunion Files (pg. 60) and FFVII Ultimania Omega (pg. 211). At any rate, even the official position, as revealed in Final Fantasy VII's Ultimania Omega guide, is that it was by virtue of having JENOVA's head with him in the Lifestream that Sephiroth was able to influence the location of the Reunion (pg. 212), if not altogether how he was able to take command of JENOVA's cells and power.
I also feel that the FFVII 10th Anniversary Ultimania supports my position that Sephiroth gained JENOVA's instincts, as — in Sephiroth's profile from the book (pg. 76; pg. 78 in the Revised Edition) — the following description is made: "Born into the Shin-Ra Company as 'JENOVA's son,' a fallen hero who inherited Jenova's will to destroy the planet."
Furthermore, as mentioned above, Cloud's profile from the same book seems to treat Sephiroth and JENOVA as interchangeable, referring to Cloud as a "puppet of JENOVA," referring to him as still under the "will of JENOVA" during Advent Children, and commenting on the effects of Sephiroth's influence on him during the film with, "It's almost as if he can never escape from JENOVA's command" (pg. 38).
• Is it true that the original Japanese release of the first Dissidia had different Chaos Reports than the versions released overseas?
Yes, actually. The original Japanese release had very strange Chaos Reports that made for a highly confusing story. Apparently, sometime between that initial release and the time of releasing the game in North America a little over eight months later, the developers decided to actually make the story into something sensible. For English translations of those original Chaos Reports, you can find them in MinoSpelgud's Script Translation FAQ for the first Dissidia. For the official English translation of the Chaos Reports included in the overseas releases, simply consult my Game Script FAQ for the first Dissidia.
For the Universal Tuning rerelease of the first game in Japan, the Chaos Reports were updated to match those found in the overseas releases. For an example of this, here follows the Japanese text of Chaos Report 7 in the original version of the game:
まさか、この世界の真実を探るため
自ら命を絶つ者が現れるとは思わなかった。

当然、記憶は失われるだろうが
ある意味、彼は真実を証明したともいえる。

肉体が朽ちても、魂は死なず。
その理論は、半分が正解であり
その半分は正確ではない。
もともと、この世界に確固たる肉体など存在していないのだ。

肉体が器にすぎないという考えは
我が継承の儀の名残かもしれない。

だが本質はどうなのだろうか。
精神があるから肉体が存在できるのか
肉体があるから精神が存在できるのか。

おそらく善と悪のように
どちらが先に生まれたというわけではないのだろう。
Now, here are a couple of screenshots of the Japanese text of Chaos Report 7 in the Universal Tuning release: first portion; second portion.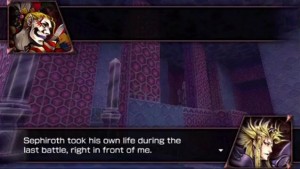 Are the scenes from the original game that weren't included in Dissidia 012 retconned out of the story?
There are a number of scenes that took place during cycle 013 in the original game that aren't depicted during Dissidia 012's retelling of cycle 013 in the Light to All story mode. Examples include Kefka and the Emperor's exchange at the beginning of Destiny Odyssey VII about Sephiroth's suicide, as well as Sephiroth and Garland's conversation from Shade Impulse chapter 3-2. Are these scenes to be considered no longer part of the canon storyline?
They should still be considered part of the story unless openly contradicted in some way. Though the conversation about Sephiroth's suicide is no longer present, mention of it still shows up in his Museum profile. Likewise, though Sephiroth and Garland's conversation from Shade Impulse is no longer presented, mention of Dissidia's world being comprised of shards of different worlds is still present in a late-game exchange between the Emperor and Golbez.
Similarly, we wouldn't consider the Chaos Reports from the first game to no longer be canon to the story, though they don't show up again in this game.
We must also keep in mind that disc space considerations were likely a factor in what was left in and what was taken out, as director Mitsunori Takahashi has mentioned in at least one interview that it was difficult to fit everything on the UMD. For instance, the opening FMV from the original game is all but entirely removed from this one, all that was left in being its final shot of the Warrior of Light laying face down after the battle at Order's Sanctuary. This shot of him — which the Prologue portion of cycle 013 picks up from, with the Warrior of Light waking up in that position — is shown at the very end of the FMV ending to cycle 012's story, Treachery of the Gods, skipping both the Silent Presage scenes from the Universal Tuning and foreign (to Japan) releases of the first Dissidia, as well as the opening FMV's battle that took place before the Warrior of Light was left unconscious.
Yet those things are, of course, still part of the story.
All that being said, in the case of revised scenes from the original game, the newer versions should be considered canon and the old omitted.
—
That ends our Q&A session.
Despite how impressed I am with how Dissidia 012 took care not to leave holes in its plot or create contradictions, there are still a few holes that could use some filling if anyone cares to take a shot at them:
• In the first Dissidia, Garland refers to Kuja as "new" when telling him why Ultimecia has "directed" him. However, in Dissidia 012 Kuja seems to have all of his memories from his original game, given his conversation with Cloud in the first cutscene of Report 1 concerning that subject — and he's demonstrated to remember at least enough to know that Zidane will expect him to be a good guy.
This suggests that his memories go all the way up through the ending of FFIX, where he had a deathbed repentance, so he should have been around for a few cycles by then.
Why the inconsistency? Is Kuja, perhaps, just new by Garland's standards given that he's been there for all 013 cycles? Or — given our speculation above under the response to "Why was Cloud ever on Chaos' side to begin with?" — could it be that Kuja was just new to Chaos' side?
In any event, that conversation between Garland and Kuja was revised in Dissidia 012's retelling of cycle 013. In the new conversation, Garland no longer refers to him as new. Along with some support, Garland offers Kuja a brief explanation for what Ultimecia was talking about when she taunted him earlier.
For the record, that conversation between Kuja and Ultimecia has also been revised. Here follows the old and new versions of both conversations:
(Kuja and Ultimecia; old)
Kuja: "No… That's a lie!"
Ultimecia: "I'm afraid not. Sadly, you are no more than a vessel…a flawed one at that."
Kuja: "Do not look down on me! My performance will be the brightest in this entire cast! Just you watch. When the curtain falls, even you will give me a standing ovation!"

(Kuja and Ultimecia; new)
Kuja: "What? All I remember…isn't real?"
Ultimecia: "Indeed. Your memory has been written over. Because you have been defeated–"
Kuja: "Hmph. Trying to confuse me by looking down on me? If you think I can easily be swayed by your words, you are sorely mistaken. Just you watch. When the curtain falls, you will see just how superior I am!"

(Kuja and Garland; old)
Garland: "You are growing reckless, Kuja."
Kuja: "You again… Have you come to laugh at me, too?"
Garland: "Not at all. You and I are the same. Not just me. We are all the
same. Even that witch, Ultimecia… We all bear the same fate. You have only
been…directed…because you are new."

(Kuja and Garland; new)
Garland: "You are growing reckless, Kuja."
Kuja: "You again… Have you come to laugh at me, too?"
Garland: "Not at all. You and I are the same–warriors summoned to this land by the god of discord. And that is the truth for all of us. Even that witch, Ultimecia… Not one remembers everything. You were used when you had just awakened."
• Sephiroth is apparently newer than Kuja, given that his memories are incomplete in Dissidia 012. If Kuja was manipulated for being new, then why was Sephiroth left alone? Is Kuja no longer intended to be new, due to the revised conversations above, and his mistreatment is due to Ultimecia and Kefka having such contempt for him due to his plot in cycle 012?
Could it be a combination of his plot causing them to have contempt for him along with him being relatively new to Chaos' side since he was apparently stolen from Cosmos's team?
• Why did Kain save Tifa's life during Chapter 7 of cycle 012's story when Ultimecia was about to kill her? Given that he was planning to kill all his allies so as to safeguard their entry into the next cycle of the war, if he had just let her die then wouldn't she have been safe from the manikins?
While there was a manikin disguised as Ultimecia that Tifa fought during that scene, she had already dispatched it, and it was presumably the real Ultimecia that attempted to kill Tifa when Kain intervened. Granted, Kain may have believed it was another manikin, but this isn't indicated, nor does the scene otherwise suggest that it wasn't really Ultimecia.
Perhaps Kain just thought it would be too difficult to get away with both Tifa and Zidane's bodies?
• If Chaos and Cosmos have the power to combine worlds from different dimensions and summon warriors from other dimensions and time periods, then why is Chaos unable to transport himself and Cid straight back to their own time?
• Similar to the previous, if Cid is capable of sealing his failed manikin experiments in the Interdimensional Rift, then why is he unable to access his homeworld?
—
Acknowledgements:
My first and biggest thanks goes to my wife-to-be Katelyn for putting up with me while I took the time to put all this together. I love you, babe.
Second and next biggest thanks goes to my fellow TLS staff member MakoEyes for discussing damn near everything in this FAQ with me. It wouldn't have been possible without him. As with our first Dissidia plot FAQ, this was a team effort.
Very special thanks also are due to several GameFAQs users — dvader518 for providing me with the text-only portions of all the Reports, DuodecimKnight for providing me with Warrior of Light's Museum profile, and Espeon8 for providing all the other character profiles and most of the text from the Confessions of the Creator storyline.
I also owe my gratitude to several more GameFAQs board members who helped me refine some sections of this article after it was initially published: Spiroth_Kweehh for pointing out that Cid of the Lufaine wanted revenge on Onrac rather than Lufenia, as well as the suggestion that Cid and Cosmos created three more Warriors of Light following the events of Dissidia; W_Mark_Felt_Sr for noting that there may be a connection between Jecht's crystal and the dark crystal that Garland had in the Chaos Shrine in the first FF; Ravagestorm1 for suggesting that the warriors who defeated Enuo may have weakened Shinryu; Jayhawk9408 for the suggestion that the first FF's three Warriors of Light not depicted in this game may have been warriors who removed from Dissidia following a prior cycle; and Mrfipp for the suggestion that the first FF's other three Warriors of Light may be an alternate timeline's version of the perfect manikin Cid successfully created in the text-only portion of Report 16.
ForceStealer of TheLifestream.net is also due a big thanks for providing me with Sephiroth, Shantotto and Gabranth's Museum profiles, while I owe ShikamaruNara — also of TLS — one for providing me with a paragraph of story text from Confessions of the Creator, as well as Shinryu, Ultimecia and Garland's profiles.
ShikamaruNara also clarified some important details of Confessions of the Creator for me after this FAQ was published, allowing me to make a needed correction. Thanks for everything, SN!
At the same time as SN's correction, Ryushikaze (again, of TLS) pointed out the similarities between Dissidia's Onion Knight and Ingus from the DS version of FFIII, so thanks to him too.
Another TLS forum member, Fairheartstrife, pointed out the similarities between Squall's crystal and the Sephiroth wing pendant.
Also, the screenshots from the Universal Tuning release of the first Dissidia found under the entry about the original Chaos Reports were provided by TLS forum member Anzu Mazaki.
Next up, thanks to forum member roku for providing a translation of a Dengeki interview with Dissidia 012 director Mitsunori Takahashi.
Though not a forum member or staffer at TLS, clide88 commented on this article after its publication, clarifying for me the matter of Golbez having once belonged to Cosmos's forces. So, thanks for that to him.
Additional thanks are due YouTube user Naeryu/Ryuni for his thorough walkthroughs of the storyline scenarios of Dissidia 012 and YouTube user ShiroSora445 for posting videos of the Reports (both English and Japanese versions).
Finally, I owe LiveJournal user Xi-Feng for providing me with text from Ultimecia and Sephiroth's Japanese Museum profiles.

<-Previous page |