You heard right folks.
The Final Fantasy VII 10th Anniversary Ultimania is coming back, revised in honor of Final Fantasy VII Advent Children Complete's release. It'll not only be redone but also enlarged with even more information on the world of FFVII. It will be released April 16, 2009 and you can bet we'll be posting translations from that as well.
Also on April 16th, the "FINAL FANTASY VII ADVENT CHILDREN COMPLETE POST CARD BOOK" will be released, and it will be priced at 1,260 yen.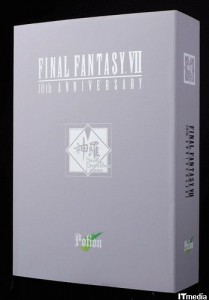 Source: FFVII AC Reunion
Edit: Thanks to hitoshura for the slight correction on the Ultimania being released on its own, sans the potion. And here I was, looking forward to getting the drink too….