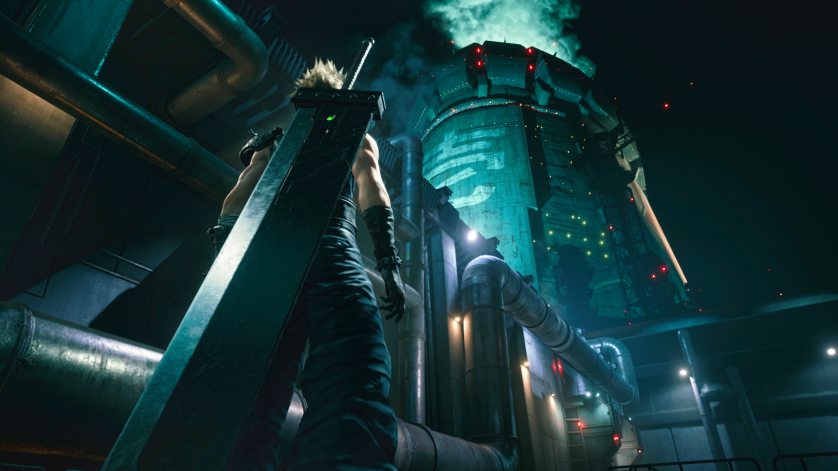 New Details from the FFVII Remake Bombing Mission!
by Lex
June 14, 2019
0 comments
During E3 2019 – in addition to the floor demo open to press and the public – Square-Enix held a closed event for press only. A very limited number of people were able to attend, however we've been scouring the internet for all the details we can find – check out our Demo Impressions Thread for everything we've found.
If you're as obsessed with FFVII as we are, we'd heartily recommend watching YouTuber/ Streamer Maximillian_DOOD's Twitch VOD where he discusses what he saw in great detail – there's around two and a half hours of gushing, and we couldn't be more excited after hearing those impressions since we know how big a fan Max is of the original game.
We share his enthusiasm for FFVII, and it really sounds like they're getting it right. Here's a handy list of some of the points Max covers in his video (thanks to Claymore for writing these points up for us):
Saw a special behind-closed-doors media presentation (45 minute demonstration)
Presentation was of the entire Bombing Run mission
VII Remake had tons of accolades at E3
New voice cast hired just for VII Remake
Original voice cast will continue to voice other projects where the VII cast are in
New English language Barret voice actor feels a lot more truer to the original Barret we saw in VII
It appears that they have taken some mechanics out of the gameplay that we have seen in order to make it more streamlined and presentable … it feels like there is a lot more that they have hidden and not revealed to the public at this time
They don't want to fuck this up – they know how much pressure in on their shoulders
There is a ton of nostalgic points sprinkled throughout – aimed to remind you of the original but that this is a new version of the same game, ala the RE2 remake
SE had been following Max for some time, especially all the reactions to the Remake, and noticed him during the event. Was able to get a picture with Kitase
When development was tough, the team was highly motivated by showing Max's reaction videos – very touching for Max (he teared up on stream)
Replays his reaction videos for perspective about what he is going to dive into
It is obvious that they didn't get rid of all of CC2's work. It looks like it has all been repurposed instead. Starts off exactly like we saw back in the 2015 trailer
Just like in the original, Avalanche run past whilst Cloud is left behind to deal with the Shinra MPs. He is treated like the grunt/mercenary for hire like he is
Head into the train station entrance
Avalanche whistle to get the guards to attack Cloud, leaving them free to run into the Reactor
Shinra MPs have their machine guns, tonfas and grenades
Wedge and Jessie are trying to hack a door
Jessie has a sub machine gun. Constantly hits on Cloud
Wedge is worried if they can trust Cloud. Tries to introduce himself but Cloud isn't interested
Barret warns Cloud that he better be on their side – denoting Cloud in his Shinra gear. Cloud is just here to be paid
Cloud has a weird flashback / memory just as the door is hacked
We get the classic Reactor shot as it pans up
The music is amazing, blends in extremely well into different themes as things happen
Avalanche continue to leave Cloud to deal with enemies – jokingly telling him to have fun. Wedge is the only one concerned about Cloud
Cloud has multiple stances. A nimble stance, a heavy brawler and a counter-hit stance. You get different combos based on this. If you are hit by a ranged attack or magic, you are punished for this by taking big damage. This stance isn't in the playable demo
Everyone will have these special stances or unique aspects
So even the same character can play in different ways whilst also utilising the character switching
Biggs cutting a hole into a gate – the group go through whilst Cloud is forced to deal with things again (lol)
Up to this point, the dialogue is similar to the original but expanded but as soon as they get to the main elevator, the dialogue takes a huge new turn
Barret has a motivational speech about why they are doing this mission – really gets into it. Jessie and Cloud exchange a look during this. Barret is mad that Cloud isn't taking this seriously. Barret says he can hear the screams of the planet and Cloud says to get help. This pisses Barret off
There is genuine tension between Cloud and Barret – you feel that they don't know if they can trust this Ex-Shinra guy
New security system goes off, which makes them concerned about Cloud even more
Banter continues. Barret tries to issue orders to Cloud but Cloud keeps telling him to leave him to do his job
XV had some good organic banter and group dialogue … but this blows it away completely. They feel like genuinely real people. Max was most concerned about this, but not anymore. Not cringy at all. Didn't hear anything repeated during this opening segment
By the Scorpion Sentinel boss fight – Cloud and Barret have bonded somewhat, due to helping each other out during that encounter
The characters feel like people!
Lip synching is perfect
Gameplay is super smooth. It was a live demo running on a PS4 Pro. So polished
No loading … at all from the start of any kind
Cutscenes dynamically transition into field / encounters. They are littered throughout
Cloud is a BIT OF A DORK!
The most polished game from SE. It is on another level (audio, animation, transitioning, no loading, banter/dialogue, intuitive music ….) It felt like they spent a year and a half just on the Bombing Run
The big worry is how the hell the rest of the game will match this same quality!
You can flee from a fight. If you are faster than your opponent, they will eventually lose interest and return to their positions
The music is SO intuitive. During the different phases of the Boss fights. When Cloud does a Cross Slash, the choir suddenly kicks in and out
There were combos within the game – it does more damage if you combine character moves at the same time
There was a bit of a hint that they have a TON more mechanics and gameplay aspects that they have in store that they don't want to reveal just yet. Max felt like the game was opening up and had this in store in the future
Still shocked at the quality. Hard to process this being for the whole game!
So hard to discuss this game with non-players. It seriously NEEDS to be experienced
Can't stop thinking about the game
Jessie is super cool in this version – Max's favourite so far. "I appreciate you talking to me, but how about you go down there and blow her mind instead" (in reference to the Reactor). The dialogue is so awesome
Wedge sounds a lot different to the previous trailer
They are teasing the relationship aspects – which is integral to VII
They are trying to preserve the characters as much as possible
He prays that SE releases the Bombing Run demo to the public, like Capcom did with the RE 2 Remake
They said they are aware of what everyone loves about Midgar and their experiences. They will have everything that people love … but there will be a ton more
In Max's opinion, the subsequent games will all play differently and have different mechanics. He envisions part II being completely open world and so different to Part I. Lots of vehicle use/action. Doesn't expect much to transition over between the different parts
One of the biggest takeaways from everything is that SE want this to be immersive and seamless. This will carry through onto Part II and the open world. He expects it to be on PS5 (his opinion)
Showed the famitsu footage – clean from the presentation without the commentary
If Barret staggers an opponent, he says 'Shit Yeah!'
You get a great sense of scale of everything
When you kill enemies, you don't get a traditional win screen. The menu is very clean and simple
He didn't see it himself, but he heard that Barret can hum the victory theme and Cloud tells him to 'shut up'
President Shinra and Heideggar are completely aware of what Avalanche is doing. They are watching their activities from the monitors. The Shinra theme is amazing – done with strings and presented very hauntingly and evil. Super dark. A lot of the music is brooding – leaves you with despair, just like the world of Midgar
The game takes advantage of the fact that you know who these characters are. Things are introduced before you see characters. The way the characters are talking, it feels like Tifa feels sorry for Cloud, which is why he is being offered this job
PSX 2015 trailer. Max says the opening scene has been re-choreographed. The sequence is completely different. The tone is so different compared to the 2015 trailer. Everything feels a lot more faster too. Such a different game to what we saw. They didn't trash all of CC2's work. It is just so much more polished and snappier
He is trying to find something wrong with it … he can't. The only (extremely minor) thing is that the camera sometimes isn't amazing
Steve Burton was great for what they wanted to do, but for the more dorkier Cloud (and one more cocky / faithful to the original) he is glad they are going with this new actor. "That's my line". Max loves the cheese-ball one liners from Cloud. CC Cloud didn't feel like Cloud aside from when he was mako poisoned
Difficulty – it wasn't super difficult, but even the devs said that it was meant as a tutorial for the players. But even in the Scorpion boss fight you lose a lot of health and it takes 15 minutes to complete entirely
Using items is attached to the ATB gauge. To get ATB gauge you need to fight
Showed the PS3 tech demo for laughs
Cloud's hair is more similar to his original design
Original gameplay comparison. The Midgar panning out to the train running in is different. You cut to the soldiers once the pan out to Midgar is complete. Barret runs off to leave you to tackle the guards like in the original
Security officers have all the same moves from the original
Cloud trash talks the Security Officers
You get a new train station segment from the train stopping to the gate (you see it in the trailer – where Jessie says "have fun"). Lots of new dialogue
You can't change the character's names
Barret and Cloud tension, and you feel that around the other characters
During the pan up to the Reactor, you cut to the tower and President Shinra watching everything
Cross Slash is Cloud's limit. Braver was a move / skill
You go through corridors rather than outside area once past the gate
The Reactor entrance, you don't get the same perspective when you run in until after Cloud looks up – it gives you the huge scale of everything
Cloud has a flashback/moment right before this
If the Mono Drives float above Cloud, he will jump up to air combo them. So though there is no manual jump, if they are within his reach, he can attack flying opponents
In the Reactor, there is a whole new sequence – Biggs cutting through the grate. A lot more intense than in the original. They trust Cloud to know where to go
The Reactor music is incredible
There are golden-looking chests
The elevator sequence is there in the Remake, but it is different, especially the lead-in
Anything with Shinra logo on it is destructible, so you can break boxes or open chests for loot. You can 'attack' out of combat
Demo on floor was unlocked framerate but one Max was watching was 30 fps
Barret and Cloud have their fight right after the elevator. Music kicks in and lasers shoot down. Character switching tutorial – shows you how to switch to Barret. Barret looked like he was going to shoot Cloud but he shot an opponent behind him. Cloud doesn't even flinch from the shot. Barret is the long-range fighter. They really gave this a lot of thought. It feels like the original, but a new twist on the gameplay
The demo ended where (in the original) Jessie teaches you how to go down the ladder. In the Remake, there are no ladders, it is a big spiral staircase down into the underbelly of the Reactor. Tons of enemies on the way down. Jessie points out where the Reactor core is
Limits still build from damage. Especially blocking
No Sweepers or Grunts were available in the Bombing Run demo that was played
If you run around and dodge too much, you didn't get much ATB bars
Not sure if MP was regenerated from normal attacking
During the boss fight, he noticed the items that were available to him. Cloud's inventory changed – he had grenades and some other items
Cloud is confused by the Scorpion Sentinel's ability to heal / regenerate
No functioning menu for Materia yet, or the characters / equipment, etc…
From the top of the Reactor to the bottom is about x4 longer than the original game
No save points in the demo – presented as a tutorial
Barret asks you to set the bomb. He says something like Tifa trusts you but he doesn't. He wants Cloud to prove that he can trust him. Cloud aggressively says fine and sets the bomb
You don't get the 'this isnt' a reactor' line. Instead you get a flashback/moment. He holds his head. It's not all red and ear screeching… just a single black feather that falls to the ground and dissipates. Alarms set off and that's when the moment ends
The Scorpion Sentinel can scan you. If he does, he can grab the character and disable them. You have to switch to Barret, and if you attack him enough, you get released
Stone Skin – gives Barret less damage and stunning. Barret is a tank
The game is chapter based. Chapter 1 "The Mako Reactor". Might get a chapter completion bonus?
No jump button
Feels NOTHING like CC
You can hold down button to continuously attack, but Cloud has different moves. If you press the button repeatedly instead of holding it down, you do a longer combo
Barret was just hold down to shoot. Barret doesn't have to reload
Extrapolates the combos that could happen with Materia added into the mix
For everyone who complained about Turn Based not being in the game – Tactical Mode solves that completely. You can play it like that, or as an action RPG
You don't get to see the escape after the Reactor explodes in the presentation demo
Don't know about you folks, but we're super excited by these details. And we've all got our fingers crossed they'll release a short demo of the bombing mission to the rest of us to keep us occupied until March 3rd 2020!