The veteran FFVII hero, BrutalAl, has performed yet another heroic deed. The field nobody had puzzled together before can now be seen in its fullness for the first time in over 17 years.
EDIT:
Unused Fields of FFVII
article has now been updated with the image and with BrutalAl's notes.
For those who don't know or can't quite remember, "TRAP" is an unused field found inside the FFVII PlayStation discs. The graphic tiles for the field still exists, but they are not arranged so to show the field's intended appearance. These are the graphics, as extracted directly by Myst6re (creator of Makou Reactor) :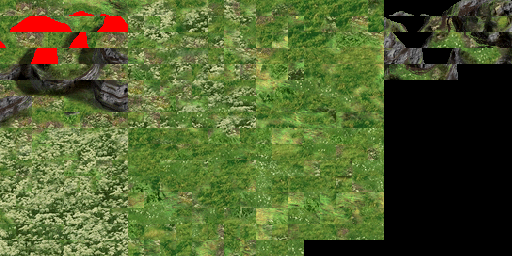 (BrutalAl's description in Sweden roughly translated by me)
The direct rip can be divided into 6+1 groups of tiles, as is immediately visible. Group 7 (top right) is an obvious "foreground layer". First, I double checked if there were enough tiles in the six groups to fill a whole square without there remaining an uneven number of tiles at the end.

6 (number of tile groups) * 64 (tiles in each group) - 5 (the 6th group has five tiles fewer) + 21 (include the completely "empty" tiles that are behind group 7) = 400

400 is a good number. It can create an image of 10*40, 16*25 or 20*20. This also means, with great likelihood, that the picture is completely without animations.

Now to the actual "trick".

The tiles in each group are NOT randomly mixed. They are placed in an order that is used for the final field image/map.

The tile at the top left in a group will always be used BEFORE the second tile on that row, the second tile will always be used before the third and so on in that group.

This also means that the first tile in the final image must be Tile #1 either from group number 1, 2, 3, 4, 5 or 6.

Let us say that Tile 4-01 (Group 4 Tile 01) is supposed to be at the top left in the final image. The tile to its right could yet again be one of six possible, either 1-01, 2-01, 3-01, 4-02, 5-01 or 6-01. Add to this I already knew that the row would end either on tile 10, 16, 20 or 25.

Once the first row was completed the process became much easier, because then the "next" tile could always be matched with two other tiles (the one to the left and the one above).

Despite this, it took three hours of active work to put together the TRAP puzzle.

Naturally I let Photoshop "create" the numbered tile pieces for me, automatically. Otherwise this venture would have been very time consuming.
ALL HAIL BRUTALAL!

HERO OF THE FFVII COMMUNITY!
Last edited: