Harbinger O Great Justice
So, I'm gonna start off this thread by saying that the Midgar Zolom is my favourite. Period.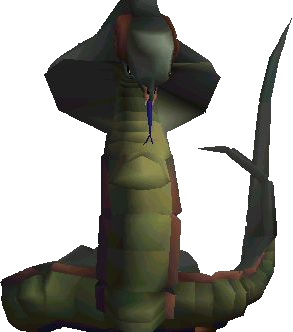 The more I've been thinking about a remake, the more that I keep coming back to this part of the game and thinking about how many challenges it poses insofar as its presentation in an upgraded RPG that comes down to several things:
Before the arrival of the Weapons, the Midgar Zolom is the only enemy type that appears as an encounterable entity on the World Map itself. You then get this message from Chocobo Bill,
"It's a serpent-like creature over 30 feet tall!! It picks up on footsteps that enter the marshes... And then, BAM!! It attacks!!!"
So, this huge thing tracks your movement through the Marshes to attack you, and this all gives the player an ominous sense of foreboding that it's something so enormous you can actually SEE its silhouette in the swamp, in addition to giving you a task that is unique at that point of needing to avoid encountering it while crossing over the swamp by use of Chocobos (or really keen timing).
Also, if you're unlucky enough to get attacked by it (or just curious about how scary it is), it's generally much tougher than you, and it has HP-based form changes. If things start going well, it rears its body up out of the swamp to absolutely TOWER over your party, and if that doesn't discourage you from further attacks, it's got the ability to kick people out of battle, and if you keep it up, well, then it just hits you with Beta. The coolest part about this is that if someone's been kicked out of battle, if leaves you at the edge of the Swamp, since it didn't KO your
entire
party.
After you manage to get past it, you're treated to a one-time environmental scene of the marshes backlight with lightning before entering the Mythril Mines. You see a Midgar Zolom that's been flipped over and impaled onto a massive dead tree, leaving the tree and the surrounding area soaked in blood. This gives an even deeper sense of fear because - however terrifying that thing you managed to avoid just was, it absolutely
pales
in comparison to how big of a threat that Sephiroth is - and you're going to have to
defeat
him.
So what changes?
• In a new RPG is that there's a large possibility that you'll be used to seeing enemies out and about for standard encounters. Because of that, the Midgar Zolom will likely have its sense of fear put in place by being one of the enemies that you DON'T see directly. You'll see its massive shadowy silhouette in the marshes and maybe a little ripple of wake moving towards you.
• Since the camera angle is unlikely to be as top-down, you'll have to make sure that the player has a good sense of how huge and fast it is before venturing into the Marsh. I can't help but think that having a little panning scene over the marsh when Chocobo Bill talks about it would be a good idea, or something when you first enter the area that alerts you to the idea that it's not somewhere to just wander into. Alternately, when you walk up to the marsh border, the camera could also automatically pan up a bit to give you that perspective around that section of the map.
• For combat, having it pop its whole body out of the marsh for an attack is a good visual transition into combat, but I'm not sure what all would be best for the "one party member kicked out and left at the marsh border if the other members are KO'd so you don't get a Game Over" scenario -- but I do like the idea that an encounter with the Midgar Zolom can be a scary learning experience without a game over.
• In an open environment, you'd be used to passing by the impaled one any time you venture over to the mines, but there's something to be said for that scene being a one-time thing, since it never loses its sense of terror even after you can knock down the Midgar Zolom with little effort at higher levels, you don't get to re-compare yourself to that scene (plus the lightning backdrop makes it more dramatic). Personally, I think that it'd be cool that after a certain point, it changed to skeletal remains, so that you know it's still there, but it doesn't have the same feel as it did the first time you encountered it.
EDIT:
Also, you could make it THE Midgar Zolom to make it even better.
But yeah, I'm curious if there're any things that you all would specifically LIKE to see from this little part of the game.
X