EDIT 2nd June 2022 - New Trailer
TRAILER:
The rumours have been flying for a while - we all know it's coming at some point, and it's being discussed elsewhere so I thought it was high time this thread came to be.
Playstation have an event on Wednesday and the next FF is rumoured to make an apperance.
Here's what we know so far:
Source:
https://www.resetera.com/threads/square-enix-projects-ot-please-be-exciting.62421/
That may not be XVI, but it probably is.
Other insider info says this at the moment (speculative until confirmed):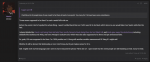 Discuss what you'd like to see from FFXVI in this thread.
These are my feelings at the moment (per discussion in the Playstation 5 thread):
eah we're overdue for a traditional fantasy setting really (if we ignore XIV, which we actually can't in this case given YoshiP's potential involvement).

What I'd personally like to see from FFXVI is a similar approach that was taken with IX - it was a love letter to the series so far but it was entirely new at the same time. So basically what you said Prism, but I'm not sure what form it would take. I'm really excited for a brand new Final Fantasy, honestly. The last "original" mainline game (with its own mythos etc) was technically XIII, given that XV was previously Versus and part of fabula nova crystallis, so on and so forth. This is the first time in well over a decade we're looking at a truly fresh mainline FF. Madness.
Last edited: