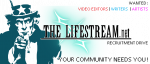 Creative Circle. Content Creators. Community Content. Crisis Core ... whatever 'C-C' preface you would like to use to describe us, we are a dedicated bunch pooled from TLS's own community. Our goal is to deliver new and engaging content to the fandom, whilst also expanding the general awareness of the site and it's social media outlets.
Though the very thought of the
Final Fantasy VII: Remake
coming out any time soon might bring a round of eye-rolling snickering, signs are currently hopeful of some big news dropping soon. To that end, we need to have the resources and team in place to be able to report, research, pick apart and throw back out, any and all content based on information gearing up to the game's release - be that in the form of videos, articles, or social media engagement.
And heck, if that's not your thing, we welcome any and all creative input. Not only have we expanded our content to Round Ups covering SE and general game content, but we are planning mini parodies, not to mention engaging editorials, to sink your teeth into until the
Remake
inevitably drowns everything else out.
So, if you have any experience in
Video Editing
, have some
Artistic
flare, or if you see yourself as a capable
Writer
or
Researcher
, reply to this thread, or send any of us a direct message to get involved.
Your Lifestream needs
you
!