Listen closely, there is meaning in my words.
I don't really know of anyone who follows YGO here, but.. I thought I'd make this thread nonetheless.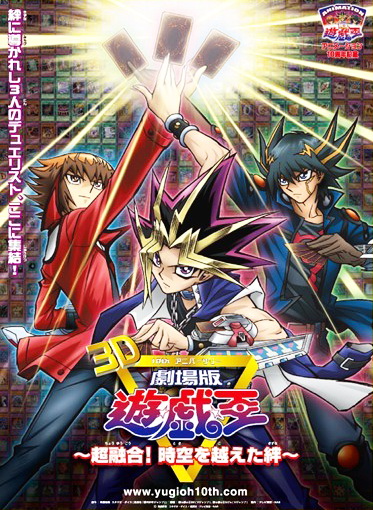 YGO's 10th Anniversary has arrived, and in celebration of it, a crossover OVA has been announced that unites the main protagonists of YGO, YGO GX, and YGO 5Ds in an OVA movie. A preview was shown at the previous Jump Festa, and it'll be released January 23, 2010 in Japan. No word of any release in the US. The story is...
Yusei Fudo, protector of New Domino City through Turbo Dueling with Jack Atlas and Crow, has his ace monster, "Stardust Dragon", stolen by a mysterious man named Paradox, a duelist from the far future sent into the past to lead the world into destruction. After falling into a time-slip, Yusei meets Judai Yuki, who still has the powers of Yubel & The Supreme King. Judai explains to Yusei Paradox's true intentions: To kill Maximillion Pegasus before he can recreate Duel Monsters in the modern world throwing the timeline into chaos. The two agree to pursue Paradox, which leads them to the past and causes a meeting with the King of Games himself, Yugi Muto. After explaining everything to Yugi, he agrees to fight with Yusei & Jaden against Paradox in the ultimate 3-on-1 duel to save both the world and Yusei's Stardust Dragon from Paradox before time runs out.
And...here's a trailer.
So yeah, thoughts, comments, etc?
Last edited by a moderator: