Which paragraph from the song do you think fits Zack better than Aerith ?
While I agree you can apply some lines to Zack, all the lines in a stanza are connected. Try looking at the paragraphs as a whole. It becomes pretty clear it's about Aerith
People forget to analyze how similar Price of Freedom official lyrics (2014) with Hollow (2020).
This is the song in case you never hear it-->
jp.square-enix.com/music/sem/page/tdm/
I tried to make connections in their similar lines like this by bolding them with same colors: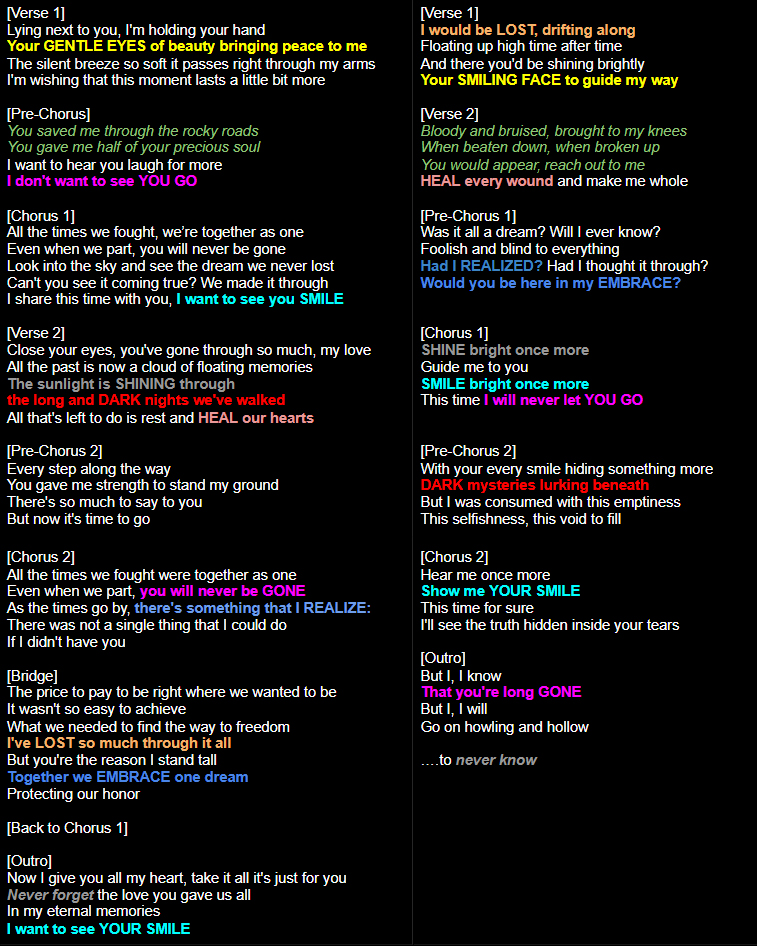 Well, I don't ship Zack & Cloud romantically and would rather use the word 'ai' to describe their love towards each other, not 'koi.' But in English, don't you think the lyrics of "Price of Freedom" sounds more 'romantic' than "Hollow' because there is a word 'my love' and 'my heart'? And if people had no idea about Crisis Core and Zack, they would think "Price of Freedom" is directed to a woman since there's the word "beauty" while "Hollow" is more genderless to even think it if it refers to Aerith unless you're a certain shipper.
Intentionally, both games end in the same place, Midgar Outskirt, with two Clouds, one from the past (with or without Zack being alive) and another one from the present crossing each other. And with a similar melody & instrument of two events, the lyrics also connect it. In short:
Cloud in "Hollow", imagine he's looking at the cloudy sky when it's raining and feeling like this:
Was it all a DREAM? Will I ever know?
Had I REALIZED?
Would you be here in my EMBRACE?
Show me your SMILE.
But I know you're long GONE.
I'll go howling and hollow to NEVER KNOW.

Cloud in "Prince of Freedom", imagine he's looking at the clear blue sky after the rain and feeling like this::
Look into the sky and see the DREAM we never lost.
There's something I REALIZE.
Together we EMBRACE one dream.
Even when we part, you'll never be GONE.
I'd NEVER FORGET the love you gave me.
I wanna see your SMILE.​
It sounds like resolution. BUT the fact is... the chronology of the song is swapped. Cloud is IN lost. Under the rain in a barren land, Cloud in FF7Remake blocking his other self who was already enlightened in Crisis Core to never know Zack; someone he promises to never forget, whose smiling soul and love guides him to embrace the dream & protect the honor together. He has no guidance.
LOST.
EMPTY.
HOLLOW.
So, "Hollow" isn't simply about losing someone dear. "Something important" that Cloud is lost is not "a person" but "his real self" and "the guidance to be his real self." Again, Zack should be the voice guiding him that beats Sephiroth's illusion in Cloud's head to go through. Sephiroth wants Cloud to be his puppet (fake/empty self), Zack asks Cloud to be his living legacy (real/having purpose in life with dreams and honor). These voices are like an angel and devil on your shoulder. Remember Sephiroth taunts Cloud like this:
"Don't pretend as if you're sad.
Don't act as if you're angry, either.
Because, Cloud, you are.... an EMPTY puppet."
​
And it doesnt happen in Aerith's death only, but also in FFAC when Cloud's mourning on Zack's grave.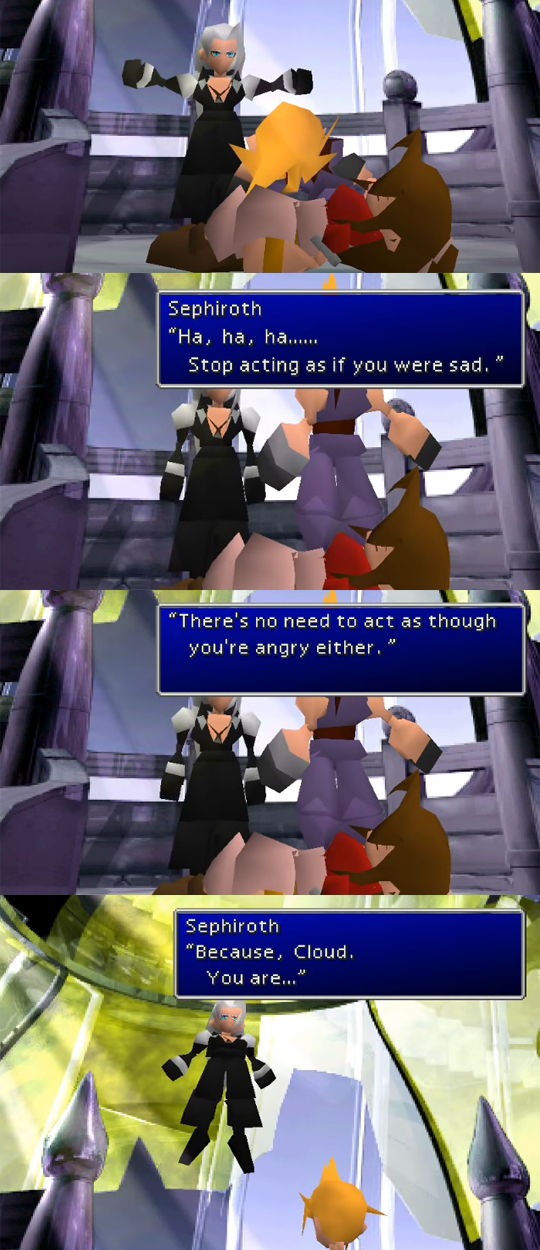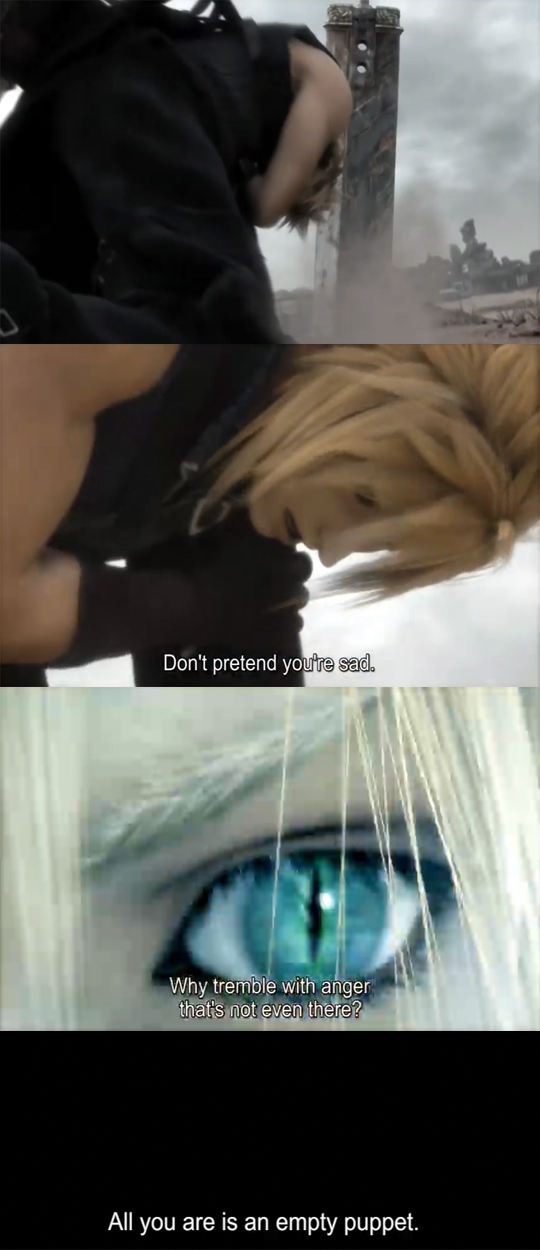 It doesnt matter who or what Cloud lost: his mom, Zack, Aerith, Tifa, Denzel, etc; Sephiroth will keep saying he can't be sad nor angry because he's just an empty puppet. Empty. Hollow. When does he not feel hollow? It's when he embraces his real self with dreams and honor. Zack reminds Cloud of that, guides him, before Cloud finally gave Sephiroth omnislash and tell him:
"There's not a thing I don't cherish."
---fin---​
Last edited: