Before Crisis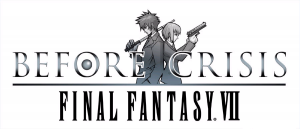 ---
MISSION TRANSLATIONS
Before Crisis Chapter Summaries
Complete Mission Translations
Translations by DA, posted on her website Gunshot Romance.
*Since the translations were done by DA before the release of Crisis Core & the Before Crisis Turks are not named by default, "Character G" listed as "Tegwin" is "Cissnei" in Crisis Core.
**Translation in progress.
Complete Special Episode Translations
Translations posted on tumblr page "Leader of the Turks".
Gameplay Video Compendium
FFVIIExcavation has done the amazing service to upload recordings of all missions, side quests and special episodes. All the dialogue has been translated to English.
– Before Crisis Playlist
To see translations of the complete script, including that not shown in the videos, visit FFVIIExcavation's Before Crisis Section.
---
OTHER
Off-site Interviews
– Director Hajime Tabata about the conception of Before Crisis, Crisis Core and his role in FF Type-0