Happy 25th Anniversary of Final Fantasy VII!
Final Fantasy VII Rebirth
On yesterday's anniversary stream, Square Enix showed a teaser for part 2 of the Remake project, entitled Rebirth, and a release window for winter '23/'24
Lines and scenes from the original Kalm flashback, as well as shots of Cloud and Zack arriving at the outskirts of Midgar. Mysteries abound.
One major mystery solved, however, is the number of parts in the project. Per Kitase:
Since the start of the project, we have said that it would play out over multiple parts. But I can now announce that the complete project will be a three-part series made up of FINAL FANTASY VII REMAKE, FINAL FANTASY VII REBIRTH, and one final title.
Tetsuya Nomura had this to say on twitter: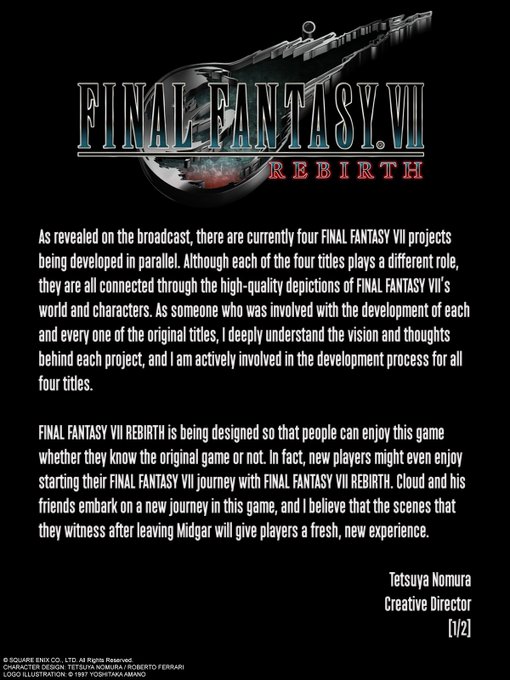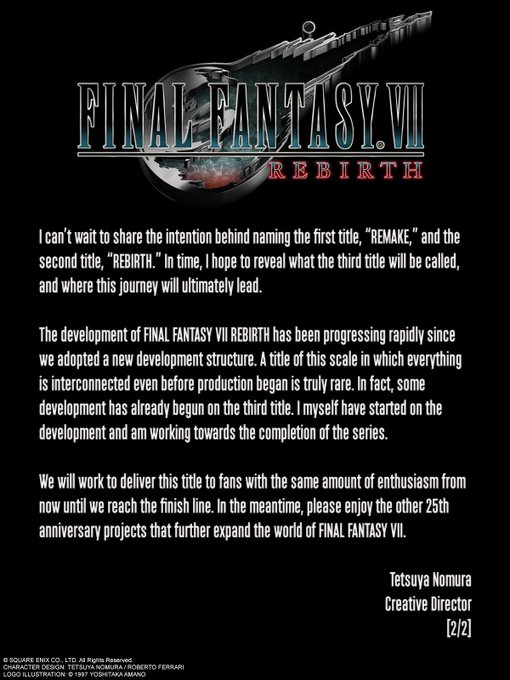 But that's not all!
Crisis Core Reunion
Also shown was a surprising remake of PSP's Crisis Core. The graphics, interface, and voice acting have all clearly been redone, and it releases this coming winter on all platforms:
Final Fantasy VII Ever Crisis
There was also a new trailer for the Compilation's next alphabetized title, Ever Crisis. This mobile game, as previously announced, will cover the entirety of the original Compilation with turn-based combat, chibi traversal graphics, and Remake assets in battle. This trailer focuses on moments from the original and Crisis Core. No word on release apart from a closed beta this year.
Final Fantasy VII: The First Soldier
And lastly, there was a trailer for Season 3 of the mobile battle royale title, featuring more Compilation references:
---
Aside from some new merchandise, that was all the announcements in the brief and to-the-point stream! If you'd like to watch the stream in its entirety, here it is:
Lots to dig into and be excited about, so keep an eye out here for analysis and speculation over the next year and a half. As always, feel free to join the forums and the Discord to discuss with us!