Game Credits – Final Fantasy VII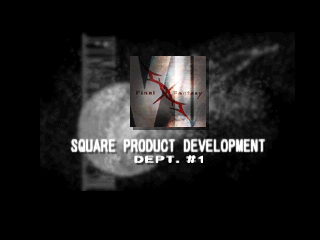 For reference and documentation, here are the ending credits from Final Fantasy VII with fan-written commentary. Thanks to forum member Sprites for writing down the English European credits. This page is likely to receive future expansions. The reader can either check the commentary section below or jump instantly to the game credits.
Disclaimer: The actual game credits writes in all capital letters, but for readability we've chosen to not copy this writing style. The PC versions are yet to be researched.

_____________________________________________
Commentary
Trivia
— Masashi Hamauzu is here listed as a man who provided one of the bass vocals in the eight-person "Sephiroth Choir" (which presumably means the choir for the themes 'Those Chosen By The Planet' and 'One-Winged Angel') and as the synthesizer for the excerpt from Haydn's "The Creation". Masashi would later compose the music for Dirge of Cerberus (2006) and Final Fantasy XIII (2009).
— Shun Moriya was the "CD & Movie Programmer". If you look at the files for the 1996 FFVII demo, the folder that contains all the movies is aptly named "MORIYA". This folder name is not present in the final game. In the same fashion, the folder for all the field files in the demo is called "NARITA" after the main programmer, Ken Narita.
— Although Kazuhiko Aoki is listed as an Event Planner, his contributions are perfectly unknown. All other event planners have left their signature in the game code or been part of interviews, but there is nothing to tell where Kazuhiko Aoki contributed, if at all. Previous to this, he worked as the Producer of Chrono Trigger.
— Kusanagi was the group that drew and painted all the prerendered 2D backgrounds of the game, which you would not know from the credits without previous knowledge about Kusanagi. Final Fantasy VII marked their first project with Square. Their art book "Kusanagi IV" contains a selection of sketches for FFVII, FFVIII, FFIX, Front Mission 3 and The Bouncer.
Version Differences
The English NTSC (American/NA) ending credits show surprisingly many discrepancies between itself and the PAL (European) counterpart. A complete list of these name and writing differences will become available in a future "Versions Guide" article.
— When the Sector 7 plate falls, an excerpt from Joseph Haydn's "The Creation" is played. The versions do not match up with who is the credited soprano for this excerpt.
Original Japanese release and the North American version lists Matsue Fukushima (福島真津恵) as the soprano. FFVII International and the English European version lists Minae Fujisaki (藤崎美苗) as the soprano. It is unknown which name is the correct one or if the voice was changed between releases.
— There are a handful of names that appear in one version but not in the other. "Monster Modeling" has more names in the NA game, while the "Studio Gazelle, Inc." list is shorter compared to PAL.
"Special Thanks for Additional Movie" is about the Weapon FMV at the Northern Crater which was improved following the original Japanese release. The name list is longer in PAL but a few names that appear in NA are not listed in the European game.
A complete list of these name differences will become available in a future "Versions Guide" article.
— Being that FFVII was published by SCEA (Sony Computer Entertainment America) and SCEE (Sony Computer Entertainment Europe) in their respective continents, this section has a different name list, as is expected.
— NA: Takaharu Matsuo is listed under Background Designers.
PAL: Takaharu Matsuo is listed under Battle Stage Designers.
— The European credits scroll faster but end up the same length as the American one because the spacing between the credit rows has increased.
— PAL often writes a title in singular form even when multiple people are listed for contributing in a certain area. "Planners" in NTSC may read "Planner" and so forth.
Opening Credits versus Ending Credits
If you do not push any buttons when starting the game, a screen appears where a smaller segment of the game's cast is presented. Some titles and names are written differently here compared to the ending credits. Intro credits are hereby represented by I and ending credits are represented by E.
I: Movie Director – Motonori Sakakibara
E: CG Movie Director – Motonori Sakakibara
I: Battle Effect Director – Hirokatsu Sasaki
E: Magic Effect Director – Hirokatsu Sasaki
I: Shintaro Takai
E: Shintaroh Takai
I: Hiroyosi Hamada
E: Hiroyoshi Hamada
I: Hidetosi Omori
E: Hidetoshi Omori
I: Matsumura Yasushi
E: Yasushi Matsumura
I: Kenji Nagashima
E: Kenzi Nagashima
I: Executive Produce
E: Executive Producers
The final example is different depending on the version you play. The original Japanese game's intro and ending credits said "Exective Producer". This was corrected for the latter releases, except that in the intro the final letter in "Producer" got cut.
Errors
The credits have not been rewritten but copied exactly as they are presented in the game. Ergo, the misspellings have not been corrected.
— 2D Animetor. This should be written as "Animator" or "Animators". This error appears in all PlayStation editions of FFVII.
— LA Unit-Coordinaters. In the Japanese game this title is written in singular, but the spelling error exists across all PlayStation versions.

_________________________________________________________________________________________________________
Final Fantasy VII Credits: English PAL Edition
Producer
Hironobu Sakaguchi
Director
Yoshinori Kitase
Music Composer
Nobuo Uematsu
Main Programmer
Ken Narita
Character Design & Battle Visual Director
Tetsuya Nomura
Art Director
Yusuke Naora
Image Illustrator
Yoshitaka Amano
CG Supervisor
Kazuyuki Hashimoto
CG Movie Director
Motonori Sakakibara
Character Modeling Director
Tomohiro Kayano
Main Character Modeler
Hiroshi Arai
Magic Effect Director
Hirokatsu Sasaki
Special Magic Effect Director
Shintaroh Takai
Battle Stage Director
Akira Fujii
Graphic Outside Contractor Art Director
Hitoshi Sasaki
Outside Contractor Coordinator
Hiroyoshi Hamada
Animation Director
Hidetoshi Omori
Battle Plan Director
Yasushi Matsumura
Map Plan Director
Hidetoshi Kezuka
Map Plan Co-Directors
Takeshi Endo
Motoharu Tanaka
Masato Yagi
Battle Programmer
Hiroshi Harata
Character Programmer
Hiroshi Kawai
CD & Movie Programmer
Shun Moriya
Sound Programmer
Minoru Akao
Sound Engineer
Eiji Nakamura
MA & Recording Engineer
Kenzi Nagashima
Story By
Kazushige Nojima
Yoshinori Kitase
Based on the story by
Hironobu Sakaguchi
Tetsuya Nomura
Field Section
Programmer
Keizo Kokubo
Event Planner
Kazushige Nojima
Keisuke Matsuhara
Hiroki Chiba
Motomu Toriyama
Jun Akiyama
Kazuhiko Yoshioka
Hideshi Kyonen
Kazuhiko Aoki
Special Thanks
Takashi Tokita
Masato Kato
Map Planner
Masaru Oka
Naoya Kawahira
Satoru Tsuji
Toshi Kurihara
Junko Iriguchi
Masashi Nakata
Ryo Tsurumaki
Concept Art by
Tetsuya Takahashi
Takayuki Odachi
Background Designers
Matsuzo Itakura
Kenzo Kanzaki
Kazuyuki Ikumori
Yukio Nakatani
Takeshi Okui
Hiroshi Matsuyama
Kazushi Urata
Yasunori Higuchi
Masaaki Hayashi
Sub-Character & Character Texture Designer
Kazuhiro Okawa
Assistant Character Designer
Fumi Nakashima
Character Modeler
Takanari Tajima
Murasaki Iriguchi
Hiroyuki Hoshino
Character Animator
Norihito Takami
Tatsuo Heianzan
Battle Section
Programmer
Akihiro Yamaguchi
Kazumasa Fuseya
CG Programmer
Masaharu Inoue
Planner
Takayoshi Nakazato
Goro Ohashi
Masahiro Kataoka
Takatsugu Nakazawa
Special Thanks
Toshiaki Suzuki
Monster Modeler
Kouichi Ebe
Yoshio Yamakawa
Hiroto Yamamoto
Character Animator
Tatsuya Kando
Kuniharu Takeguchi
Go Kikuchi
Monster Designers
Shin Nagasawa
Tetsu Tsukamoto
Battle Stage Designers
Hideyuki Matsumoto
Jun Matsuo
Takaharu Matsuo
Kyuji Kawase
Masahide Tanaka
2D Animetor
Kenichirou Okamoto
Hiroyuki Yotsuji
Magic Effects Section
Graphic Designer
Youichi Tanaka
Hiroyuki Ikeda
Kunio Asahara
Programmer
Kentarow Yasui
Shinichi Aoyama
Mitsuo Yoshioka
World Map Section
Planner
Masato Yagi
Programmer
Yasuo Kuwahara
Graphic Designer
Hideyuki Matsumoto
Effect Designer
Takayuki Odachi
Chocobo Race Section
Programmer
Keitaro Adachi
Graphic Designer
Ryotaro Takahashi
Planner
Hiroki Chiba
Condor war section
Programmer
Ryo Muto
Graphic Designer
Hiroyuki Yotsuji
Planner
Kazuhiko Yoshioka
Submarine Chase Section
Programmer
Shin-ichi Tanaka
Graphic Designer
Hiroyuki Yotsuji
Takeshi Sanda
Planner
Motomu Toriyama
Highway & Roller Coaster Section
Programmer
Tatsuya Yoshinari
Graphic Designer
Takeshi Sanda
Planner
Keisuke Matsuhara
Snowboard Section
Programmer
Tadamichi Obinata
Graphic Designer
Daiki Komatsu
Planner
Jun Akiyama
CG Movie Section
Field CG & Movie Designer
Hiroyuki Honda
Yoshinori Moriizumi
Kanako Aoki
Yuko Akiyama
Ayako Kuroda
Movie Engineer
Motohisa Adachi
Ryusuke Sasaki
Banprest Co, LTD.
Tadao Odaka
Koji Tanaka
Koji Kobayashi
Keiko Imamura
Takeshi Yamazoe
Kazutoshi Sakai
Daisuke Shigeta
Battle CG Support
Monster Animators
Masateru Suzuki      Kenji Kadonishi
Kouichirou Soeda      Yousuke Asahara
Junnichi Murata      Hiroyuki Hamada
Reina Ikeda      Ikuyo Yoshida
Mari Miyamoto      Nobuhiko Imai
Yusuke Tanaka      Yukimasa Nakaguchi
Manabu Inokuchi      Makoto Yagishita
Kyouko Muramatu
Monster Modeling
Yuki Kawaguchi      Yoshihiro Takeshita
Rie Masuda      Yoshiyuki Oku
Kumi Kanai      Hideo Kubota
Nokazu Sato      Takuya Tsunakawa
Sound Effect
Yoshitaka Hirota      Mitsuhiro Iwadate
Yuichiro Mori      Yoshikuni Nakamura
Sephiroth Choir
Soprano
Matsue Fukushima
Minae Fujisaki
Alto
Kazuko Nakano
Saki Ono
Tenor
Toru Tabei
Daisuke Hara
Bass
Toshizumi Sakai
Masashi Hamauzu
Excerpts from "The Creation" Composed by Joseph Hayden
Soprano
Minae Fujisaki
Tenor
Daisuke Hara
Synthesizer
Masashi Hamauzu
Square USA Staff

Tool programmers-LA
Paul Ashdown(V.P.)
Yun-Po Paul Fan
Shiro Kawai
CG Designers-LA
Ron Sabatino(V.P.)
Sharon Packer
Joseph Black
Nicholas Hoppe
Suzanne Berger
Doug Smith
LA Unit-Coordinaters
Junichi Yanagihara(S.V.P.)
Shinichiro Kajitani(V.P.)
Ryota Toyama
CG Outside Contractors
Field & Movie Section
Links Corporation
Hiroyuki Seshita      Kouji Ichiyama
Ikuo Nishii      Tatsuya Ezaki
Yoshihisa Hirano      Hiroshi Kamohara
Michiko Kanno      Natsuyo Kobayashi
Kaori Saitoh      Sigeko Sogame
Miki Saitoh      Sanae Nakanishi
Keiichi Abe      Teruyuki Nagoshi
Terushige Watanabe      Kunihiko Mohara
Amoe Hosogai      Sachiko Yoshida
Makiko Mizushima     Atsushi Funabashi
Yuuichiro Mouri
Milai Corporation
Masanori Usuba      Satoko Matsuda
Masahisa Kaneko      Hajime Hidaka
Kazuhiko Konta      Miku Kayama
Tsugio Yamamura      Yasuhiro Sugitani
Pixy Corporation
Akiko Ige      Masanori Ikeda
Akihiro Tsuchiya      Jun Terai
Image Corporation
Kouichi Ishiwata      Fumihiro Otsuki
Okayama Yousuke      Isao Tokunaga
Toshiyasu Shimada      Kazuhiro Kinpara
Jeongtae Kim      Noriaki Kato
Daisuke Miura      Masaaki Tanabe
Junko Anzai      Yasuhiro Tezuka
Wilco Japan INC.
Hideaki Noguchi      Sakiko Aoki
Yukihiro Shibamoto      Kaori Nagasaki
Makoto Sugawara      Tamotsu Machida
Hiromi Takahashi
Omnibus Japan
Yoichi Harato      Mitsugi Kobayashi
Haruo Koyama      Jyunji Munekata
Michitaka Sato      Aritsune Kawamura
Taro Ibusuki      Kazushi Sugawara
Tetsuo Kojima      Akira Watanabe
Tetsuji Nakaoka      Naoko Hatsukari
Mae Hirose      Kenji Ogura
Hidekazu Miyake      Katsuyuki Amano
Kenji Tanabe      Satoshi Takagi
Seichi Tanaka      Mami Kojima
Tomohiko Syuto      Yuki Masuda
Hiroshi Murakami      Hiroyuki Morohoshi
Hanako Kido      Yuichi Morio
Norihiro Ohtsubo
DAAC Corporation
Tose C.G. Section
Monster Model Support
NHK Enterprise 21
Masayoshi Obata
Field Design Support
Atelier Musa
Shigemi Ikeda
Kusanagi
Nobuhito Sue      Hiromi Kariya
Umigame Jimusho Corporation
Hiroyuki Hayashi
Algo-Nicus
Shunichi Baba      Yukitomo Watanabe
2D Animation Support
Studio Gazelle, INC.
Ikuo Sato      Yoshikazu Samura
Shuji Miyata      Hideki Watanabe
Shinsaku Kozuma      Yusuke Yamamo
Yasuyuki Noda
Sound Engineer for Additional Movie
Tak Ogawa
Recording Engineer for Additional Movie
Masayoshi Okawa
Special Thanks
Kazuhiko Torishima      Hideo Yoshikura
Toshimasa Takahashi      Yuu Kondoh
Izumi Kawanishi      Makoto Tanaka
Masayoshi Yanaka      Yoshiaki Nakayama
Teiji Yutaka      Toyoshi Okada
Kaoru Yamanoue      Aiko Ito
Quality Assurance
Hiromi Masuda      Tsuyoshi Fusano
Yoshia Shibano      Miki Ito
Yuji Saito      Yuki Hasegawa
Producer(SCEE)-Martin All Times
QA Manager Tony Bourne
QA Assistant manager Steve Archer
QA Supervisor Dave Cleaveley
QA Co-ordinator Jim McCabe
Lead Tester Brad Davey
Tester Neil Smith
Kevin Mason      Mark Stephenson
Ste Chainey      John Wilson
Phil Green      Craig Duddle
Kay Hounsell      Lisa Williams
Dominic Berzins      Anthony Mair
Paul Jones      John Cassidy
David Burke      Dee Norfolk
Steve Griffiths      Neil James
Square Soft, Inc.
Product Development Coordinator Michael Baskett
QA Manager  Jon Williams
Customer Service Manager Rick Thompson
Executive VP, Strategic Planning Yoshihiro Maruyama
Vice President of Marketing Jun Iwasaki
Assistant Marketing Associate Kenji Mimura
Publicity Producers
Shinji Hashimoto
Tadashi Nomura
Kiyotaka Sousui
Executive Producers
Tetsuo Mizuno
Tomoyuki Takechi