Franchise Guide: Final Fantasy VII (Original Game)

Final Fantasy VII made its debut in Japan in January 1997 and has since spawned multiple re-releases, sequels, prequels, short stories and a direct-to-DVD CGI movie.
It was initially planned for the Nintendo 64, however due to the lack of storage space available on cartridges Squaresoft (now Square-Enix) shifted development to the Playstation, which utilised the CD format.
STORY
Set in a world referred to in the game only as "The Planet" (which has retroactively been dubbed "Gaia") the game follows the struggle of protagonists and rebel group "AVALANCHE" against the world ruling organisation known as "Shin-ra Electric Power Company", who are draining the planet's life and converting it to be used as an energy source, using power plants known in the game as "Mako Reactors".
From their base in the slums of the Shinra run city Midgar, AVALANCHE set out to destroy these Mako Reactors, which are found all over the world. As the game progresses the protagonists face a much larger threat, leading the characters on a journey across continents in search of a way to stop the forces that threaten the life of the planet.
GAMEPLAY
The game consists of three main areas; an overworld map, field screens and battle screens. The world map is rendered in 3D and is used to traverse from town to town. The field screens consist of 2D backgrounds on which 3D character models are overlaid, and the battle screens are 3D renditions of areas on both the overworld and field screens where battles take place.
Exploration and interaction with non-playable characters are carried out from town to town in order to progress the story. Experience is awarded after each battle, increasing character's stats, allowing them to face tougher enemies and bosses. A team of three chosen by the player is taken into each battle, with equipment and abilities customisable for each character.
RELEASE INFORMATION
| Platform | Region | Release Date | Publisher/Developer |
| --- | --- | --- | --- |
| Playstation | Japan | 31/01/1997 | Squaresoft |
| Playstation | North America | 03/09/1997 | SCEA/Squaresoft |
| Playstation* | Japan | 02/10/1997 | Squaresoft |
| Playstation | Europe | 17/11/1997 | SCEE/Squaresoft |
| PC | North America | 31/05/1998 | Eidos Interactive/Squaresoft |
| PC | Europe | Q4 1998 | Eidos Interactive/Squaresoft |
| PSP/PS3 | Japan | 10/04/2009 | Square Enix |
| PSP/PS3 | North America | 02/06/2009 | Square Enix |
| PSP/PS3 | Europe | 04/06/2009 | Square Enix |
| PC | Worldwide | 14/08/2012 | Square Enix |
*Extra content was added to the North American and European releases, which prompted a re-release of the game in Japan known as "Final Fantasy VII International". This version included a bonus disc containing information, maps, developer sketches and trivia about the game.

The merger between Square and Enix occurred on 1st April 2003, forming the company "Square Enix" as it is known today.
The easiest way to currently play the game is to buy a digital copy from the PSOne classics section of the Playstation Network store on a PSP or PS3, or download the PC version of the game from the official website here. The PC version supports Cloud Saves and an Achievement System, but the music is of a poor MIDI quality. The Playstation Vita is also now confirmed to play PSOne classics (including Final Fantasy VII) although a release date for this function is yet to be made available.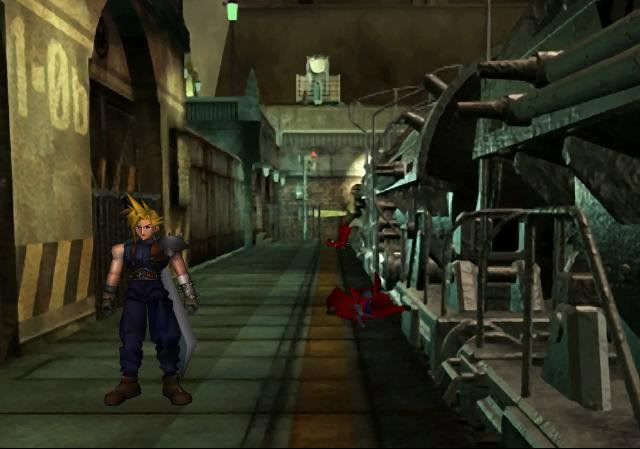 Untouched Playstation Version vs. Modified PC Version
If you have access to the 1998 PC release version of Final Fantasy VII (note; not the 2012 official re-release), it is advised to install Aali's Graphics Driver, a fan-made driver which not only allows custom resolution to be set, but also resolves a lot of the issues one may experience while trying to set up/ play the game on a modern PC. Another fan-made program known as "Bootleg" – created by Qhimm forum member PitBrat – also offers a comprehensive tutorial and installation package for the various graphical upgrades and modifications available for the PC version of the game, and can be found here.