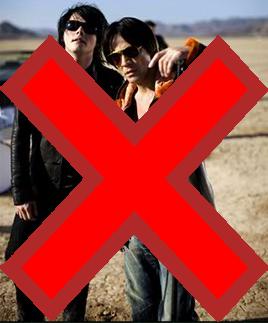 Upon the release of Advent Children Complete in North America, many fans were surprised, and disappointed when they discovered that the old theme "Calling" by Kyosuke Himuro was played during the end credits, instead of the new theme "Safe & Sound" created specifically for Advent Children Complete by Gerard Way & Kyosuke Himuro. The iTunes release of the single was also limited to Japan only, and has not yet been released outside the region. This was especially odd, given the fact that both artists live and met in LA, California, in addition to the fact that Gerard Way's fanbase is fairly large in the United States, and seemingly could have assisted sales.
With the recent release of Advent Children Complete in Europe, it has been confirmed that the EU version doesn't contain the new theme song either. This makes the Japanese Region the only version of Advent Children Complete that had the new theme during the end credits.
This is especially odd, with Gerard Way recently performing "Desolation Row" for the end credits of the internationally released film Watchmen, and Kyosuke Himuro's original ending theme appearing in the film, it's unlikely, though possible that a licensing conflict prevented the song from being used. Either way, at this point there's been no announcements from S-E regarding the changes, or if there will be any non Japan Region releases with the song.