Today we'll start off with the first page of the Early Material File from the Final Fantasy VII Ultimania Omega, translated by hitoshura. This page will look at the early ideas for Cloud, Barret and Tifa. Enjoy! And be sure to stick around, as there will be more to come.
---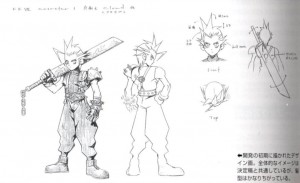 Cloud
Job: Mystic knight Age: 21 Weapon: Swords, katana

Protagonist. Ex-SOLDIER. Now a wandering 'jack-of-all-trades'. Employed by rebel group AVALANCHE. Symbolized by the large sword held on his back by magnets.
---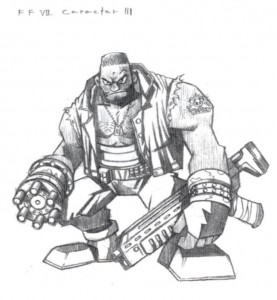 Barret
Job: Gunner Age: 35 Weapon: Guns, machinery
A powerfully-built black man, and the type to force their way. One of his arms is a gun. Born in Corel Village. The village of Corel is now ruins buried in sand. He had a wife called Meena, but she died in the past. Has a connection with Duel (*note: Dyne in the game), a workmate from his time in Corel.
-=[Episode]=-
Barret's whole village was dependent on the mines, and not only Barret but most of the men worked in the mines. Barret was an able foreman, and working with him as his assistant was a man called Duel. They each had a wife; Meena for Barret, and Eleanor for Duel.
One day, ownership of the mines switched to a company called Shinra and Barret and the other men, instead of mining, were made to build a structure the likes of which they had never seen more. This structure was called a mako reactor, and it was said that on its completion everyone's lives would become much easier.
After a year and a half of construction the mako reactor was nearly complete, and in the village a festival was being held to celebrate it. But while Barret and Duel were away, explosions and fires suddenly broke out around the village. When they rushed back, they saw their homes in flames.
They each rush back to their own homes. When Barret reaches his house, he sees Meena coming out from the burning building. Meena collapses. In her arms she is holding Barret's newly born daughter, Marlene. Barret rushes over to Meena. Then another figure appears behind Barret. It's an employee from the Shinra Company, the owner of the mines. Barret begs for help, but the employee draws a gun, and shoots Meena through the chest. Having discovered mako energy, a substance of unlimited potential, the Shinra Company feared that secret from being leaked to other companies, and decided to dispose of the people involved with the construction of the mako reactor, village and all.
Barret manages to escape, with Marlene in his arms, when he meets Duel again. Duel's wife Eleanor has already passed away. Barret and Duel climb up the mountain where the mine is located to escape. On a narrow mountain path, Duel loses his footing. With his right hand, Barret grabs hold of Duel's left hand just in time. But the pursuers mercilessly shoot Barret and Duel's hands. Their hands lose grip with each other, and Duel falls down into the dark ravine below.
● Reunion with Duel
Barret: "After that I wandered 'round, until I finally reached Cosmo Canyon and learnt what I had to do. And Duel, I believed you were somewhere, fighting Shinra too just like me… But, why!? Why are you doing this!?"
Duel: "… You still had Marlene… But I only had Eleanor… She was all I… I don't want her to feel lonely there, so I'm going to send everyone to be with her… heheh… "
At that time, the Shinra army arrives at the settlement after realizing something is wrong. A fierce battle between Cloud's team and Shinra's army! In the midst of this, Duel with Barret in pursuit head for the ruins that was once their village. Barret and Duel battle one-on-one. Barret reluctantly shoots Duel.
Duel: "Hah… Sorry, Barret… I'm going to see Eleanor before you…"
Barret: "Duel, you…!"
Duel: "It's not time for you yet… Stay here… Don't worry… I'll tell Meena you said hello… How old's Marlene…? She doing… well… ?"
Duel's head drops sharply. Harsh winds and a sand-storm envelope the two men.
Note: << Duel…… Image-wise, in contrast to the sturdy Barret, he's a slim and tall man, and his left arm is not a Gatling gun like Barret but a narrow one like a rifle >>
* This episode can also be see in Corel Prison in the game, but there are slight differences such as Dyne's name being Duel and Marlene being Barret's real daughter. Furthermore, although not listed here, there were many proposed names for the character of Dyne, such as Vicks. The Shinra supervisor who burnt down Corel was also changed many times before the final decision was made, such as being Reeve or Heidegger.
---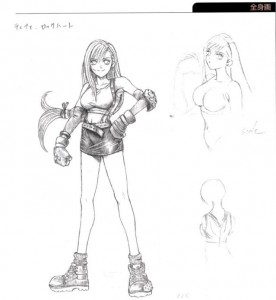 Tifa
Job: Shooter (martial artist) Age: 20 Weapon: Bare fists
An ordinary woman. Her personality is rather cheerful. Martial artist. Born in Nivelheim*. The like-minded people who gathered in her bar formed AVALANCHE. Tifa is also a member of AVALANCHE herself, but isn't taking part in the current missions. She is more the type to cheer everyone up and support from behind-the-scenes. An old acquaintance of Cloud's, it seems she likes him but she won't show it. On her back is a large scar she got from Cloud*. Due to the shock of receiving that injury she lost her memories from around that time.
* [note: not a typo on my part, either it's a typo in the book or they were doing to have a 'v' in the original. Although strictly speaking, it could be translated as "Nivelheim" in the final version as well. And it isn't a mistake, the scar…. was from Cloud.]