More bits and pieces of the creator interview in Dengeki PS3 has surfaced on 2chan and hitoshura has translated the relevant new pieces of information regarding FFVII Advent Children Complete and On the Way to a Smile. Thanks to our member DillyDally for bringing this to our attention!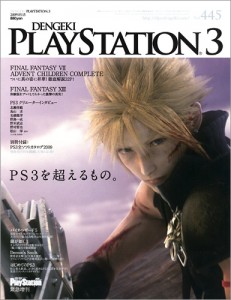 – 'Mog girl' is really people within Square Enix, and Nozue and Nojima hit it off because of her.
– In the novel, Yuffie's chapter was meant to be a brighter story, but that brightness conversely ended up bringing a sense of pain, so it turn out a rather sad story. Quite a bit of focus on Geostigma in Yuffie's chapter.
– In Nozue's interview he talks about the highlights for the characters: for Cloud, the scenes with the children; for Tifa, he had nothing but a hard time with her. In the battle with Loz, there's a slight change to the appearences of the scene when the flower petals float in the air. There are a lot for Denzel, but the best is the scene where he meets Cloud.
– When asked if he wants to write a sequel to ACC, Nojima says that he's interested in Cloud's future, and in AC he's still in his early 20's so he can still take the lead role.
– And there's still the surprise new scenes which haven't been revealed.
– Tifa's page talks about how she gives Cloud encouragement, and ends up creating the catalyst for him regaining the will to fight. I'd like to believe this also leads to her salvation.
– Marlene is "a girl who watches over Cloud, together with Tifa," and Denzel is "a boy who grows, together with Cloud."
– "In Nojima's interview, he said he thinks that since Denzel idolizes Cloud, there's going to be a period where he doesn't pay any attention to girls.
– Cloud's personality basically drags things on, but in the scene with Marlene he finally shows a cool, heroic moment.
Also, DillyDally has stated that info has surfaced that Vincent Valentine will make an appearance in "Case of Red XIII," explaining his appearance on the cover of the book as well.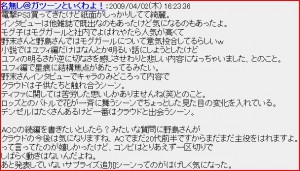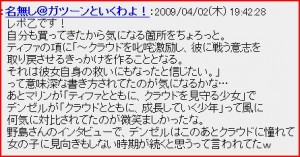 Source: 2chan
*UPDATE: Moved here from later news story.*
Also, some more info from the Dengeki PS3 interview has surfaced, and with it, some details pertaining to the particular story, "Case of Shinra" and Rufus and the Turks in ACC. Major thanks to hitoshura for providing this info.
– Nozue talks about how since it's CG, they might as well do over-the-top things you can't do in live action. There's a lot of this in the new scenes, like the bike scene with Reno and Rude.
– (Nojima) Rufus is cool, and being a kind of 'insider' gets lots of dialogue.
– (Nojima) Case of Shinra involves the Turks, but Rufus gets a lot of attention as well. It covers what happened after Tseng was attacked by Sephiroth and nearly died, and what Rufus did after being saved from the Weapon attack. Case of Shinra is the only chapter which begins during FFVII. This chapter is tied to BC and DC, so it was hard for Nojima to fully grasp the character's actions and time lines. But it was interesting because it shows what's going on inside Rufus's mind.