And we conclude the day with the true One Winged Angel himself, Sephiroth. Thanks again hito for translating this Dengeki PS3 character profile!! Enjoy!
---
The strongest SOLDIER created by the Shinra Company. Distinguishing himself in the military from a young age, he was heralded a hero. There were once a few he could've called his friends, but on an investigative mission to Nibelheim he encountered a life form bearing the same name as his mother, within its mako reactor. And there he learned the secret of his birth. Learning that he had been created, he seeks to carry on the will of his mother Jenova, and is gripped by a desire for vengeance against the planet.
Sephiroth has been defeated by Cloud twice: once in Nibelheim, and again in the Great Northern Cave. However, he did not diffuse within the Lifestream and continued to live on, and scattered his own genes across the world. This seems to be the origin of Geostigma. And reappearing once again after Kadaj's Reunion, he faces Cloud for a third showdown…

Compilation of FFVII for Sephiroth
Before Crisis -FFVII-
First appears as a legendary SOLDIER in chapter 3, "Swords Crossed in the Evening Light." There is displays his formidable strength. And in chapter 12, "Awakening Tearing Peace Asunder," we see his rampage in Nibelheim.
Crisis Core -FFVII-
"CC" shows Sephiroth while he was in SOLDIER, still unaware of the circumstances of his birth. It shows a more human side to him, such as using his title of hero for his own indulgence, and the conflicted seen when having to pursue Angeal and Genesis, former colleagues and friends.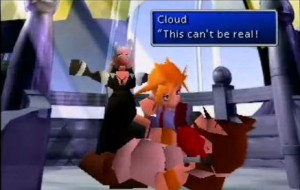 Final Fantasy VII
Sephiroth is defeated once in Nibelheim, but with Jenova cells he manages to revive himself. He leads his copies, including Cloud, to the Northern Cave and plots to perform the Reunion. In the end he is defeated by Cloud, but his consciousness travels the Lifestream, waiting for a chance for another Reunion.
FFVII Advent Children
He uses his alter egos Kadaj, Loz and Yazoo, he plans another Reunion. And through Kadaj obtaining the head of Jenova, he awakens once more.