Included in the April Dengeki PS3 magazine, which also included interviews with Nomura, Nojima and Nozue, were newly written character profiles that serve as an introduction to the main characters of FFVII Advent Children Complete. Within them are some general points of interest to their character and some interesting new bits that highlight what's new in their appearance in the film. Hitoshura has translated them and we'll be releasing some right up until ACC's release. Enjoy!
---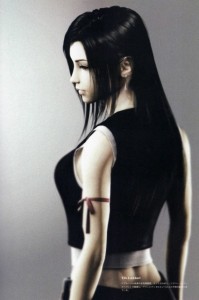 A member of the anti-Shirna organization AVALANCHE, and Cloud's childhood friend. She is the only person who knows his past, and the one person who understands him. In the previous battle, she supported Cloud not only in battle but also mentally, and at the final stages of their fight was a great help to him. When that long battle drew to a close, she reopened the bar she formally worked in, Seventh Heaven. She now runs the bar on her own, while taking care of the two children Marlene and Denzel. Unlike Cloud, who is dragging on the past and unable to move forward, Tifa has the strength to accept reality and try to move forward. Perhaps acting as the mother for the two children has giving her further strength.
With the sudden appearance of Kadaj's gang, she too is once again dragged into battle. She gives encouragement to Cloud, who is unable to shake off his doubts, and creates the catalyst for him to regain the will to fight. Hopefully this also leads to her own salvation as well.

Compilation of FFVII for Tifa
Before Crisis -FFVII-
Tifa appears in chapter 12, "Awakening Tearing Peace Asunder," which shows the Nibelheim Incident and the start of Sephiroth and Cloud's connection. We see Tifa as she was at 15 years old. She appears as an innocent and lively young girl, sporting an iconic cowboy hat. She is hired as guide to the mako reactor, but when Sephiroth is driven mad she receives a severe injury.
Crisis Core -FFVII-
Chronologically overlaps with "BC", this time progressing through Zack's point of view. In "CC" as well, the development and details of the Nibelheim incident are shown.
Final Fantasy VII
As one of the core members of the anti-Shinra organization AVALANCHE, Tifa participated in various bombing missions. But after reuniting with her childhood friend Cloud, she sets out with him on a journey in pursuit of Sephiroth. She continued to support him at all times, such as when Cloud fell into the Lifestream, and she devotedly nursed over him.
FFVII Advent Children
After the previous battle, she reopens Seventh Heaven in the city of Edge. She starts living with Marlene, Barret's adopted daughter who he left in her care, and Denzel, a boy Cloud took in. During the fight with Kadaj's gang, she and her friends defeat Bahamut SIN. At the end of a long struggle, she gently welcomes back Cloud on his return home after settling things with himself.
Dirge of Cerberus -FFVII-
Along with Barret and the others, Tifa rushed to the aid of Vincent, who is fighting against the Deepground SOLDIERs in order to put an end to his past.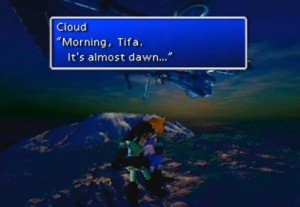 [FFVII]
Previously, Cloud had promised Tifa that he would "protect her if she were in a bind." Perhaps this promised has been her long-standing support.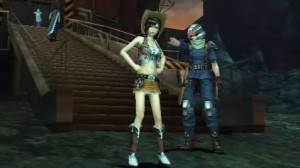 [CC]
In "CC" she undertakes the role of guide for the mako reactor investigation team. From her asking about Cloud to Zack and the others, you can tell she has been concerned about him for a long time.