Today, the next profile we will cover is Aerith Gainsborough's character profile for Advent Children Complete, from the Dengeki PS3 April issue. Once again, big thanks to hitoshura for this! Enjoy!
---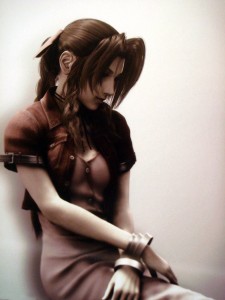 A young woman who lived in Midgar's slums, selling flowers. She was a descendant of the Cetra, an ancient race who were said to be able to hear the voice of the planet, and for this reason she was continually monitored by Shinra from a very young age. According to legend, the Cetra would lead the way to the "Promised Land", abound with supreme happiness, but by then no pure blood Cetra existed and Aerith, the sole survivor, was only a half-blood. However, the Shinra Company sought after the Promised Land and kept on relentlessly pursuing her.
Despite these harsh circumstances, Aerith never gave up hope and lived optimistically, and finally the day came when she left Midgar with Cloud, who she had met in the church. During her long journey she learned her destiny, and gave herself to stop Meteor.
She joined the Lifestream, but even then she carries on watching over the planet and Cloud. At all times, her first love Zack is always by her side.

Compilation of FFVII for Aerith
Before Crisis -FFVII-
Aerith appears in chapter 11, "A Dash for Freedom." Here you can see how the Turks, having received the order from Shinra to capture the Ancient, don't use violent means to apprehend her.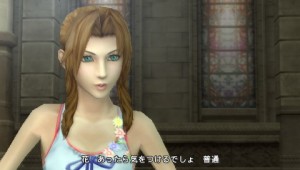 Crisis Core -FFVII-
"CC" shows her meeting and relationship with Zack, and the budding love between them. However, fate would tear the couple apart.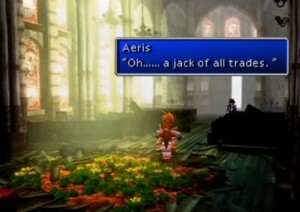 Final Fantasy VII
As an Ancient, Aerith risks her life to stop Sephiroth. Afterwards, she continues to watch over Cloud and the others from the Lifestream.
While fulfilling her duty as an Ancient, she also came to worry about Cloud. And those feelings are even now…