And last, but certainly not least, is Cloud's translated character profile from the FFVII 10th Anniversary Ultimania. With Cloud, it is finished! Enjoy all the translated information from the various FFVII guidebooks and remember that other translations will be posted in the feature here as well! Happy Thanksgiving!
---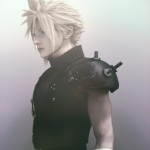 Cloud Strife
Compilation of FFVII: FFVII – AC – BC – CC – DC – LO
Character Profile
Sex: Male
Height: 173cm
Blood Type: AB
Date of Birth: 8/11
Birthplace: Nibelheim
Weapon: Sword
First Person Pronoun: 俺 [Ore]
Voice Actor: AC, CC, DC, LO – Takahiro Sakurai
---
A young man who hides his introverted personality behind a cool facade. He admired the hero Sephiroth and aimed to be part of the ShinRa Company's elite army "SOLDIER" like he was, but his hopes were dashed along the way, and he fell victim to one of the experiments of Hojo, a ShinRa scientist. Due to the influence of the Jenova cells implanted in his body he acted out a false persona, but with the support of his friends he regains his true self and grows as a person.
---
In Final Fantasy VII
A young swordsman, struggling with a fragile mind.
Age: 21
On the request of his childhood friend Tifa, Cloud assists the anti-ShinRa organization "AVALANCHE" led by Barret. At first he has little interest in their goal of 'protecting the planet'. But after meeting Aerith, an Ancient, and reuniting with his fated rival Sephiroth, he throws himself fully into the battle to save the planet. To Cloud, this is also a battle to examine who he really is and to settle his past.
「 I'm not interested in your names. 」
| | |
| --- | --- |
| | |
| At first he calls himself "ex-SOLDIER, 1st Class", and affects a condescending attitude towards the people around him, but this is a false pretence born from Cloud's own desires. | Aerith, who is pursued by ShinRa for her ability to hear the voice of the planet. Cloud's meeting with her lead him on a new path. |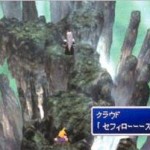 Cloud once admired Sephiroth, but now despises him for destroying his hometown. But as Cloud draws closer to Sephiroth, his ego begins to shatter…
「 What did I do? I can't remember . . . . If this is all a dream, don't wake me up. 」
---
Trivia 1
It's tough being the popular guy?
Despite his cold behavior in several scenes, Cloud is essentially popular with members of the opposite sex. In addition to FFVII's heroines Tifa and Aerith both having feelings for him, AVALANCHE's Jessie and young Priscilla in Junon both also fall for Cloud soon after they meet him. Even though it's the pitiable aspects of Cloud that stand out, perhaps weaknesses such as those also win over a woman's heart.
| | |
| --- | --- |
| | |
| [FFVII] Both Aerith, who is forthright, and Tifa, who is demure, have feelings for Cloud but he is none the wiser to them. | [FFVII] One look at Cloud in drag gets Cornero very excited. Do Cloud's charms enslave even members of the same sex? |
「 I don't need a fantasy anymore. I'm going to live in my reality. 」
---
Limit Break
Omnislash
| | |
| --- | --- |
| | |
| When the limit is reached, his sword is imbued with fighting spirit from the heart for just a moment. | In the blink of an eye, 14 hits of damage are dealt one after another…. |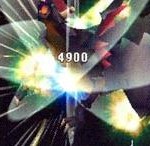 Cloud then dramatically leaps into the air and brings his sword down for the final slash.
---
In Advent Children
The happier he is now,
The more Cloud is tormented by painful "memories" of the past.
Age: 23
Now running a delivery business while helping out Tifa with the newly opened "Seventh Heaven" bar, Cloud, Tifa, Marlene and Denzel lived together like a family. However, when Cloud contracts Geostigma he disappears. Behind these actions lies feelings of guilt towards his past failure to protect people who were important to him, but through his battle with Kadaj's gang, the legacy of Jenova, he regains the courage to face reality.
「 I don't think I'm fit to save anyone. Not family, not friends . . . no one. 」
The more he realizes how happy he is living with Tifa and the children, the more the fear of losing that and regrets toward the past trouble Cloud…
「 I . . . I think I want to be forgiven. Yeah, I want to be forgiven. 」
| | |
| --- | --- |
| | |
| Failing to protect people important to him is his sin… Convincing himself of this, Cloud shuts himself off. What does his meeting with Aerith bring him? | Sephiroth returns using Kadaj's body, but the old Cloud who was troubled by his words is long gone. With the strength from his bonds with his friends, he will vanquish Sephiroth this time! |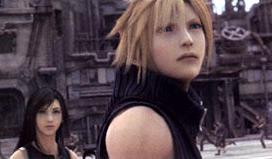 With the support of former allies and Tifa, an important woman to him and now also part of his family, Cloud regains the courage to move forward.
---
Trivia 2
Cloud, the Bike Fan?
In AC, Cloud runs a courier business, "Strife Delivery Service". An indispensable part of this operation is his bike Fenrir. After getting the bike from someone in exchange for 'the privilege to eat and drink at Seventh Heaven for free for life', Cloud becomes extremely fond of it and even in DC he appears with it. Just as FFVII also featured a scene where Cloud borrows a "Hardy Daytona" bike on display in the ShinRa building, does the bond between Cloud and bikes run deep?
[AC] Fenrir has been customized to suit Cloud's tastes. It has armor capable of withstanding close quarters combat, and in the front there is storage for several swords.
---
Compilation Check
The Fate Befalling a "Puppet of Jenova."
At the age of 16 Cloud was sent on a mission to his hometown of Nibelheim, where Sephiroth went out of control (what is commonly called the "Sephiroth Incident"). Cloud, having suffered heavy injuries during the incident, was injected with cells from Jenova, an extraterrestrial life form. These cells, which Sephiroth also had in his body, controlled Cloud's thoughts and created a separate personality, and tried to manipulate Cloud into joining with Sephiroth. Even the Meteor crisis was indirectly caused by Cloud having become a puppet to Sephiroth. In FFVII Cloud finally regains his true self and defeats Sephiroth, but this doesn't mean he's completely freed from the will of Jenova, and in AC he is tormented by the Remnant's call for the Reunion.
[AC] Cloud's pupils narrow, just like those of the Remnants of Sephiroth. It's almost as if he can never escape from Jenova's command…
---
Compilation Check
Cloud's Rare Smile.
At the start of FFVII Cloud posed as a "cool ex-SOLDIER", and kept up a cocky front. After it is revealed that he was never in SOLDIER, and he begins to act like himself, but he still doesn't show his emotions very much. The only time he laughs in FFVII is during a conversation with Aerith at the start of the story, when Jenova is still in control of his consciousness.
Even after rediscovering his true self and beginning a new life, he is bound by a sense of guilt and mostly keeps the same sullen expression. When you think of this, the smile he shows at the end of AC (see image below right) is deeply emotional.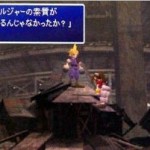 [FFVII] Cloud laughing with Aerith after outrunning Reno and ShinRa in the slum church.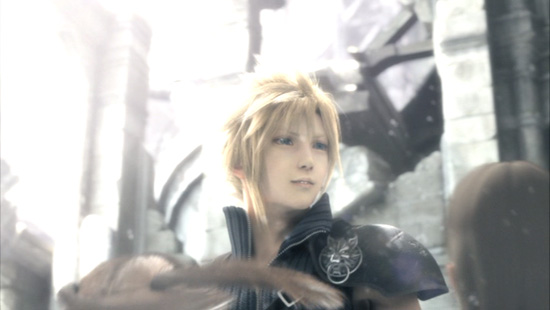 ---
In Dirge of Cerberus
Age: 24
Assists the World Regenesis Organization (WRO), a group dedicated to restoring the planet now in ruins after repeated disasters. To put a stop to the plans of Deepground (DG), who have been committing kidnap and carnage under the name of a "hunt for life", Cloud rides into the enemies' stronghold Midgar with Tifa and Barret.
「 Let's go, Fenrir . . . 」
| | |
| --- | --- |
| | |
| The mission assigned to Cloud and the others is to destroy the Mako Reactors which encircle Midgar and cut the energy supply to DG. | Cloud fights off an assassin of DeepGround's Tsviets, Rosso, ferociously. |
---
In Before Crisis
His boyhood when he worked together with the Turks,
And what he experienced then was…
Age: 14~20
Cloud first appears as a boy soldier, still just 14 years old. He is assigned to safeguard a VIP with the Turks, but causes many problems such as complaining because he feels like he isn't trusted, and ignoring orders and putting protecting his colleagues' lives first. He also meets the Turks again when he is sent to investigate the Nibelheim Mako Reactor, and there are scenes such as him confiding about his promise with Tifa which supplement FFVII.
「 What do you think . . . .? Even an escorting soldier can fight. 」
| | |
| --- | --- |
| | |
| Cloud is eager to show he's got what it takes as a soldier assigned on an escort mission. His youthful immaturity is prominent during this time. | He explains the situation to the Turks member who knows Tifa and gets them to keep quiet about his return. |
「 I . . . respected you . . . I looked up to you!! 」
In a rage Cloud thrust his sword into Sephiroth, who burnt down his village. A familiar scene from FFVII as well.
---
Trivia 3
A Natural Talent for Swordsmanship.
In BC the 14 year old Cloud, on an escort mission, steals a sword from the enemies' elite Raven soldiers, and shows amazing swordsmanship for his first time to the amazement of the Turk working with him. It is probably because he has this natural talent for using large swords that he able to use Zack's Buster Sword so well.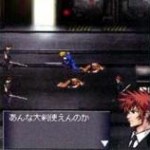 [BC] The Turk also expresses surprise at Cloud handling the sword so well that one wouldn't expect it from just having watched others.
---
Compilation Check
A Promise to Tifa, Etched in his Memory.
When Cloud left the village dreaming of being a SOLDIER, he swore to Tifa that he would come running to her rescue if she was in trouble. While it was Tifa who strong-armed him into making the promise, it seems that the idea that he must keep this vow was forever in Cloud's mind. In BC he is obsessive about protecting people, and if he runs out of strength part way though he will mention the "promise."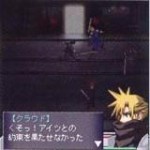 [BC] If he runs out of strength part way through the story, he will say regretfully that he "couldn't come through on my promise to her."
---
In Last Order
The tragedy in Nibelheim changes Cloud's destiny.
Age: 16~20
Cloud's past, which was only touched on briefly in FFVII's flashback scenes, is explored in close up here. After Sephiroth burns down Nibelheim and Cloud becomes a subject for Hojo's experiments, he is taken by Zack who was also caught with him and they begin a life on the run.
Cloud strikes down in rage the hero who is now his sworn enemy.
「 Sorry. I got here a little late. 」
| | |
| --- | --- |
| | |
| He lifts a collapsed Tifa up in his arms, and upon seeing her aware of him, he smiles gently. | Zack carries Cloud while he is unconscious as they continue their escape, however… |
---
In Crisis Core
The bonds of friendship that grew during his days as a ShinRa trooper.
Age: 14~21
Like in BC, Cloud first appears in CC as a 14 year old ShinRa troop. While still just a grunt, he aims to be in SOLDIER. He strikes up a friendship with Zack, a SOLDIER 1st Class; what influence will he have on Cloud, that would lead to Cloud imitating Zack's personality… The events running up to that will be shown in CC.
Cloud first talks with Zack on route to a mission, and both being born in villages where the only point of interest is having a Mako Eeactor, they hit it off right away.
「 SOLDIERs really are amazing. I wonder if I could be one too . . . 」
Cloud's idolizing of SOLDIER, and his frustration at his own powerlessness comes through in his words and actions.
---
Compilation Check
What Cloud Inherited from Zack
Under the effect of Jenova's cells, Cloud mimics his best friend Zack and creates a new persona, but the mental aspects weren't the only things he received from Zack. His starting equipment, the Buster Sword, was the one Zack used, and in CC Zack uses an ability that looks just like Cloud's Limit skill "Meteorain", so from the looks of this, could this battle technique also be handed down from Zack?
| | |
| --- | --- |
| | |
| [AC] In AC, the Buster Sword is stuck in the ground like a grave marker at the hill where Zack died, and Cloud thinks of Zack as he looks at it. | [LO] The Buster Sword, a massive sword large enough to completely hide a fully grown man. On their escape from the ShinRa mansion Zack used the sword like a shield to protect Cloud. |
---
Cloud Map
— Nibelheim
Cloud's birthplace, and a place he will never forget, where his connection with Sephiroth began.

— Midgar
He came here to become a SOLDIER, but unfortunately suffered setbacks. 6 years later he is reunited with Tifa, and as a 'jack of all trades' teams up with AVALANCHE.
— Mideel
After he contracts Mako poisoning and loses his mind, Tifa nurses him here and after rediscovering his true self he sets off again.
---
Cloud Strife – Timeline
[Compilation of FFVII]
[ μ ] – εуλ 1986/8/11
· Is born.
---
[ μ ] – εуλ 1995
(Age 8 )
· FFVII – Nibelheim
While following Tifa, they both fell from the mountain trail. Miraculously, he escaped with minor injuries.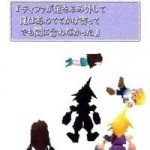 ---
[ ν ] – εуλ 0000
(Age 14)
· FFVII/BC – Nibelheim
On the water tower, he announced to Tifa that he would become a SOLDIER. He promised to save her if she got into trouble, and left the village.
· CC – Modeo Ravine
He became a member of ShinRa's army, and was dispatched on a mission where he met Zack, SOLDIER: 1st Class.

· CC – Junon
Dispatched on a mission as a member of ShinRa's army, and met Zack again.
---
[ ν ] – εуλ 0001/6/28
· BC – Midgar
Assigned to protect Professor Rayleigh, he worked together with the Turks. In a raid by AVALANCHE, secret data on SOLDIER was stolen.
---
[ ν ] – εуλ 0002/9/22
(Age 16)
· FFVII/BC/CC/LO – Nibelheim
As part of a full-scale investigation on Mako Reactors after a mass outbreak of monsters, he visited the Nibel Mako Reactor with Sephiroth and Zack.
10/1
· FFVII/BC/CC/LO – Nibelheim
In the Mako Reactor he fatally wounded Sephiroth, who had gone out of control and burnt down the village, while receiving heavy injuries himself.
· FFVII/BC/CC/LO – Nibelheim
Under Hojo's instructions he was captured and used as a sample for the Sephiroth Copy experiment in the basement of the ShinRa Mansion, where he contracts Mako Poisoning.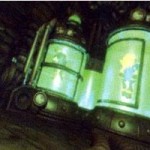 ---
[ ν ] – εуλ 0006/12/19
(Age 20)
· FFVII/BC/CC/LO – Nibelheim
With Zack's help, he escaped from the basement of the ShinRa Mansion.
---
[ ν ] – εуλ 0007/09
· FFVII/BC/CC/LO – The Wasteland
Just outside of Midgar, Zack was killed by the pursuing ShinRa army. Cloud was left at the scene.
· FFVII – Midgar
While being tended to by a station worker in the Sector 7 Slum train station, he was reunited with Tifa, and using the abilities of Jenova's cells formed a new personality. With Tifa's invitation, he decided to assist AVALANCHE.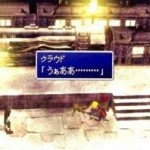 12/9
· FFVII – Midgar
Worked with AVALANCHE when they bombed the Sector 1 Mako Reactor. During his return to Sector 7, he met Aerith.
· FFVII – Midgar
During a bombing mission with AVALANCHE in the Sector 5 Mako Reactor, they stumbled into a ShinRa trap and Cloud was caught in an explosion, falling down into the church in the Sector 5 Slum. He met Aerith again, and escorted her to her home.
· FFVII – Midgar
The team failed to stop ShinRa's plans to drop the Sector 7 Plate. Aerith was taken to the ShinRa building.
· FFVII – Midgar
The team was captured while attempting to rescue Aerith, but in the confusion caused by Sephiroth's murder of President ShinRa, they escaped the city. Together with Aerith and the rest of the team, they pursued Sephiroth.
· FFVII – The Forgotten City
He found Aerith, who had been acting on her own, but shortly after lost her at the hands of Sephiroth.
· FFVII – Northern Crater
He attempted to settle things with Sephiroth, but upon listening to his speech, Cloud's self-image collapsed. He handed over the Black Materia, triggering the summoning of Meteor. Cloud then fell into the Lifestream and went missing.
· FFVII – Mideel
Now suffering Mako Poisoning, he was nursed by Tifa, but they fell into the Lifestream. With Tifa's help he retraced his memories, and regained his true self.
---
[ ν ] – εуλ 0008/01
· FFVII – Northern Crater
With his friends he was victorious in the final battle with Sephiroth, and prevented the fall of Meteor.
· Edge
After visiting various locations with Tifa and Barret, Tifa opened the "Seventh Heaven" bar. Before setting off on a journey, Barret left Marlene in Cloud and Tifa's care, and the three of them began living together.
(Age 22)
· Edge
While searching for provisions for the bar, more and more people began to ask him to make deliveries for them, so he set up the Strife Delivery Service.
· Midgar
He took Denzel, who had collapsed at the Sector 5 Slum church, into his care and brought him back to Seventh Heaven, where Denzel then also started to live.
---
[ ν ] – εуλ 0009
(Age 23)
· AC – Midgar
Because he contracted Geostigma, he left Tifa and the children, and began living in the Slum church.
· AC – Healin
He was attacked by Kadaj's gang on his way to see Rufus, but still refused Rufus' request to become his bodyguard.
· AC – The Forgotten City
He battled with Kadaj's gang, who had kidnapped Marlene and the children, but found himself in a dangerous situation before being saved by Vincent, and made a temporary retreat.
· AC – Edge~Midgar
With the help of his friends, he defeated Bahamut SHIN, which Kadaj's gang had summoned. He defeated Sephiroth after his Advent, and returned to Tifa and the children.
---
[ ν ] – εуλ 0010
(Age 24)
· DC – Midgar
With his old friends he went rushing to Vincent's aid, and battled the DG forces.
---