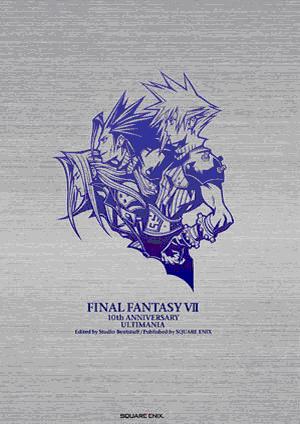 In honor of Final Fantasy VII's 10th Anniversary, Square-Enix published the "Final Fantasy VII 10th Anniversary Ultimania" in September of 2007. This 207 page book was given a limited release, with only 77,777 copies printed which were included in the Final Fantasy VII 10th Anniversary Potion bundle. This guidebook acted as a reference and compendium of plot information from the entire Compilation of FFVII, for fans who wanted a collection of all the information of FFVII in one source.
Here at The Lifestream.net are translations of this Japanese exclusive book that were previously hosted on Adventchildren.net, containing the profiles of the characters of FFVII and other relevant plot information. Selected Translations of the Crisis Core Ultimania, The Final Fantasy VII Ultimania Omega and the Crisis Core Complete Guide are included here as well. Every day, we will post translations from these books so please check back often.
Many thanks to all the translators who worked hard on making this Japanese exclusive info available to the rest of the fans of FFVII so that they may enjoy the information as well. This Compilation project would not have been possible without the work and contributions of the following people.
Project Idea, Co-ordination and Scans
– Makoeyes987
Translators
– Schala-Kitty
– Vilaeth
– Suzaku
– Chrislea
– Draziert
– Xxx
– Defade
– Potato
– Pazuzu
– Chocolinx
– Yahriel
– Serenity813
– lydia_aerithlove
– Quexinos
Update: All translations have been posted online. A big thanks to all the translators that spent hours on translating everything, and a BIG thanks to Makoeyes987 for putting them all online here. The links to all the translations are as follows:
FFVII 10th Anniversary Discussion – p. 8 to 13 of the FFVII 10th Anniversary Ultimania
Complete Timeline of the Compilation of FFVII
Final Fantasy VII Series Terms and Definitions
Aerith Gainsborough Character Profile p.48-51
Tifa Lockhart Character Profile p.42-47
Tifa Lockhart Character Profile from the Crisis Core Ultimania
Yuffie Kisaragi Character Profile p.64-67
Vincent Valentine Character Profile p.68-71
The Compilation of Final Fantasy VII Locations p. 29
Character Profiles for the Tsviets and Shalua p.100-101
Cid Highwind Character Profile p.72-75
Red XIII Character Profile p.56-59
Barret Wallace Character Profile p. 52-55
New Before Crisis Player Turks Character Profiles p. 103
Cait Sith Character Profile p. 60-63
Reeve Tuesti Character Profile p. 88
Zack Fair Character Profile p.82-85
Sephiroth Character Profile p.76-81
Cloud Strife Character Profile p.36-41
Crisis Core Ultimania Scenario Q&A
Lazard Character Profile from the Crisis Core Ultimania
Genesis Rhapsodos Character Profile from the Crisis Core Ultimania
Crisis Core Complete Guide Keyword Collection
The Goddess Minerva- Information from the Keyword Collection
Interview with Takahiro Sakurai from the Revised FFVII 10th Anniversary Ultimania