Stick around long in a Final Fantasy debate and someone will inevitably throw out the word "Ultimania". Perhaps both a blessing and a curse, these comprehensive guidebooks are seen as the source of truth for all things lore related. On one hand, it's great to have a supplementary document that combines all the story details, developer insight, and artwork that goes into a FF game. On the other, they can take conversation away from the games themselves, reducing some debates to a back-and-forth of cherry-picked quotations.
Regardless, one barrier has complicated matters for years: very few Ultimanias have been officially translated from Japanese. Select passages have been made available by fans, but even so, these are often shared as plain text and lack context from accompanying images.
Enter the Shinra Archaeology Department.
You may have heard their name before. In the pursuit of facts, the staff of the Shinra Archaeology Department have made it their mission to systematically collect, accurately translate, and painstakingly present all of FFVII's great tomes in their original form. And the work doesn't stop at Ultimanias. Developer interviews, artbooks, mods, fanfics, the Shinra Archaeology Department seeks to level up the conversation around FFVII's lore.
All of this is now available on their new website. Before you check it out, let me ask you something, are you free for the next few hours? Because if they're not, be careful. Casually diving in may cause you to lose all track of time.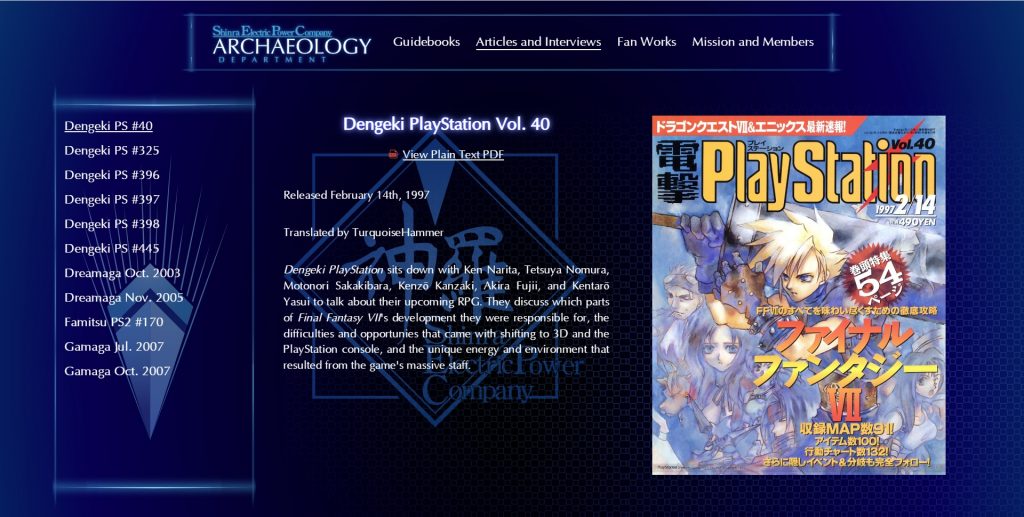 I genuinely can't give the Shinra Archaeology Department enough praise. They could've stopped at just providing translations, but they chose to take it a step further. Their commitment to authenticity will surely provide fans with long overdue clarity on FFVII's many intricacies. While I may not be totally sold on the idea of Ultimanias, it's impossible for me not to smile as I flip through the pages of their monumental effort.
For more scanlations and other tidbits, follow the Shinra Archaeology Department on Twitter!