The latest On the Way to a Smile Novella from TLS is now out for your listening pleasure: On the Way to a Smile: Case of Barret! As previously, the Audiobook is available for you to be able to download in MP3 format for easy listening and transportation at the link below.
"On the Way to a Smile: Case of Barret" (Right Click to Save As)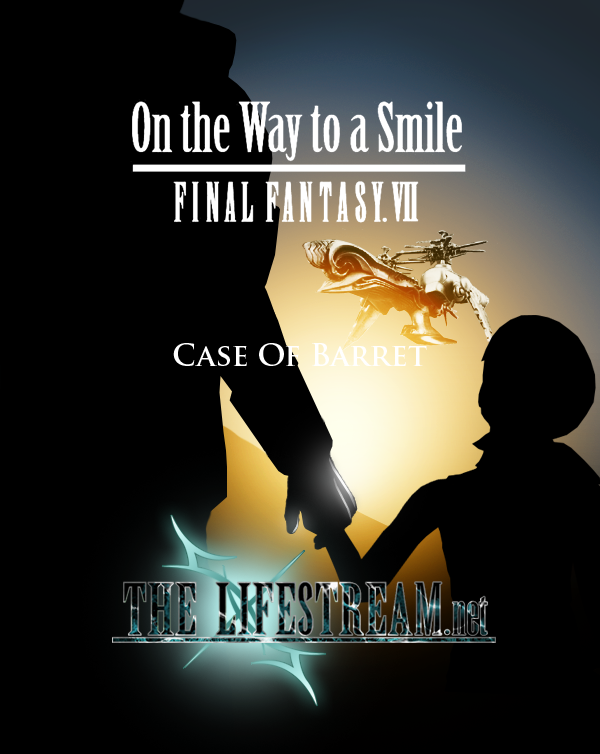 If you'd rather, we also have the audiobook in two segments via the embedded YouTube clips, which have captions included so that you can read along while you listen. You can see the first one at the bottom of the article, and the second half can be viewed by clicking "Read the rest of this entry." As always, we are very proud of all the hard work by the individuals that went into making this. We hope that you enjoy this latest presentation and look forward to your comments.
Length – 39 minutes 29 seconds
Written by Kazushige Nojima
Produced and Narrated by Joseph Knight
Featuring music by HypochondriacPiano and Roy Todd
Starring
psylentknight as Barret Wallace
Jonathan Waters as Cid Highwind
nuggetsoftruth as Old Man Sakaki
Michael Lloyd as Boilerman
Elephantologist as Junon Mother
Ryushikaze as Sakaki's Nephew
The3rd23790 as Young Father
The Pawt as Oil Derrick Engineer
Tennyo as Shera
ForceStealer as Rocket Town Engineer
Music
'Missing Score' by HypochondriacPiano
'Sad Reflections' by Roy Todd
'The Promised Land' by HypochondriacPiano
'A Tinge of Sadness' by Roy Todd
'A Time to Heal' by Roy Todd
'The Pilot's Dream' by HypochondriacPiano
'Tears Inside' by Ripley7
All characters and scenarios copyright © SQUARE ENIX CO., LTD. ALL RIGHTS RESERVED
YouTube Part 1
YouTube Part 2
Podcast: Play in new window | Download
Subscribe: Apple Podcasts | Android | RSS