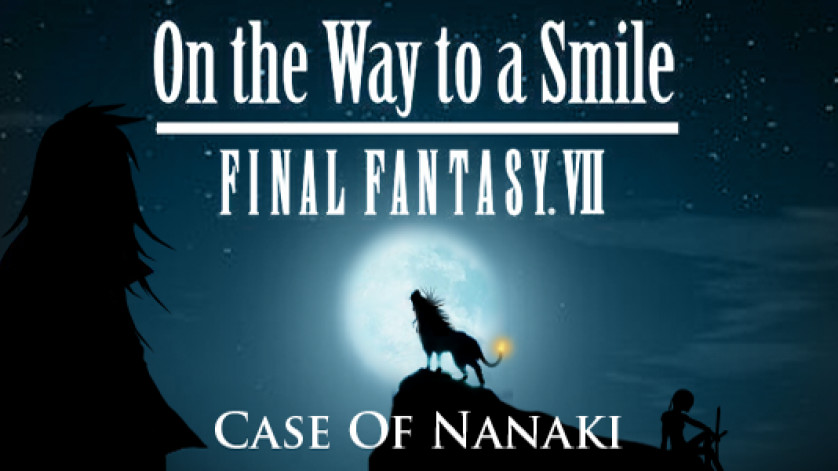 The Lifestream Presents: "Case of Nanaki"
by Lex
August 10, 2013
10 comments
You may have heard some of Pixel's outstanding FFVII audiobooks before. If not, please do so here – we promise you won't be disappointed. We're proud to present his latest completed work here at The Lifestream:
On the Way to a Smile: Case of Nanaki – Right Click to save-as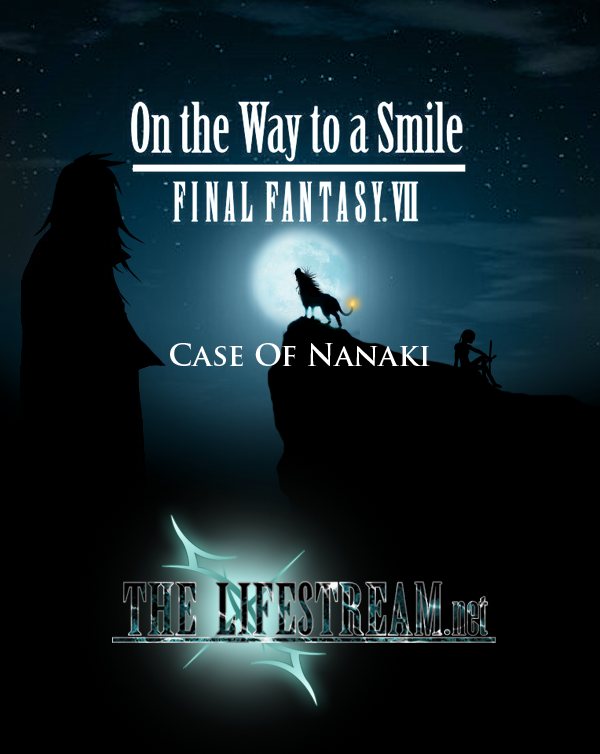 You can download at the link provided above, listen on the embedded player at the bottom of the page, or listen on our YouTube channel – the videos are also embedded below. We're looking forward to your feedback and hope you enjoy this great little bit of the Compilation brought to life by a dedicated team. You can discuss Case of Nanaki here on our forum.
Written by Kazushige Nojima
Original Translation by XComp, further translations by Joseph Knight, Tetsujin and Hitoshura
Produced and Narrated by Joseph Knight
Featuring music from TPR's beautiful album, 'Final Heaven: A Melancholy Tribute To Final Fantasy VII', now available on iTunes, and Hypochondriac's amazing album, 'Pulse of Life', available for free here on TheLifestream.net.
Cast
Christian Sekhanen as Nanaki
AvecAloes, ForceStealer and BlooCerix as Cosmo Canyon Villagers
Jocalyn as Wutai Patient
TwilightKeyblade as Gordy
Michael Lloyd as Hunter
vanillacrescentx as Elena
Alex Shaw as Vincent Valentine
Jonathan Waters as Cid Highwind
Mizura as Yuffie Kisaragi
Music
'Nanaki Searches for Truth' – by Dev at OCReMix
'Secret of the Deep Sea' – Arrangement by TPR
'Cosmo Canyon' – Arrangement by TPR
'Descentant of Shinobi' – Arrangement by TPR
'From the Edge of Despair' – Arrangement by TPR
'Wutai' – Nobuo Uematsu
'The North Cave' – Arrangement by TPR
'Lifestream Overture' – Reuben Kee
'The Oppressed' – Arrangement by TPR
'Other Side of the Mountain' – Arrangement by TPR
'Beyond the Wasteland' – Nobuo Uematsu
'Great Northern Cave' (FFVII AC Version) – Nobuo Uematsu
'The Nightmare Begins' – Performed by pianist203
'Ascension to Cosmo Canyon' – Reuben Kee
'The Pilot's Dream' – HypochondriacPiano
'FFVII Main Theme' – HypochondriacPiano
All characters and scenarios copyright © SQUARE ENIX CO., LTD. ALL RIGHTS RESERVED
Podcast: Play in new window | Download
Subscribe: Apple Podcasts | Android | RSS