Here is Tifa Lockhart's character profile translation, this time from the Crisis Core Ultimania, which details her appearance during the Nibelheim Massacre.
---
Tifa Lockhart
The Nibelheim girl who is waiting for a "blonde SOLDIER."

Age: 15
Blood Type: B
Birthdate: 1987/5/3
Hometown: Nibelheim
Tifa lives in Nibelheim, and is a girl considered an idol among boys of the same age in the village. Being the local person who knows the details of the place, Tifa takes charge as the guide who's going to lead Zack and the research group of ShinRa to the Reactor. During the time of being Cloud's childhood friend, when Cloud said he aimed to be like Sephiroth and was about to leave the village, Tifa made him promise that "whenever she's in a pinch, he'll come and help her". Since then, she's looking forward to meeting "an excellent Cloud" again. Tifa starts to learn martial arts from Zangan, a traveler and also a grappler, during his stay in Nibelheim. Her good quality of well-built muscles is recognized by her master.
「 You're the SOLDIERs who've come for the investigation? 」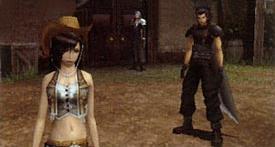 Believing in Cloud's promise, Tifa's waiting to see Cloud become a SOLDIER like Sephiroth. Tifa dresses herself in a pretty and sexy look. Does she do that to spirit up herself in preparing for a touching reunion?
---
Link to the FFVII Series
The only woman who knows Cloud's past.
In FF7, Tifa is the only one who knows Cloud's childhood, and furthermore, she holds the key to people involved in the story of Nibelheim's burning down, which is also depicted in CC. She and Cloud came to realize their feelings for each other in the end of the story, and live together in AC and DC.
| | |
| --- | --- |
| | |
| [FFVII] Tifa becomes the only witness to Cloud's blurry memory, and she also plays an important role in regaining his true self. | [CC] Crisis Core leaves out some scenes such as Tifa facing the enemy who killed her father when Nibelheim was burned down, and the scene where she runs to avenge her father but was badly counter-attacked. |
Close Window
Loading, Please Wait!
This may take a second or two.