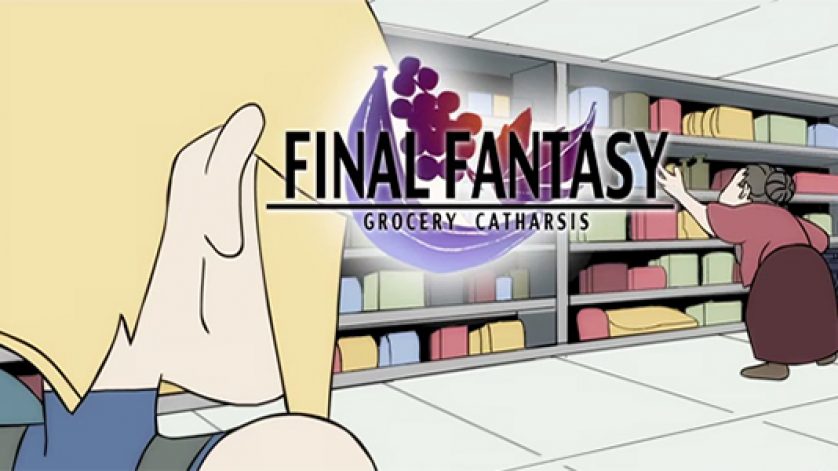 Cloud goes to the store in Fan Video
by Lex
March 4, 2014
0 comments
Cloud Goes to the Store
This week's top Final Fantasy VII story.
Final Fantasy VII has been the subject of various successful (and some not-so humorous) attempts at cartoon satire since YouTube became popular. In the past week, "Animation Domination Hi-Def" – a block of animated shorts that air on America's FOX channel – released a VII-themed short in which Cloud attempts to go grocery shopping.
The premise is as bizarre as we've come to expect from fan-shorts, and since humour is subjective, we'll let you decide how funny it is. Worth noting however, is the attention to detail in the rendering of Cloud's home, as well as some very familiar musical cues.
More Final Fantasy news
Square Enix Has Spring Update Planned For Final Fantasy Agito (Siliconera)
Final Fantasy Agito, the free to play smartphone game with characters from Final Fantasy Type-0, will get an update sometime in the spring. Famitsu reports new characters Lean Hamplemann (voiced by Koki Uchiyama) and Tono Mahoro (voiced by Hitomi Terakado) will be added to the game.

Lean—also called Joker in Type-0—is a hooded character seen in Final Fantasy Type-0. Terakado voiced Tiz in Final Fantasy Type-0, who traveled with Lean in the PSP game.
The Final Fantasy XIV PS4 Beta Is Live, and Anyone Can Join (TIME.com)
Yesterday, Square Enix made the beta version of the PS4 version available on the PlayStation Network. It's free, and anyone can join. I pulled it down last night: it's 11GB, and took around three hours on my entry-level (16 Mbps down) Comcast business line.

A few notes about the beta, which the company's running in two phases: The first was supposed to last from February 22 to March 3, but it started late, so I imagine it might run later than next Monday, as originally scheduled. Then the game goes on hiatus for a month, before a second test phase, currently set to run from April 4 to April 7. As noted, the PS4 version launches on April 14.
Audio Engineering: A Tribute to Cid (OCRemix)
Audio Engineering: A Tribute to Cid features thirteen tracks from twelve artists, arranging themes from across the Final Fantasy series. The album also includes visual artwork inspired by the many incarnations of Cid. It was made by fans, for fans, and is not affiliated with or endorsed by Square Enix; all original compositions and characters are copyright their respective owners.

This album was produced to help promote video game music, all the original composers' compositions, and the talented artists that contributed to this project.
Thanks to forum member ForceStealer for the find.
Video of the week
Last week, a couple uploaded a YouTube video of their (frankly, kickass) cosplay themed wedding. The groom dressed as Squall from Final Fantasy VIII while the bride was wearing a white mage outfit. Various guests showed up in their own favourite characters' outfits. In addition, the couple modelled their first dance after the waltz scene between Squall and Rinoa in Final Fantasy VIII (though we hope there was considerably less tripping from real-life Squall).
Post of the week
Mama Dragon reminisces on the use of music from Final Fantasy VII's soundtrack at another wedding in this thread:
Tifa's theme was played at my brother's wedding. He and my sis-in-law chose many tracks for when the guests would be waiting, and among them were several tracks for every member of their families. My big bro chose Tifa's theme expecially for me because he knows how much I love that game.

So yeah, I nearly cried when it started playing. Only the risk of ruining my carefully and slowly applied eyeliner and ending up with panda eyes prevented me from bawling like an idiot, lol!
More from the forum
Got something to say? Sound off in the comments below or on our forums!