Final Fantasy XII: The Zodiac Age release date announced
by Flintlock
February 1, 2017
0 comments
The first Final Fantasy game was released in Japan on the 18th of December, 1987, and to mark the year of the series' 30th anniversary, Square Enix held a special event in Tokyo, Japan, yesterday. This also marked 20 years since the original release of Final Fantasy VII on the 31st of January, 1997.
The headline news from the event was that Final Fantasy XII: The Zodiac Age, the upcoming remaster of the International Zodiac Job System version for the PlayStation 4, now has a release date. The game will launch on the 11th of July this year in Europe and North America, with Japan and the rest of Asia getting their hands on it two days later.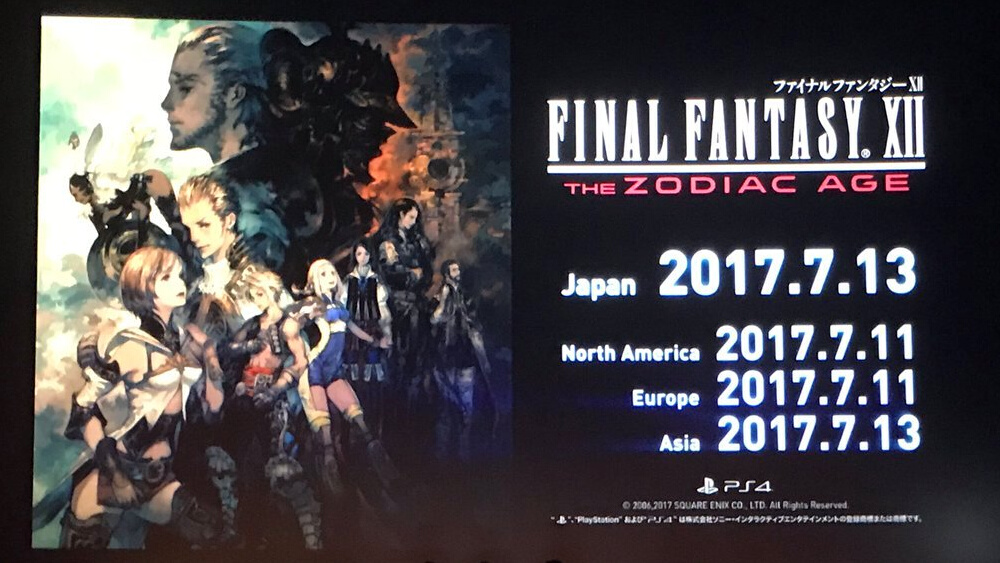 Japanese fans of the game shouldn't feel too aggrieved at having to wait a couple of extra days to play it; after all, the original Zodiac version of the game was only released in Japan, despite its "International" moniker. The remaster therefore marks the first opportunity for many players around the world to experience the game's job system and other changes.
XII's self-proclaimed leading man, Balthier, is also set to make an appearance in the recently-released World of Final Fantasy game for the PlayStation 4 and PlayStation Vita.
Other news from the 30th anniversary event includes:
An upcoming Booster Pack for Final Fantasy XV featuring Power Rangers-like Magitek Exosuits, to be released on the 21st of February
Episode Gladiolus, further downloadable content for XV, releasing on the 28th of March
Dissidia Final Fantasy Opera Omnia, a mobile game for iOS and Android, releases today in Japan despite originally being slated for 2016
A 30th anniversary campaign for Final Fantasy Brave Exvius featuring artwork from Yoshitaka Amano
Final Fantasy: Lost Stranger, a new manga
Final Fantasy-themed wines and cakes
A line of Final Fantasy-themed cup noodles (yes, really) and a special "Ultima Fork" based on Cloud's Ultima Weapon from Final Fantasy VII
Plus a variety of other merchandise, all of which you can find in our 30th anniversary forum thread
Last but definitely not least, there was a smattering of Final Fantasy VII news, including some previously unseen artwork for the remake, which we'll be bringing to you as soon as we've translated a related interview with Yoshinori Kitase. The Final Fantasy 30th Anniversary website can be found here (warning: plays music by default) in the meantime.