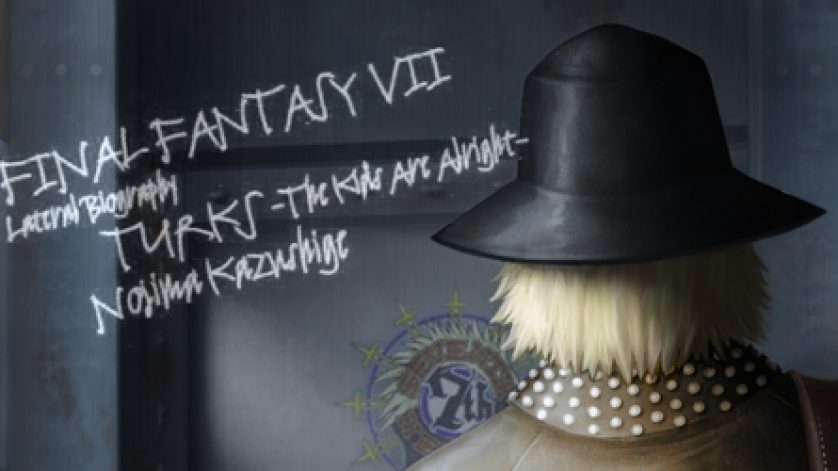 TLS Presents: Lateral Biography: TURKS -The Kids Are Alright-
by Pixel
December 28, 2014
0 comments

Artwork by the lovely capnkupo http://capnkupo.deviantart.com/
A few years ago, the novel "Lateral Biography: TURKS -The Kids Are Alright-" was released in Japan. Of course, being Square Enix, the book was never translated. So our intrepid team took it upon themselves to bring this work to the world.
Written by Kazushige Nojima, this novel follows a new protagonist, Evan Townshend, and the Turks as they deal with the new world after Meteor is destroyed. We discover previously unknown information leading up to the events of Advent Children, and meet some familiar faces along the way.
This is the first half of the book, entitled "See me, feel me", containing the first 30 chapters. And as a little bonus, we have produced the first chapter as an audiobook to give a little introduction to the project.
A huge thank you to everyone involved in this project, especially hitoshura and mecorx for translating this, and the many people who gave feedback.
PART 1 – SEE ME, FEEL ME
Chapter 1 – First off, a little about myself
Chapter 2 – How The Trouble Began
Chapter 3 – Trouble Comes Knocking
Chapter 4 – At Seventh Heaven
Chapter 5 – Elena's Frustration
Chapter 6 – Mireille Detective Agency
Chapter 7 – Fabio Defeated In The End
Chapter 8 – Out of Control Night
Chapter 9 – Too Self-Conscious
Chapter 10 – Unbreakable Bonds
Chapter 11 – Failure
Chapter 12 – Unknown World
Chapter 13 – Annette Townshend
Chapter 14 – My World Is Changing Again
Chapter 15 – Bad Timing
Chapter 16 – A Miserable Feeling
Chapter 17 – Picking up the Pieces
Chapter 18 – Preparing for Departure
Chapter 19 – Outcast
Chapter 20 – Strife Delivery Service
Chapter 21 – Count on Tifa
Chapter 22 – Kyrie and the Turks
Chapter 23 – Leslie and Marle
Chapter 24 – Kyrie, Going for a Meal
Chapter 25 – Meeting with a Low-life
Chapter 26 – Half-assed Wrap-up
Chapter 27 – Starting the Project
Chapter 28 – Kyrie Fights Back
Chapter 29 – Reno and Rude, In A Rush
Chapter 30 – Lover's Spat and a Surprising Dawn
PART 2 – WHO ARE YOU?
Chapter 31 – A Peaceful Trip, and Reminiscence
Chapter 32 – The Girl On The Chocobo
Chapter 33 – Rude Targeted
Chapter 34 – Red Beast And Black Water
Chapter 35 – Reno And Rude Fly
Chapter 36 – The Turks Were Scary After All
Chapter 37 – Beloved Shin-Ra
Chapter 38 – Proposition
Chapter 39 – Nibelheim
Chapter 40 – Under Junon
Chapter 41 – Icicle Inn And Mother's Letter
Chapter 42 – Fabio
Chapter 43 – Monster
Chapter 44 – Despair And Hope
Chapter 45 – The Labyrinth of Ice and The Lifestream
Chapter 46 – A Few Epilogues