---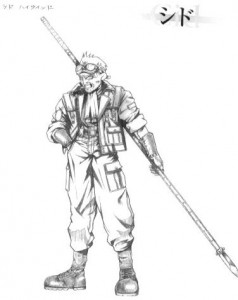 Cid Highwind
Job: Pilot (dragoon) Age: 32 Weapon: spears, tools
Has goggles on his forehead. A nice guy who, while approaching
middle-age, is still young at heart. Living in a village where a
leaning rocket launch pad stands like a ruin, he dreams of going into
space. Was originally with Shinra's space development department and
was set to become the first space pilot, but is troubled by a dilemma
when the project is left in limbo due to the space development budget
being cut. Even more foul-mouthed than Yuffie.
"Fucking Shinra shitheads, who do they think they're dealin' this?
Dumb bastards don't get anything unless you put your foot up their
asses and kick some sense into their thick head."
-=Episode=-
Hate the number 8.
Cid lives with an older woman, Sierra (35). On the surface they
appear to be a married couple, but they aren't. He's always abusive
towards Sierra. To other people he's a nice, passionate man, but when
it comes to Sierra he treats her cruelly. 'You don't need to go that
far…' kind of feeling. Whatever is said, Sierra quietly puts up with
it.
As a mechanic, Sierra has actively supported Cid's work. When Shinra
was still putting their all into space development, Cid was selected
to be the pilot for the first lunar rocket launch, and Sierra was one
of the members of the mechanic team. During the maintenance Cid went to every division to check them, but Sierra, the sole female on the staff, was the slowest.
Cid: "Hey! Get your ass in gear! You work like a snail! Even the
moon'd get tired watin' around for your ass! It's no wonder we're
fallin' behind."
Sierra: "I– I'm sorry."
But Sierra worked as hard as she could. All the preparations were
complete, and the countdown began. Cid arrived at the cockpit, and the
mechanics were meant to have evacuated the rocket. However…
Controller: "Cid! We have an emergency. There's still a mechanic in
the rocket's engine room."
Cid: "What? Who is it?"
Cid stops the engine for Sierra. The rocket had ascended about 10
meters, but slowly descends and crashes into the ground and almost
falls on its side, but the launch pad supports stop it from falling
down.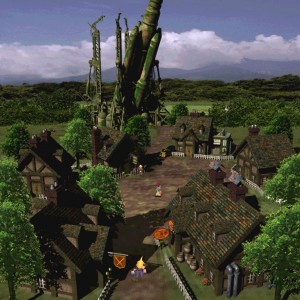 Afterwards, Cid's dreams come to an end with scaling back of the
space project. The rocket is left, still leaning, in the center of the
village. Sierra feels responsible to Cid, who had to give up his dream
for her, and decides to take care of Cid. At first Cid was annoyed by
her, but now they are living together. But this doesn't mean he
forgave her, and he is still a little bitter about it.
Cid: "If it weren't for you and your messing around, I wouldn't have
to be stuck in here, in this fuckin' hole stinking of cow piss!"
Shera: "I'm sorry, Cid."
Cid: "Argh, I'm sick of ya."
*
Cid is appointed to pilot the rocket for Shinra's plan to
deal with Meteor. However, Cid isn't aware that the rocket is actually
filled with materia being used as a warhead. But Sierra knows.
Sierra: "Cid, don't let them trick you. This rocket isn't heading for
the moon. It's a missile, and they're going to fire it at Meteor."
Cid: "You think you're going to stop me by saying that crap? Get the
hell out of here!"
Meanwhile, the party also learns of the plan. They can't let Shinra
use materia as a weapon. And Cid has been deceived and is in the
cockpit, unaware that it has been programmed with a direct course for
Meteor… The party go to try to save him. They manage to get aboard
the rocket in the nick of time, and rush up to the cockpit. However,
the cockpit door is locked!
Cloud: "Cid, open this door! You're being tricked! The rocket's not
going to the moon. It's heading straight for Meteor, and you're going
with it."
But Cid won't listen. In the meanwhile the rocket has launched, and
is already ascending.
Tifa: "Cloud, we've got to get out now."
Cloud: "Dammit!"
Event with a time limit. Escape. They just manage to catch on to an
arm of the launch pad. The auto-pilot program heading for Meteor
activates. Cid finds out the manual control aren't working, and
realises for the first time that he's fallen right into Shinra's plan.
Cid: "Fuckin' Shinra! They got me!"

Cid heads for the escape pods. But as he passes the oxygen tank room,
the number 8 tank explodes. A large piece of the tank flies towards
Cid and pins him down. He can't move.
Cid: "Guess my number's up too… Tank 8… Sierra… you were right."
Sierra: "I know, wasn't I?"
Cid: "Sierra?!"
Sierra: "I tagged along. I'm coming to help you."
Cid: "You stupid &$#&%*%&%#!!"
Sierra drags Cid and takes him to an escape pod.
Cid: "Does this pod really fly?"
Sierra: "It'll be OK. I've been checking it till now."
Cid: "You mean you stayed behind, for this…"
Sierra: "No. This is my job. Just like it was 10 years ago."
* It is mostly the same as in the final game, but the rocket boarding
section in the second half of the story involves being deceived by
Shinra. Another noticeable point was Sierra speaking like an older
woman.