---
Vincent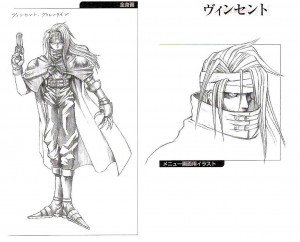 Job: Horror Terror (Horror researcher) Age: 25 Weapon: sickles, rifles
Believes in demons and spirits, and can fight by turning himself into of various horror monsters (vampire, Frankenstein, wolf man, mummy, etc). His true form is that of an attractive man. Sleeping in a coffin in the basement dungeon of the Shinra Manor. Originally a detective hired to expose Hojo and his team's secret research. His employer was a rival company.
-=Episode=-
A number of coffins are lined up in the underground dungeon. Most are just corpses (the corpses have items and so on), but when you check one of them, the coffin lid rattles loose, and a figure slowly rises up.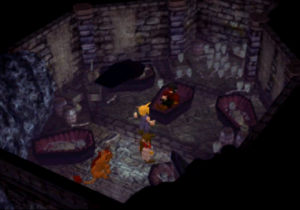 Tifa: "Ahh!!"

Cloud: "……!"
What appeared from the coffin was a beautiful young man.
Man: "Uh… nh….. am I… awake…… I'm… awake again….."
Barret: "What the hell you doin' in here? You some kind of zombie?"
Man: "Mm…..?
The young man notices the party. He gets out of the coffin, but ignores Barret and heads for Tifa and Aerith.
Man: "Allow me to apologize. I had not expected to find two beautiful woman such as yourselves in a place like this… I never meant to startle a lady. Please, forgive me……"
Tifa: "L-lady? Hold on, now …"
Man: "My name is Vincent. Vincent Valentine. What a pleasure it is to meet such a beautiful woman so soon after awaking from my long sleep…"
Barret: "Hey, just a minute! Answer my question! What were you doin' here?"
Vincent: "…… Quite the boorish one, aren't we? Is that how you ask someone a question…..? I was sleeping, surely that was obvious enough."
Barret: "Grr…… then, that weird voice was you!? How long you been sleeping here?"
Vincent: "How long? I've only just woken up this minute and still don't know what the time nor date is now, you don't really expect me to know how long it's been, do you? On top of your lack of manners, it would seem you're not the brightest of men, either."
Barret: "You little….! I'm gonna….!"
Tifa: "Wait, Barret. He might be a little wier… peculiar, but he doesn't seem like a bad person. …… Right, Aerith?"
Aerith: "Yeah… I guess."
Barret: "Tsk. what is it with woman and judging by looks."
Vincent: "Someone once said the face is a mirror of the heart…"
Barret: "Aaarrgggh! I can't stand it anymore! I'm gonna fill you so full of lead!"
Vincent: "I don't like uncivilized quarrels."
Cloud: "Just knock it off, both of you. … Vincent, was that voice really you?"
Vincent: "My sleep has been plagued by nightmares. …. Well, it doesn't matter now. Please leave. There's still some things I have to do."
Cloud: "Yeah, come on, let's leave him. We've got to go after Sephiroth quickly."
Vincent: "Sephiroth? … That name… Just answer me this, what is it you are looking for? What did you come here to do in the first place?"
Cloud: "Same to you. Just what are you doing here? Is this something to do with Hojo?"
Vincent: "Hojo! …. That's it, Hojo. It was Hojo who did this to me."
Vincent starts to talk about his connection with Hojo.
A man who has slept for 23 years. A man who has a connection with Hojo. Hojo was an acquaintance from his time at the Midgar University medical department, and then the Shinra Research Lab. Hojo's research team consists of two people: Hojo (leader) and Lucrecia (female, an idol in the lab).
Vincent worked as a detective. He investigated mainly cases which were very bizarre. Flying saucers, vampires… however, the majority of them were bogus, frauds. Vincent is hired by one of Shinra's rival companies, and takes on an assignment to spy on what Shinra are researching. Officially, he is working under the pretext of doing a story on Hojo's research. Due to people saying they can hear strange voices (these are generally the death throes of the lab animals) coming from Hojo's lab night after night, other detectives are put off by it and stay clear of it, and finally the offer gets around to Vincent. Because he is a lover of horror, Vincent gladly accepted it. Lucrecia, the sole woman on the Hojo team, was Vincent's favorite.
Hojo: "Can one truly be called a scientist, if one fears to take that step into the unknown?"
Vincent: "What effects Jenova might have on humanity is still under investigation. What are you planning to do? The creation of life is the domain of gods. Are there not lines that science shouldn't cross?"
Hojo: "A mere reporter should stay out of the realm of scientists."
Vincent: "I'm not saying it as a reporter. I'm saying it as a human being."
Hojo: "A human being? I did not expect to hear such moralist words from the mouth of a spy like you."
Vincent: "How do you….?"
Hojo's female colleague was on Vincent's side. However, Hojo drugged her into unconsciousness and experimented on her. He was going to use her as a sample for the Jenova project. Vincent tried to save her, but fell into a trap and was put to sleep. He has no memories after that point. It appears that several people have been used as test samples in human experiments. And then they were put in coffins.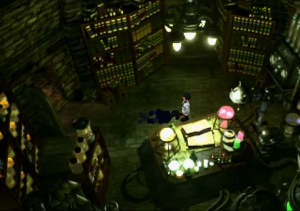 Vincent: "Lucrecia…. what happened to you after that?"
Tifa: "Wow, that's rough."

Aerith: "Let's help him out, Cloud."
Vincent: "Cloud….?"
Tifa: "What is it?"
Vincent: "Never mind, it's nothing…. Cloud…. that name…. I feel like I've heard it somewhere before."

Vincent wants to learn what happened to her after that. If he asks Hojo, maybe he can find something out about her. Combined with his resentment towards Hojo, he joins the party. You don't know at this point that his body has been modified and now can transform. Nor does Vincent himself…
Vincent: "Hojo has probably done some manner of experiment on my body. But I don't know what it might be…. If you notice any change in me, please, tell me immediately. I don't know what I might do."
●In battle, when Vincent gets mad he transforms into a horror monster. The first time he transforms, after leaving the battle a cut-scene occurs.
Tifa: "V, Vi, Vincent!? What did…?"
Vincent: "Is something the matter?"
He has absolutely no memory from when he transformed.
Exceptionally, Vincent alone can activate his Limit Gauge not just in battle but also in the field screen. His appearance can change even on the field screen. This causes differences in reactions in cut-scenes.
* The details on Vincent were not decided on until the final stages, and there were various suggestions for his personality and job, this being one of those ideas.